A Brief History of Airline Passenger Seats
John H. Hill shares the aesthetic behind one of San Francisco Airport Museum's exhibitions.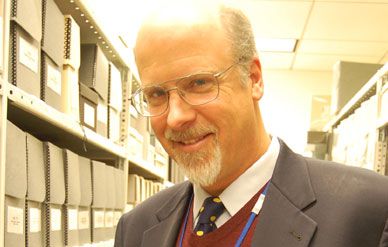 Through January 2009, the San Francisco Airport Museum is featuring an exhibit on how airliner seating has evolved. On display are seats from a Ford Tri-motor, Fokker F-10, Boeing 80A, 247, 727, and 747, Douglas DC-3 and -4, and Lockheed Constellation. Senior Associate Editor Perry Turner chatted with John H. Hill, curator in charge of aviation, about the exhibit last September.
Air & Space: What did you hope the exhibit would demonstrate?
Hill: With the focus here at the San Francisco Airport Commission Aviation Library and Louis A. Turpen Aviation Museum on the history of commercial air transport, we tend to emphasize human factors, the connections and crossovers that aviation has with many aspects of our everyday lives. Today, air travel is so commonplace to such a large segment of the public that it has become something of an entitlement. This is a good thing. But it wasn't too long ago that aviation was very small, very novel, very expensive, very adventurous, and not very fast vis à vis rail. With a show like this we hope to provide an opportunity for the public to learn a little more about what flying was like in the formative years of the airlines: that the airplane was once predominantly a communications tool where emphasis was placed on the airmail, that slowly this new form of transportation became more commonplace. And that arc can be plainly seen in the historical sequence of objects such as airline passenger seats.
Air & Space: How did you acquire examples of airline seats?
Hill: The Ypsilanti wicker is one of a pair we acquired from a source in southern Florida in 2001, and their provenance traces back to the daughter of a man who was with Pan American Airways in the late 1920s and '30s. The original headrests were in place but in very poor condition, and both seat and headrests ware painted a bright green. Our conservators analyzed paint layers and found the underlying burgundy color. We matched it and repainted and redid the leather headrests and added a seat cushion, working from photographs. The American Airlines C. R. Smith Museum at Dallas-Forth Worth Airport was very nice to lend the DC-3 seat. The circa-1958 Teco seat was generously donated to us by the Save A Connie group in Kansas City, now the Airline History Museum. All the rest are doubles [from various sources].
Air & Space: Tell us the predominant theme you noticed as you looked at the evolution of airplane-passenger seating.
Hill: Historically, the comfort of the seats in relation to the duration of the flights are in inverse proportions. In other words, early seats, say on a trimotor of the late 1920s, were fairly rudimentary, with passenger service being something of an afterthought compared to mail and express. But, a flight from San Francisco to Los Angeles could take three and a half hours, not to mention the high probability of considerable turbulence and physical upset with the limited ceiling. Compare that with today's flight time on the same route: 55 minutes, with relatively comfortable seats even in economy and certainly in business and first.
You can see the trend in each succession of seat design as comfort became a competitive element. This began pre-World War II but really ramped up post-war, with much more intensive study and design work going into seating. [Seating evolved] from scaled-down porch furniture at a cost of way less than $100 per unit to dazzlingly sophisticated sitting/reclining/sleeping machines that can approach $200,000 each.
The airline seat has also gone from the most rudimentary construction materials and function to Space Age sophistication with the current array of electronics, controls, and personal amenities.
Air & Space: What about aesthetics? It looks like we are way past any golden age of aircraft furniture.
Hill: The earliest three, two of wicker and the one bent-wood Boeing, have a general appearance one could call "quaint." The wicker connotes simpler times. The Boeing seat, though, is actually highly finished, as the bent-wood joinery is laborious and very well executed and the nickel-chrome hardware is fairly advanced.
The Alcoa seat has a wonderful Machine Age look. The tubing and corner braces evoke the aluminum framework of an airship. With the DC-3 seat, the aluminum frame is hidden and the sides are covered with a synthetic panels whose shell-like patterns hint at Art Deco.
The Constellation seat is all about foam cushioning, as the overstuffed chair has now been introduced to air travel, along with some modest integrated functions and controls, including built-in armrest ashtrays and recline toggles. The beige top and sides of the seat and back upholstery complement the armrest coverings and sides while setting off the gold fabric insert. These colors were part of an integrated cabin interior design in which even the cabin crew uniforms, such as Oleg Cassini's fashions for TWA air hostesses, were coordinated.
Aesthetics and color psychology became increasingly important design elements. By the time we get to the widebody Jet Age, cool navy-colored leather coverings and contrasting blue patterned fabrics are appearing. Blue is known to cause the body to produce calming chemicals and is associated with the emotions of loyalty.
In the 1993 Weber first class seat, form closely follows function and, other than its color as a mood modulator, its aesthetic appeal is more closely tied to tactile stimuli. The array of controls and personal electronics puts the passenger in a seat that functions as a mechanical exoskeleton, physically adjusting your position for you while serving as a bedroom, dining room, office, and entertainment center all rolled into one. No longer static furniture, the airline passenger seat has become a system designed to anticipate a nearly limitless range of human factors and cultural needs.
For more information about the "Take Your Seats" exhibit at San Francisco International Airport, go to www.sfoarts.org/exhibits/k1/k1-current.html or call (650) 821-6700.