A Satellite For (and From) Africa
A new Nigerian comsat targets the continent's smaller users.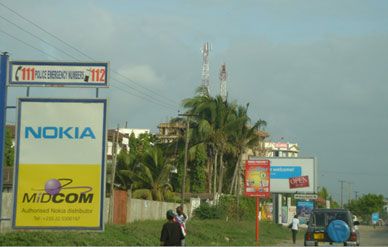 At a recent satellite conference in Washington, D.C., the larger companies had displays in the middle of the exhibit hall; at Lockheed Martin's, the staff served freshly made cappuccino. On the outskirts of the room, flanked by niche hardware vendors, was a booth rented by Nigerian Communication Satellite, Ltd. No frills here. The African company had a small podium, a nondescript table, three booth workers, and a press release.
Yet this young firm stands on the verge of a real telecom achievement: On May 14 Nigeria hopes to join Egypt and Sudan on the short list of African nations that own and operate their own communication satellite. Called NIGCOMSAT-1, the satellite will enable the government-private partnership to sell communications services to small and mid-size customers across the continent. And, if the country's ambitious space plans come to fruition, it will lead within 20 years to a Nigerian-built satellite.
This one, though, was built and will be launched by China for $310 million ($48 billion Nigerian naira). China is eager to enter development deals with Africa, and NIGCOMSAT-1, based on the Chinese DFH-4 bus, is its first satellite export.
Africa is woefully underserved when it comes to communications technology, a key requirement for economic growth in the 21st century. While other parts of the developing world have started to catch up in this arena, Africa still lags in reliable Internet access, radio service, global positioning system use, and mobile telephones.
Satellites offer a shortcut for countries that lack infrastructure such as fiber optic lines, says Martin Collins, curator of satellites at the National Air and Space Museum. The continent has access to satellites—48 currently operate over Africa—but has yet to experience an information revolution. One reason, says Collins, is that African nations don't own their own satellites, and often can't afford to rent bandwidth from foreign satellite companies.
INTELSAT, a system formed by international treaty in 1964, originally offered reduced rates, with revenues from usage fees redistributed to the hundred international investing partners. A few years ago, though, the company went private, and today its rates are comparable to those of other big players. In 2004, a Nigerian technology minister complained that bandwidth cost more in Nigeria than in almost anywhere else in the world.
Religious charity organizations, such as Britain's GodTV, have offered free satellite service, and entrepreneurs like WorldSpace Digital Radio have tried to sell low-cost service. But even that proved too expensive for most Africans. "It's hard to make a buck in Africa," says Collins.
The Nigerian company hopes to succeed where foreigners have failed. The country has invested some of its oil wealth in the satellite project, and ground stations in China and Nigeria have been built and staffed. T. Ahmed Rufai, chief operating officer for Nigerian Communications Satellite, says his company's business plan won't be more of the same. For one thing, the service will target users who need less than the usual amount of bandwidth, and who can use small antennas to receive signals. Where other satellite service providers require one- to two-year commitments, sometimes paid up front, the Nigerian company will sell monthly or even weekly contracts. Customers could include government ministries holding week-long conferences, temporary African Union operations in underserved areas, or broadcasters of sporting events like the World Cup. "We understand the customer's peculiarities, and can help solve problems by being flexible," Rufai says.
Nigerian Communication Satellites may not be offering cappuccinos or candy to convention goers, but the partnership hopes its knowledge of African customers will open an important and profitable new market. On May 14, its hopes will be riding on a Chinese Long March rocket.