A Piece of Lafayette Escadrille History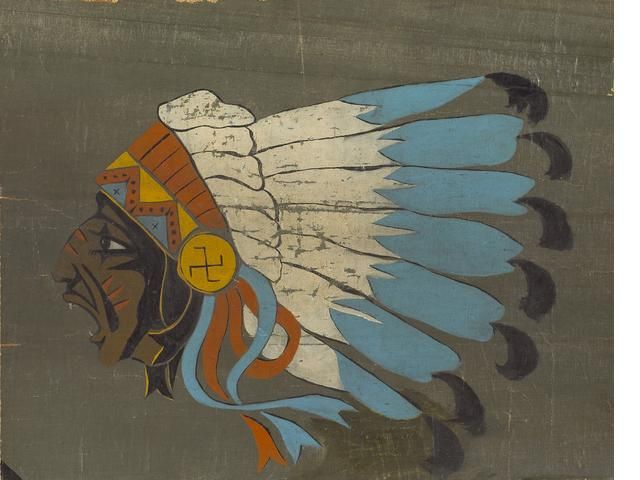 On November 15, 2010, Bonhams & Butterfields in San Francisco will auction this dark grey-green canvas fuselage insignia panel from a Spad VII flown by the Lafayette Escadrille, featuring the familiar Indian-head insignia. The panel, says the company's press release, was collected by Sergeant Emil Forst, a mechanic who served with the 103rd Aero Squadron from 1917 to 1919, through the battles of the Aisne, Champagne Marne, St. Mihiel, and Meuse-Argonne.




Sergeant James McConnell, a pilot with the Lafayette Escadrille, describes a  scene in his 1917 book "Flying for France" that Sgt. Forst would have found typical:  "Beneath the canvas of a huge hangar mechanicians are at work on the motor of an airplane. Outside, on the borders of an aviation field, others loiter awaiting their aerial charges' return from the sky. Near the hangar stands a hut-shaped tent. In front of it several short-winged biplanes are lined up; inside it three or four young men are lolling in wicker chairs.

"They wear the uniform of French army aviators. These uniforms, and the grim-looking machine guns mounted on the upper planes of the little aircraft, are the only warlike note in a pleasantly peaceful scene. The war seems very remote. It is hard to believe that the greatest of all battles—Verdun—rages only twenty-five miles to the north, and that the field and hangars and mechanicians and aviators and airplanes are all playing a part therein.

"Suddenly there is the distant hum of a motor. One of the pilots emerges from the tent and gazes fixedly up into the blue sky. He points, and one glimpses a black speck against the blue, high overhead. The sound of the motor ceases, and the speck grows larger. It moves earthward in steep dives and circles, and as it swoops closer, takes on the shape of an airplane. Now one can make out the red, white, and blue circles under the wings which mark a French war-plane, and the distinctive insignia of the pilot on its sides.

"Ton patron arrive!" one mechanician cries to another. "Your boss is coming!"

Bonhams & Butterfields estimates the fuselage panel will bring between $15,000 and $20,000.
Update: the fuselage panel was sold for $17,550 including premium.