Commanding the Air Force Transition Team in Iraq
U.S. Air Force Brigadier General Brooks Bash talks about his position.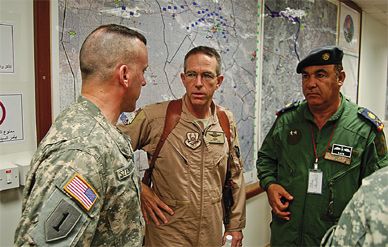 A command pilot with more than 6,300 hours flying in a variety of mobility aircraft, U.S. Air Force Brigadier General Brooks Bash was named in March to head the 350-member Coalition Air Force Transition Team that is helping Iraq rebuild its air force. Earlier in his Air Force career, he served as deputy executive secretary for the National Security Council under the Clinton and Bush administrations. Air & Space executive editor Paul Hoversten spoke with Bash last April.
Air & Space: What is the threat that Iraq needs an air force to counter?
Bash: The current one is the counter-insurgency fight. The Iraqi air force is doing several things. Airlift and battlefield mobility, using their helicopters and light aircraft to move troops around in a tactical manner. Med-evac and casualty evacuation. They also do VIP support, flying around the prime minister or the minister of defense. The future capabilities they'll be working for is an air-to-ground attack capability, which is what the coalition is providing now.
A little over a year ago, the Iraqi air force was kind of like a flying club. They flew about 30 sorties a week, with no command and control. Today, they have an air operations center, they have 73 aircraft, and in late April they set a record of 383 sorties in one week. They are engaged in the counter-insurgency fight at the same time they are building an air force. In just one year, it's phenomenal progress, and our hope is that they can continue to contribute to the fight that is essential to Iraq.

A&S: What's the structure of their fighter pilot force?
Bash: They used to have the largest air force in the Middle East, 500-plus aircraft. They flew MiG-25s, Su-27s, some of the older MiG-21s, Mi-17 helicopters. And some of those pilots have come back into the air force. Today you have a pilot force with more 50 percent between the age of 42 and 50, and those pilots have flown jets before. But they currently do not have the command-and-control capacity to have an effective air defense. That's something that we're working on now, and building over the next few years. As a nation, priority-wise, I do not see them committing the money to buy that kind of [fighter] air force when what they really need and what they're building toward is more of a counter-insurgency force. So the air defense force would be a future capability as they grow their younger pilots and as that need develops, based on either coalition support decreasing or the regional threat increasing.
A&S: What happened to all the MiGs and Mirage fighters that flew under Saddam Hussein?
Bash: Well, we destroyed a lot of them. They buried some of them. A lot of them flew to Iran and they never got them back. You have a few parked around that are either hulks or static displays and that's it.
A&S: Those will not come back into the air force in any way?
Bash: Absolutely not.
A&S: How long does it take to train new Iraqi pilots?
Bash: About as long as it takes us in the United States. We put them through a one-year program. We started pilot training for the Iraqis just last October. We have 18 students in that class and 13 have soloed now. The progression is initially a Cessna 172, which is very similar to what we do in the States. We move on to a Cessna 208 Caravan, a little bit more complicated type of aircraft. They'll go through a program with simulators and English-language training, and have an IFR [instrument flight rules] rating when they're finished in about a year. That gives you a really raw pilot at that point. Then you have to let them fly for another three to five years before they could be a captain or an aircraft commander. That's very similar to how the U.S. does it.
One of the pilots who soloed two weeks ago had never driven a car in his life. He did just fine. The 172 simulator is a great simulator. It's funny; these young guys get in the simulator and spend time flying it around, and they're becoming better instrument pilots than the 45- and 50-year-olds. The old Iraqi air force never flew IFR or nighttime [missions] very much. The new air force will have that capability.
Perhaps the more difficult challenge is all the other portions of an air force that need to be built. You need to have maintenance. In the United States, it takes five to seven years to grow maintainers to the point where they can understand and sign off on all the systems. You need firemen. You need air traffic controllers. You need medics. So part of our job is to train all of those as well, so that you have an air force that can function besides just flying aircraft.
A&S: When did the training for those positions begin?
Bash: The training for a lot of those career fields started last summer in a small way. We currently have about 300 to 400 in various types of training, and we're going to move up to assessing 300 a month by this summer.
A&S: Iraq has ordered eight Beechcraft King Air 350s, with options to buy eight more. What will it do with those airplanes?
Bash: The first one arrived in December, and it's a trainer. They will receive five more starting in June, which will be ISR (intelligence, surveillance, and reconnaissance) capable. They'll have full-motion video, FLIR (forward-looking infrared), kind of a track-ball Predator (unmanned aerial vehicle) capability. The rest will be light transport aircraft that will be used for battlefield mobility and also to get the young pilots some more experience.
A&S: Does Iraq plan to put any weapons on either the King Airs or the Cessna 208s?
Bash: Not the current Cessna 208s. They have three ISR-capable 208s, which are similar to the King Airs. They have two additional 208s that they are using for flight training. Those will not be weaponized. However, starting in December we will receive the first armed Cessna Caravan with the capability to fire an AGM-114 Hellfire missile. That will go on three Cessna 208s delivered in December, and then on two more [delivered] early next year. That'll give them their first true air-to-ground capability, with laser designator, similar to what our Predators do, but they'll be manned.
A&S: Will the Iraqi air force ever get combat UAVs?
Bash: Right now, the Iraqi air force does not have any plans for that within their 2020 service plan. I believe the Iraqi army may be looking at some UAVs along the lines of what our Army has with the Hunters and all that, but I don't have the details. But the air force is not. One of the challenges is you have to have a very mature command-and-control system, and they truly don't have that right now. Their command-and-control system is just cell phones and a few radios, but that's what we're helping them build over the next couple years.
A&S: What's the 2020 plan?
Bash: The idea is that in 2020 they would have an air force of 579 aircraft with different capabilities that would provide for the air sovereignty of Iraq. They really haven't decided what types of aircraft those would be. But you'd have trainers, some aircraft for battlefield mobility, some special operations rotary-wing, armed reconnaissance rotary-wing, light and medium transports, ground-attack aircraft, some with ISR, some advanced jet trainers. And then eventually they'd move into the intercept, kind of air-to-air [combat] jet. But that would be way out in the out years.
A&S: How much danger is there that a future Iraqi government with a reconstituted air force could someday turn hostile and threaten U.S. allies in the region?
Bash: Well, the view is that they currently do not have that capability and will not have that capability in the near future. It's too early to say at this point, it's kind of like predicting the future. Right now, working with them on a daily basis, I know that they truly want to be allied partners, but that can change with a governmental change.
A&S: With all your duties, do you still find time to fly?
Bash: In fact, I flew an Mi-17 last week. Most of my time is in heavy airlift. But I've done orientations in the 172, the 208, the King Air and Mi-17. But I'm not qualified in any of them; I have to be with an instructor. Mi-17 is a challenge because you've got Russian instruments. It's a very robust and reliable aircraft, by the way. They picked Mi-17 because they used to fly it and their older maintainers and pilots already knew how to work on it.