Raceplane Builder Par Excellence
The Reno Kid, Andy Chiavetta.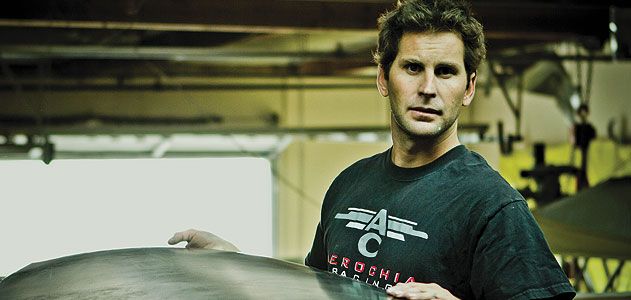 Since building Darryl Greenamyer's Lancair Legacy, Race 33, in 2000—which won the Sport Class Gold in the National Championship Air Races from 2002 to 2006—Andy Chiavetta has built custom raceplanes, designed and built the LT-1 kitplane, and, with friend Aaron Peluso, founded Exile Skimboards. Chiavetta, the founder of Aerochia, Inc. spoke with Air & Space Editor Linda Shiner.

Air & Space: How did you start working with Darryl Greenamyer?
Darryl was looking for someone to build a Lancair. He thought "These Legacys are fast. I could build the plane and win that Sport Class pretty easily." [The Sport Class is open to kit airplanes with 650-cubic-inch or smaller engines.] He stopped by an airport where I was working and asked an old friend for a recommendation. The guy told him about a project I was just finishing. He said, "He's done everything by himself, and he does nice work. You should talk to him."
Plus, I was affordable.
A & S: Lancair must have been pretty happy to hear from a race legend like Greenamyer.
The salesman we talked to at first didn't know who Darryl was, and the kit we got—Kit 3—was supposed to go to another pilot. But when [General Manager] Bob Fair heard that Darryl was interested, he said "Give him anything he wants."
A & S: After Darryl first took the Gold, do you think it promoted the Sport Class?
The year following that race, the whole Sport hangar was filled with airplanes.
A & S: Did it have an impact on your work?
My business skyrocketed. Things have slowed up a little now, because of the economy. But I don't sit around much. If I'm not moving, something's not working.
A & S: How many of your aircraft raced last year?
I built Race 5 Breathless, Pokey, Miss Karen II—all Lancairs.
A & S: Do you make a lot of Lancairs for customers?
No, not stock Lancairs. We make raceplanes. A standard stock Legacy is maybe 220 or 230 knots. Ours cruise at 275 or 280. And at Reno, we're pushing 400 with them.
A & S: When you push 400 mph at Reno, do you use up the engine?
Well, I think we're up to nine engines on Darryl's plane.
A & S: You designed the new airplane, the LT-1, from nothing, right?
Yeah. I started building airplanes when I was around 18, and they're difficult to build. And I was trying to find an easier, simpler, lighter way to build an airplane. So while I was in college, I was designing the airplane. And it basically started from a piece of paper.
The LT was kind of planted in my mind when I was in grade school. I always liked the small fighters, the quick, nimble little airplanes. That's basically what I build. I did a lot of drawings as a kid, and as I was drawing, I was thinking, How would I make the structures themselves?
My father is a hot-rod guy. So the mechanical stuff I had from my father. But there was an airport near where I live, and when the waves were bad, I'd be at the airport. I would walk around and look at all the different aircraft and see how they were built.
A & S: What did you study in college?
I have an AA in aviation, which is a four-year program at Orange Coast College. It's not a very large college. It was mostly flying classes—navigation, private pilot, some commercial. There were some aerodynamic classes, but nothing really like what I'm doing now.
A & S: What does LT stand for?
[laughs] When people ask, I say it stands for "Light Tactical." But the real story is we call it "Little Turd" because Darryl calls it that. Darryl has flown some incredible aircraft—his F-104, his Bearcat [which won the Gold race in the Unlimited category six times between 1965 and 1971]. All these airplanes have excessive amounts of horsepower. One cylinder in his Bearcat has more horsepower than I have in my whole airplane. So he was always joking around and calling it a little turd, and the name kind of stuck.
A & S: Did Darryl test fly the airplane?
Darryl did most of the testing. Originally, he was supposed to do the first flight, but he was doing some landscaping at his house and moving some 150-pound rocks—by himself; he's an older guy, but he's tough as nails—and he tripped and broke a rib. He was still going to fly the airplane, but he couldn't get in and out of the airplane quickly, and, with the first flight, if there's a possibility of having to get out of the airplane, it would have been hard.
A & S: What did you do?
I brought a friend in—a guy name Len Fox. He's done a lot of test flying for Lancair, the certified and the kit company. He did a lot of the testing for the Columbia [which competed for market with the Cirrus SR22 and is now part of the Cessna line]. He did the actual first flight.
A & S: After Darryl tested it, how did he comment on his handling qualities?
He was complimentary. Darryl gave us a glowing report for his raceplane, the Legacy that we built. He said it was the nicest-flying piston airplane he's ever flown. So when I was making the LT, I wanted to duplicate the flying characteristics of the Legacy—make it an easy handling, nice-flying airplane. And Darryl says the LT handles better than the Legacy. So that makes me feel really good.
A & S: How did you go from skimboards to airplanes?
I did them at the same time. I worked for a company making carbon-fiber sailboat masts for boats competing in the America's Cup. At the time, that company was the only one making carbon masts. At about that time, I was getting into better materials and working with carbon fiber and epoxies. I'd been skimming since I was eight. I noticed the boards that I was riding were very poorly built, in comparison to the materials I was working with. So I started building my own boards for myself and my friends. And they're basically wing panels. They're made from the same materials I use for planes now. It was a good cross-over, and we made them lighter and stronger than the competition. It wasn't a good revenue-earner when I was younger. The planes were much more lucrative, so I just did it for my friends at the beginning. But over time, a very close friend wanted to start a company with it, so I taught him and some other people how to make them.
A & S: And how's the company doing?
We're known for doing the really high-end boards, the pro-model boards. Most of the top skimboarders in the pro division are riding ours.
A & S: I watched the videos (exileskimboards.com). It looks like fun.
Oh it's a blast. I used to do it professionally too, but I'm juggling a lot of things, so I've kinda backed off from it. And it's a young man's sport. You're running 100-yard dash all day in the sand, running as hard and as fast as you can all day. It wears you out pretty good.
A & S: So flying is easier; you can sit down.
Yeah. Another thing too is the location of my shop. I have an industrial building in San Clemente, and it's a weird place to be. San Clemente is not known for its aviation community. I'm located here so I can be close to Laguna Beach, where I live. And Laguna Beach is the mecca for skimboarding. There are more good skim spots in that one town than there are on the entire east coast. Eventually, I'll have to move away from it though.
A & S: Where to?
Well, if the LT catches on, I'll need a bigger facility. The overhead in this general area is really hard to do that. I do have a lot of friends from Scaled Composites, out in Mojave. That's a possibility. It's very affordable out there. Darryl lives out near Thermal. That's where the plane is right now. And that's also a possibility. Very good testing area.
A & S: Why did you build a second LT?
The second LT is a duplicate of the first one, just to see how long it takes to build one up, and how much it costs. It took eight years to build the original one, and it was kind of on and off when I could work on it.
A & S: That sounds like a long time.
To do a composite airplane, it's three steps. You make a plug—the positive shape, or what you want the part to look like—a mold, and a part. So it's hard to estimate how much time it takes to make the part. Now that the molds are done, I just have to make parts for the plane. So that's the step we're doing now.
A & S: Will you sell the LT-1 as a kit?
Yeah. All the tooling has been made to make more of them. That's why it took so long.
A & S: What do you hope the experience of building an LT-1 will be?
It will be a good introduction to composite construction. A lot of the hard work will be done here at the shop. They won't have to know how to do large lay-ups, which require a higher skill level. They'll have wing skins and ribs and parts, and they'll be bonding it all together. It will be more like building a model airplane.
A & S: Have there been advances in composites since you've been making skimboards and airplanes?
Yeah. In molding. Patricia and Jon Sharp, who built Nemesis NXT, started using a new molding technique. They're our main competition at Reno but also friends.
A & S: That's how it goes at Reno, doesn't it? Race teams can be fierce competitors, but they seem to help each other out.
That's not always the case. [laughs] The Formula One class is very competitive. Darryl puts it this way: Everyone likes a winner—but not too much. People in the Sport Class were getting a little mad at us too. They were trying really hard to beat us, and when we win every year, it gets tough. Tension builds up.
A & S: So the Sharps are winners and you're a winner and that's why you can be friends?
I guess. Of course we'd always like to be the ones who are winning.
A & S: Will you win this year?
No, we're not racing this year. We're still working with the problem of horsepower. It will take a lot of horsepower to get to the NXT speeds. We're close, but it takes a lot more.
The last few years we've been really thrashing to get the engine running properly. We decided between the both of us that we're going to test more than we have in the past, and if it's not coming up to speed, we won't race. If it looks like it's going to do well, we will. A lot of times, we'll build up the engine, test it, get it safe, make everything work, but we don't push it all the way until we get to Reno because it's risky. You could blow up the engine prior to the race. What you're doing is you're opening the envelope at the race. If you run into something like we have the last few years, that's not fixable within that week, then we've lost our chance.
A & S: What about next year?
If the engine is working well, we may try for the straight-and-level record in our class, where you fly four passes, and [the National Aeronautic Association officials] take the average of the four passes. We were planning on doing that at Tonapah if it's available….
A & S: Where Darryl set the record in the F-104…
It worked well there because it's high and it can be hot. [Next July] we'll do that, if we have it all ready to go.
A & S: What's your plan for Reno this year?
I'll be there the last part of the week. I usually pit for a few airplanes because a lot of the planes we build go right into Reno. But three of the planes I normally pit for won't be there.
Usually I don't get to watch the races at Reno because I'm so busy working. So this year, I'm going to just enjoy it.
A & S: Did you and Darryl work together on the modification to the Legacy?
We went to Lancair and talked to chief engineer Greg Cole and the general manager at the time, Bob Fair. We said, "This is what we'd like to do. How do we get there?" I worked with engineer designing the systems.
I've done a lot of work with Greg Cole over the years. And the Evolution that Lancair is building now [a pressurized, four-place, turboprop introduced in 2009] is his brainchild. Their wing is similar to the wing of the LT. I had designed a wing for my plane, and I showed Greg my data, and he's a great aerodynamicist. He said, yeah, that would be good, but would you mind me designing a new wing for it. That's when we decided to use the CNC [computer numerical control] machine because the shape that he wanted was an elliptical. That's the beauty of CNC. You can do really complex airfoil shapes. Greg's much better at picking out airfoils than I am, and I trusted him. I'm glad I did because the plane flies really nice.
A & S: How did you first turn the Legacy into a racer?
The Legacy was not designed as a raceplane. It was meant to be an every-day flyer. So for us to go faster, we had to do a lot with horsepower. Compared to most certified airplanes and most planes out there [at the air races], the Legacy is a very fast airplane. There's no certified aircraft that performed like that so we had something good to start with. But we had to do a lot with horsepower. And when you push a lot of horsepower out of the engines, the reliability goes away. And that's why we haven't done well at Reno for the last three years.
A & S: What happened in the last three years?
We've gone to a new geared engine, and we're trying to get more power out of it. And we were becoming engine designers.
The geared engine is really beneficial for racing. The prop can spin only so fast—if it goes supersonic, you lose efficiency. But the engine doesn't get its peak horsepower until it gets higher rpms. So you have this conundrum, if you don't have a gear drive. The gear drive slows the prop but keeps the engine rpm high. You're getting the horsepower, so you trick the prop, by keeping it at the same speed, but you have a higher rpm, which is giving you more power.
But the gear drives are very finicky. They have a lot of harmonics because you have a spinning mass on one end and the engine on the other, and they fight each other. And it takes a lot of engineering to design a gear drive. We tried to make our own gear drive, and that was a bit naïve I guess on our behalf (laughter) because it's really hard to do.
A & S: What does the future hold?
If the Legacy isn't performing as well as we expected, then I need to design a new airplane from the ground up. I kind of saw this coming when we were winning. I saw the Sharps with their plane, and you could see the potential in the airplane. But it takes a long time to get all the systems working—getting the engine, and the gear, everything lined up to make a winning combination. I tried to drum up interest in designing a new airplane then, because it takes five years from the time when you say "I have a new design" to the time when you get something flying. So realistically you have to look five years into the future. So the plans were to try to interest Lancair, to try to do something with Lancair, but that's about the same time the company changed ownership.
But Greg Cole and I were working on the new design, and a lot of it has been thought out and designed. We just have to find the funding to do it.