Once a Roadside Attraction, This WW2 Bomber May Get a Third Life
How a B-17 came to roost in Oregon.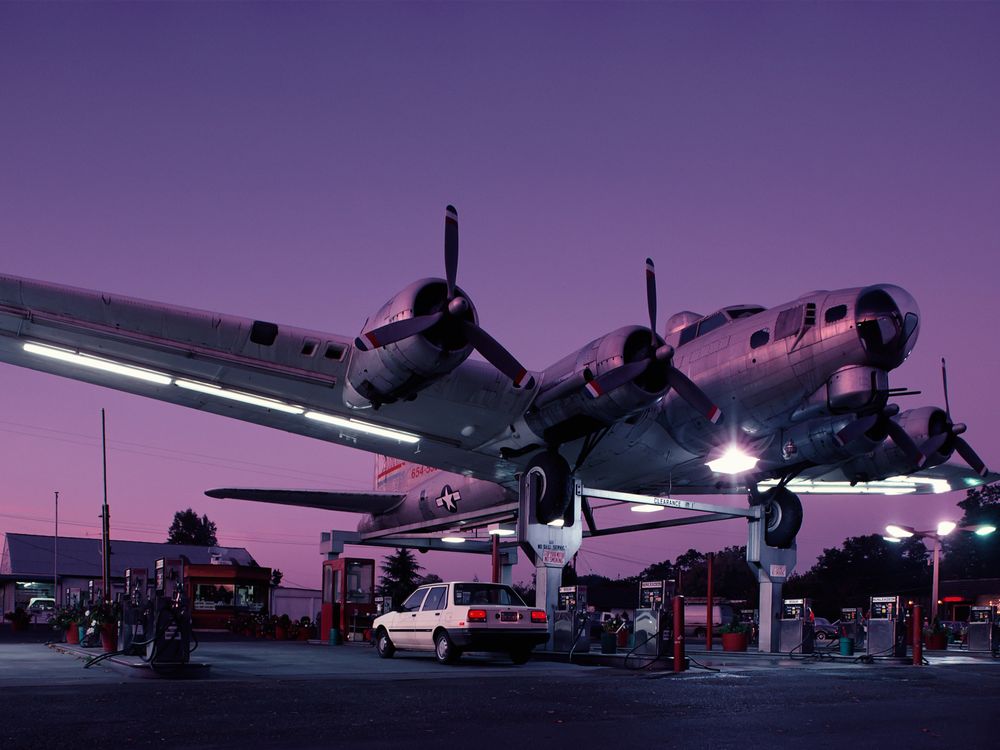 The only thing stranger than the sight of a Boeing B-17G parked above a Milwaukie, Oregon gas station is the story of how it got there.
In February 1947, gas station owner Art Lacey announced that he planned to buy a mothballed bomber to attract—and shade—customers. A friend bet him five bucks that it would never happen. "If you told my dad he couldn't do something," his daughter Punky Scott says, "then he was going to do it." The story of how he did it has been Lacey family lore for 70 years.
Lacey borrowed $15,000 and hightailed it to the airport that very night. At Altus Army Airfield, Oklahoma, he bought a well-used B-17 for $13,750. Although Lacey was an experienced pilot, he had never flown anything with more than one engine. But after a few taxi runs, he felt confident enough to take a test hop.
Everything went fine until it came time to land. The landing gear refused to extend, so Lacey bellied in and slid into a second B-17. Fortunately, the War Assets Administration officer took pity on him, and declared it "the worst case of wind damage I've ever seen." Then he sold Lacey another B-17 for a mere $1,500.
This time, Lacey summoned two friends with B-17 experience to help. They arrived with a case of whiskey—Oklahoma was a dry state at the time—to barter for fuel (which base firefighters siphoned from other mothballed bombers). After a stop in Palm Springs, California, where Lacey wrote a bad check to cover refueling, the crew ran into a blizzard.
Visibility was miserable. Lacey slithered into the front turret so they could fly IFR—I Follow Railroads. This worked well until Lacey saw, through a break in the clouds, that they were about to hit a mountain. The crew barely cleared the obstruction.
Eventually they reached Portland but hit another problem after landing: Lacey couldn't get a permit to truck the big airplane to Milwaukie. He disassembled the B-17, loaded it onto four flatbeds and hired funeral-procession motorcycle escorts to give the operation a patina of legality. As a backup, he also paid some hot-rodders to join the parade.
"He told them, 'Do not stop for anything,' " says his grandson, Jayson Scott. " 'If anybody gives you a hard time, you peel out and burn rubber in different directions, and I'll pay all of your tickets.' " Lacey got off lightly, with a $10 fine for transporting the airplane without a permit. The B-17 Lacey Lady became a landmark on Highway 99E leaving Portland.
Lacey Lady did the trick, and customers flocked to the gas station. Over the years, visitors stole virtually everything that wasn't bolted down. The wooden floorboards were replaced seven times, before a young boy fell out of the B-17, prompting a lawsuit that shuttered the bomber in the late 1950s.
By the time Art Lacey died in 2000, the airplane looked forlorn. The rainy northwest is not kind to unprotected airplanes, and the B-17 proved an attractive nesting place for local birds. The nose section was removed in 1996 for a restoration project, which stalled when cash ran short.
In 2006, the family created the non-profit B-17 Alliance Foundation to do the job properly. Lacey Lady was taken apart and trucked—with a permit—to Salem, Oregon. Jayson Scott figures it will take $10 million and 10 years to get the airplane back in the air. Long odds, but considering his grandfather's record, you might think twice before betting against him.