750 Meters Later
Masten Space System's test vehicle, Xombie, took a nice ride this week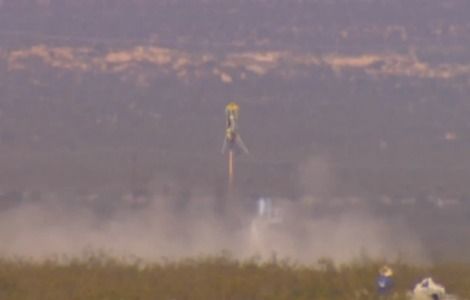 The rocketeers at Masten Space Systems (see p. 3) are pretty happy with the Xombie they've created. The vertical take-off/vertical landing vehicle passed a big goal Tuesday: flying 750 meters downrange. As you can see in the video below, Xombie — which won Masten $150,000 from NASA and the X PRIZE for precision landing in the 2009 Lunar Lander Challenge — ascended over 475 meters before reorienting to travel to its destination at a little over 50 mph.
Founder and Chief Technology Officer Dave Masten said of the test, "I could not be happier." As for Xombie's next steps:
We are discussing going a bit faster and further downrange, but the real purpose of Xombie is to be useful as a testbed. Where we hope to go with this is enabling NASA, NASA contractors, and others to more effectively test their new technologies. Next for Xombie will be to fly similar trajectories but with new technologies to demonstrate that those technologies are ready for use in mission critical applications, such as landing on Mars.

JPL will be releasing their take on what they can do with Xombie in the near future and I don't want to steal their thunder, so I won't say much more along those lines.
Here's another view of Xombie's flight.