Landscape With Airplanes
The view from 18,000 feet.
In 1860, well before the invention of both the airplane and the modern camera, James Wallace Black took the first aerial images of the United States, using a daguerreotype from a hot-air balloon.
Hot-air balloon and daguerreotype are still options, but wouldn't provide the results that aerial photography company Nearmap gets today with twin-engine airplanes and sophisticated multi-lens digital cameras. Nearmap contracts with pilots who fly Cessna 310s, Piper Navajos, and other airplanes on a GPS-guided course at the camera's 18,000-foot optimum altitude. (Other aerial photography companies typically fly lower and slower, and use smaller airplanes.) By selecting points common in adjacent shots—a particular tree or building, for example—a proprietary cloud-based software stitches together the tens of thousands of photographs captured during a single flight. We could spend hours looking at the results. —The editors
Pima Air & Space Museum, Tucson, Arizona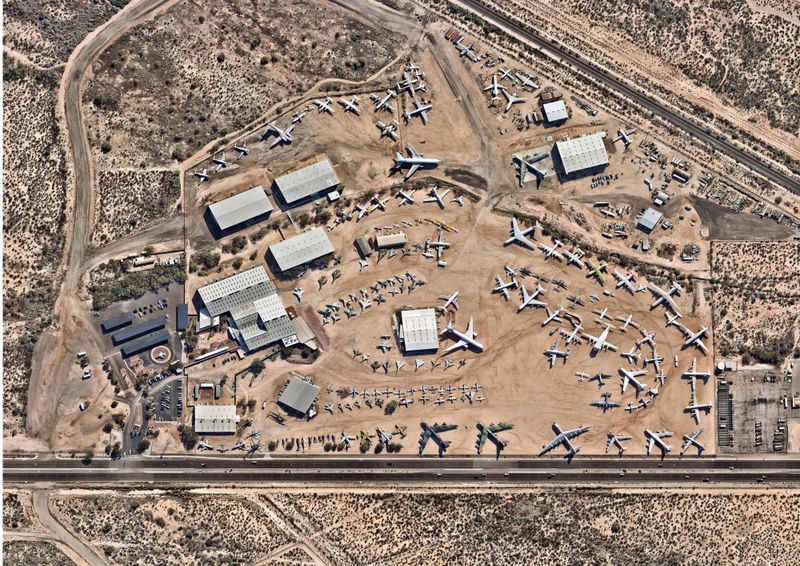 Dry desert air makes Tucson a great place to preserve old airplanes, and Pima Air & Space Museum accordingly hosts one of the world's largest private collections. Over 100 of the museum's 300 airplanes are displayed outdoors, ranging in age from 77 years (a very rare Sikorsky S-43 Baby Clipper seaplane; upper right of center, larger airplane with yellow wings) to seven years (a Boeing 787 airliner prototype; immediately right of the central building, with raked wingtips), and in size from a 230-foot wingspan (a Boeing B-36; bottom row, fourth from right) to 24 feet (a Bushby Midget-Mustang; good luck finding that one).
Hartsfield-Jackson International Airport, Atlanta, Georgia
On average, more than 280,000 people per day pass through these terminals, most of them landing in one and connecting to another of over 2,500 flights per day—making Atlanta the busiest airport in the world, a title held continuously since 1999.
This image, just over a mile in width, was stitched together from around 100 photos taken on a single overhead pass. Note the airliners headed toward their gates.
The United States Capitol Building, Washington, D.C.
Landmarks look different from the air. As the official meeting place of the U.S. Senate (north wing) and House of Representatives (south wing), the Capitol is one of the most iconic buildings in the world (it's on the $50 bill, if you happen to have one nearby), and its center divides Washington's street addresses into quadrants. To the west—just out of frame—is the National Mall with the Smithsonian museums; to the north and south are Senate and House office buildings; to the east the Supreme Court and Library of Congress.