Tiny Towns Shine Under the Eclipse
Glendo, Wyoming is preparing for its moment in darkness.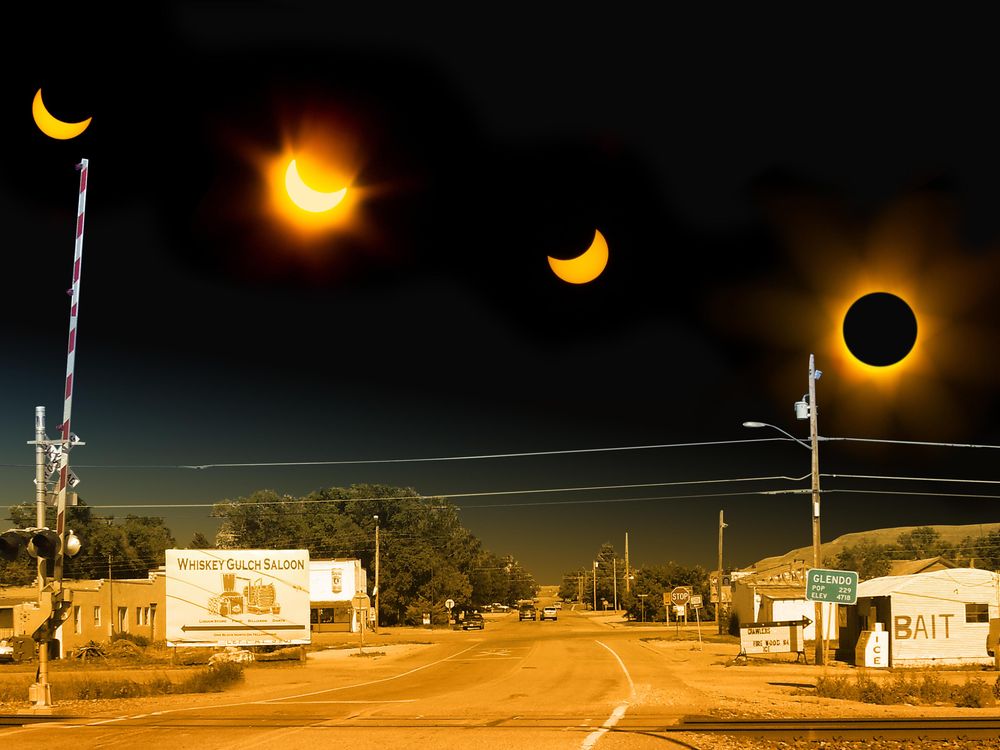 About 200 million people live within a day's drive of the path to be traced across the United States this August 21 by the total solar eclipse. Naturally, an eclipse tourism industry has already arisen. People who live in the middle of nowhere but along the eclipse's narrow path of totality have rented out their homes for thousands of dollars per night. Several cities are boasting days-long eclipse festivals. And those who have experienced the power of a total eclipse are scrambling for the best view.
Kelly Beatty, a veteran eclipse chaser and senior editor at Sky & Telescope, will be leading 200 people on a 12-day, long-sold-out tour around the Rocky Mountains that culminates with a killer view of the eclipse from one of the most ideal spots in the country: the tiny town of Glendo, Wyoming, population 229.
Eastern Wyoming has a high likelihood of clear weather in late August, but Glendo is special for another reason. Because of the topography on the moon itself—lunar mountains can cover the sun for just a few moments longer than valleys—the places on Earth that will experience the longest period of totality are a few miles south of the path's center. Glendo is one of these locations, with totality there expected to last a full two minutes and 30 seconds.
According to Beatty, it's worth chasing every second. "It's a deeply moving, even spiritual experience for people," he says, adding that the partial or annular eclipses many of us have seen are no substitute for the full obscuring of the sun's disk by the "black bullet hole in the sky" made by the moon. The temperature drops markedly, birds and other animals quiet down, and the stars come out. If you're not sure whether you've seen a total eclipse, Beatty says, you haven't.
Beatty isn't the only one who has targeted the tiny Wyoming town. "This is going to be an event for Glendo," says Jacqueline Diehl, who spent 15 years doing public outreach for the National Solar Observatory, in Boulder, Colorado. She's an amateur astronomer and a part-time resident of Glendo, as well as the mastermind behind the town's eclipse preparations. With Diehl's help, Glendo will host talks by eminent astronomers from around the world. The town will close its grass-strip airport to provide prime viewing areas, and call in extra deputies from the county sheriff's department to help wrangle the crowds. Diehl says they're anticipating more than 100,000 visitors, including dozens of buses rolling into town on eclipse day, partly because it's the shortest drive to totality for people in the Denver area. She estimates that nearby Glendo State Park could see double its typical holiday weekend attendance, which tops out at around 38,000. The town has already spent $35,000 on guest accommodations like portable toilets, hand-washing stations, and trash removal services—roughly 10 percent of its annual budget. "It has been kind of crazy," says Diehl, "especially in a town that has no infrastructure, to make it work."
She lists Glendo's businesses—two general stores, a few bars and knick-knack shops, and two restaurants (three if you include the counter at the general store). They'll be bringing on temporary employees, and the town is recruiting hundreds of volunteers. Glendo has a total of 10 hotel rooms, so the night before the eclipse, Beatty's tour group is staying in nearby Cheyenne. Cheyenne sits at the intersection of two interstate highways, one of which runs more or less along the path of totality. "What that gives us is a very key strategic advantage in terms of what we call 'scrambling,' " says Beatty. "If, the night before we go, we determine that the weather in eastern Wyoming is going to be bad but the weather farther east in Nebraska is going to be good, we'll just head east."
After all they've done to prepare, that would be a terrible letdown for all 229 residents of Glendo, Wyoming.
Read more of our 2017 eclipse coverage.