A Most Hazardous Occupation
A new book looks at the rich history of British test pilots.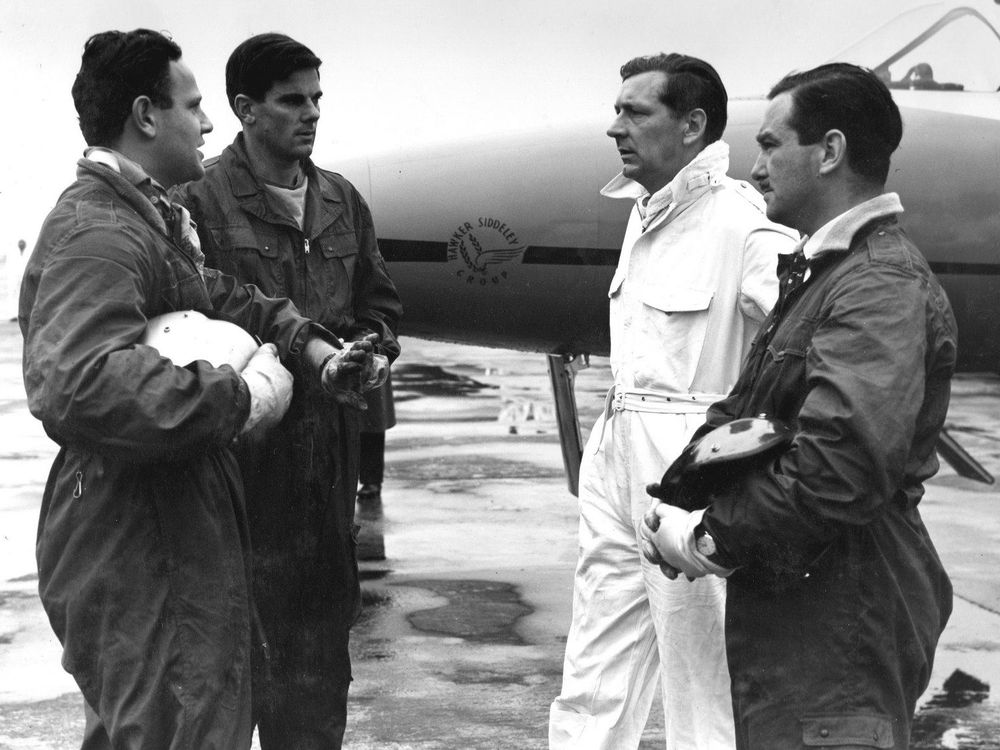 Ken Ellis spent 20 years researching the history of British test pilots, and documented their achievements in a two-volume study. In the second volume, Testing to the Limits: British Test Pilots Since 1910, James to Zurakowski, Ellis profiles more than 200 pilots and highlights the failures and triumphs of Britain's aircraft industry. He spoke with Senior Associate Editor Diane Tedeschi in December.
Air & Space: Why did you decide to write this book?
Ellis: I have long been interested in British aircraft prototypes, their manufacturers, and their test pilots. I've always that someone should write a study of all of British test pilots, not just the well-known ones but the unsung ones too.
During your research, did you notice a quintessential British-test-pilot personality?
Ah, you're looking for that stiff upper lip and "press on regardless" attitude that seems to characterize Brits in the eyes of the rest of the world. They all have their quirks and eccentricities, but most of that occurs outside of the cockpit. I think that the disciplines and skills involved in test piloting—the world over—produce a similar sort of person. Quiet, considered, meticulous, patient, and similar qualities all bundled into one. The majority of the test pilots I've met have had these traits in abundance, coupled with a wry sense of humor and an innate modesty conveyed through self-deprecation.
Is there a British test pilot that you particularly admire?
I could dodge the bullet and say that they all have their fascinations. But for me there is one that towers over the others: Harald Penrose. He was born in 1904, and died in 1996. It's difficult to encapsulate him in a few words, but here we go: author, biographer, historian, philosopher, skilled sailor, naval architect (created 36 yachts and boats), architect (designed his house), built and test flew his own sailplane, Royal Air Force reservist pilot, and Westland chief test pilot from 1931 to 1953. In that time, he carried out the maiden flights of 11 prototypes and signed off hundreds of production aircraft. To me he is the doyen of the doyens: the test pilot so often mentioned by others of his profession as the character they admire.
What are some of the notable technologies or aircraft types that were advanced by the contributions of British test pilots?
Glad you said "some," because there are so many to choose from. Let's start with Joseph "Mutt" Summers, who flew the prototype Spitfire on its maiden flight on March 5, 1936. After a 15-minute sortie he told the ground crew: "Don't touch anything." He was that happy with its behavior.
Bill Bedford took the Hawker P.1127—the precursor to the Harrier, the world-beating, vectored-thrust, short/vertical-takeoff-and-landing strike fighter—through its challenging test routine. He had his leg in plaster (following a motoring accident) when he carried out the first tethered hover in October 1960. Careful step-by-step exploration led to the first full transition: vertical takeoff to conventional landing and then conventional take-off to vertical landing, nearly a year and 98 flights later.
How dangerous was the job?
Within the two volumes, I present potted biographies of 377 test pilots from 1910 to the present day. Of these, 101 died while going about what could reasonably be called their job definition: proving prototypes and production aircraft. That is a bald statistic: There are flight test observers and engineers and other specialist aircrew that can be added to the death toll. During that time, there have been innumerable injuries, ranging from what these days are called "life-altering" to broken noses. One death is too many, but readers have been surprised by how modest that fatality total is.
That there were spikes in the fatalities during World War II and the envelope-pushing era of the Cold War should hold no surprises. So far this century there has not been one test piloting fatality in Britain.
How did the people you interviewed handle losing their friends in test-flying accidents?
Stoically, is the best way to sum it up. Several pilots having said that it comes with the territory. The flight office is a tight-knit community, and a fellow test pilot is more a family member than a colleague.
Has the increasing digital presence in aircraft cockpits affected the way test pilots go about their job?
While attending a function at the Museum of Flight in Seattle in 2002, I got talking to a Lockheed Martin test pilot. He announced that he'd driven up the coast from California after having carried out the most dangerous maneuver a test pilot can do in an advanced combat aircraft. I earnestly leapt in, asking if it was an extreme high-alpha profile, a double re-light, or a flat inverted spin. He grinned: "Nope, I needed to press CTRL, ALT, DELETE!"