A Prize-Winning Song Written by Two Utah High Schoolers Celebrates the Enduring Love of Annie and John Glenn
Annie Glenn died this week, two years after finalists in an NEA songwriting competition paid tribute to her and her astronaut husband.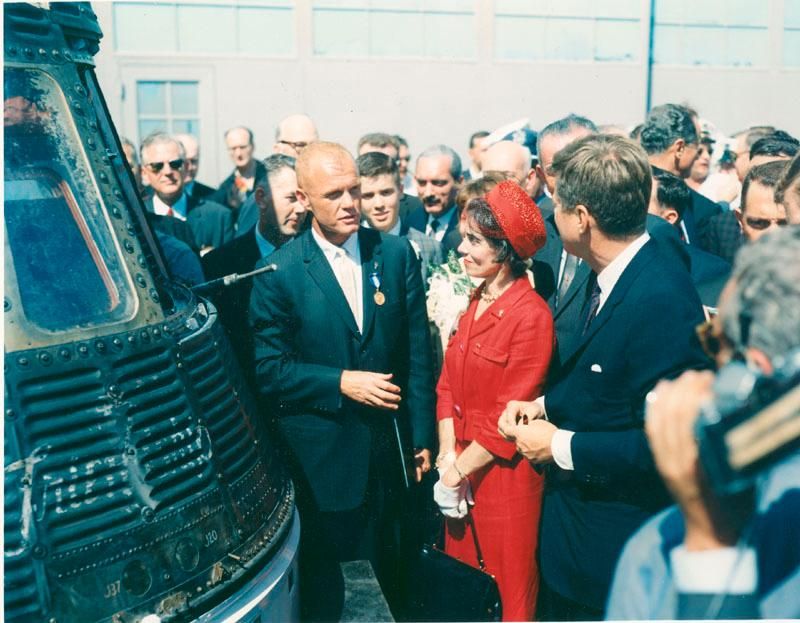 This week, we mourn the death of Annie Glenn, one of the more than 93,000 Americans to have succumbed to COVID-19 since late February. In 1962, her husband John Glenn became the first person to orbit the Earth, thrusting himself and his spouse into the global spotlight. Ms. Glenn had a severe stutter, which made the newfound attention of the public even more trying for her than it might have been otherwise. Eleven years later, when she was in her early fifties, Annie enrolled in an immersive three-week speech program at what is now Hollins University in Roanoke, Virgina. She improved her speaking skills so substantially during that period that she became an advocate for people who suffer from speech disorders, and later an adjunct professor in speech pathology at Ohio State University.
Long before this power couple embarked upon new chapters in their professional lives—John Glenn was elected to the first of his four terms as a U.S. Senator from Ohio in 1974—the public had already been charmed by their intimate rapport. "I'm going down to the corner store to buy some chewing gum," John, the World War II and Korean War veteran-turned-astronaut-turned-legislator would say whenever he was about to do something risky. "Don't take too long," was Annie's familiar reply.
Their marriage lasted more than seven decades, from 1943 until John's death in 2016.
Among those inspired by the Glenns' story are two Americans born in the 21st century, long after the Mercury and Apollo era. Eliza Corrington and Braxton Carr were both students at Da Vinci Academy of Sciences and the Arts, a charter high school in Ogden, Utah, in 2017, when they decided to write a song about the space race. Corrington was a senior; Carr, a junior. They'd become friends while performing together in the Da Vinci Theatre Department's production of the musical Fly by Night.
Covington recalls reading about the Glenns' farewell ritual in a 1962 New York Times story she'd dug up while conducting research for their songwriting project. Excited, she showed the story to Carr the next day. That spring, they submitted their song "Ten Seconds to Infinity," inspired by the Glenns' relationship, to the first National Endowment for the Arts Musical Theatre Songwriting Challenge, where it was selected as one of five finalists among nearly 200 entries. Along with the other finalist composers, Corrington and Carr were flown to New York City in May 2018 for a concert featuring all the finalists' work. The performance of "Ten Seconds to Infinity" in the video here is taken from that concert. The song placed second, earning its coauthors a $10,000 scholarship.
Carr, reached by phone in the barracks at Fort Riley in Kansas, where he's now a mechanic servicing CH-47 Chinhook helicopters, recalled the project clearly. "We just fell in love with the couple. It became clear the song had to become a duet" between Annie and John, he says.
Corrington graduted in 2018, and is now a Mormon missionary in Luxembourg. Once her term is completed next year, she plans to resume her mechanical engineering program at Southern Utah University. Carr graduated in 2019, had "a month of summer," then enlisted for a six-year hitch in the Army, reporting for basic training at Fort Jackson in South Carolina. Now 19, he says he's preparing to take the Selection Instrument for Flight Training exam—one of the key steps to becoming a pilot.
Corrington is even more ambitious. She's worked three summers at Astro Camp Utah, where "I've promised many a summer camper that I plan on being one of the first, if not the first, women on the planet Mars," she says.
He and Corrington email one another every Monday. The news of Annie's death was a blow, he says, because he and Corrington had shared a hope of getting to interview her for the full-length musical about the Glenns they still intend to finish. Corrington says they've sketched out ideas for several additional songs already, and intend to return to the project once they both have more time to focus. "It hasn't happened yet, but it definitely will," she says.