20 Hours to Solo
Will a new pilot category restore the glory days of general aviation?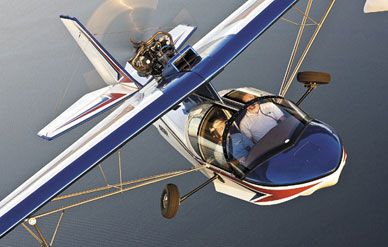 When Jim Hazen's wife of 37 years died two years ago, he felt adrift. His only child, a son, was grown and long gone. And Hazen had struggled with health problems, undergoing heart valve replacement surgery in 2001. The 61-year-old avuncular copier company sales manager realized that he needed to do something to get out of his funk.
For Hazen, that something was flying. He had wanted a pilot's license for much of his life, ever since he served on the aircraft carrier USS Oriskany as a self-described "scope dope," or radar operator, during the Vietnam War. "Back then I didn't have the time and the money," he says. But in 2005, when he did have the time and the money, he learned that because of his valve replacement, the Federal Aviation Administration would not give him an airman's medical certificate, which he would need to get a private pilot's license.
Then Hazen heard about the new sport pilot certificate, instituted by the FAA in 2004, which would allow him to fly with either a third class (the lowest physical standard) medical certificate or a driver's license. Hazen would still have to log a minimum of 20 hours of flight instruction with a certified instructor and pass written and practical exams. He would also be limited to fair-weather, daylight-only flights under visual flight rules. His flights could not exceed an altitude of 10,000 feet, and he would have to fly in a new category of aircraft known as light sport aircraft (see "What's an LSA?" below).
In October 2005, Hazen started flying lessons, and the following February, by then having spent about $4,000, he received his sport pilot certificate. He took his time and ended up completing nearly twice the necessary training hours. "I just got back from a trip to California," says Hazen, who lives in Arizona. "I've logged something like 160 hours of cross-country time. It's fun. It's everything that I expected and more."
Hazen represents a previously untapped pool of customers that general aviation proponents hope will propel the industry back to the popularity it enjoyed in the 1960s and 1970s. As current pilots age, some are in danger of losing their medical certificates. The Light Sport Aircraft Manufacturers Association estimates that in the coming decade, as many as 100,000 pilots could develop medically disqualifying conditions.
Meanwhile, a sharp rise in costs for traditional flight training and aircraft operations is discouraging many potential customers. Obtaining a private pilot's license is approaching $10,000, much of which goes to pay for the minimum 40 hours of flight instruction the FAA requires. And the price that flight schools must pay for a new training aircraft—such as a Cessna 172—is now close to $250,000; sportier single-engine airplanes like the Cirrus SR22 and Columbia 400 cost upward of $450,000 and $550,000, respectively. And then there's insurance.
The numbers tell the tale. According to the FAA, over the last decade the total hours logged by general aviation aircraft are down 20 percent. Of those who start flight training, only 30 percent actually get a license. "They do five or 10 hours of Cessna training and then they are out of money and can't do it anymore," says Dennis Carley, who owns U-Fly-It Light Sport Aircraft in DeLand, Florida.
Compared with a private pilot's license, the sport certificate can be gained for about half the money and in about half the time. While many in general aviation are optimistic that the sport pilot category will revive their industry, they've had high hopes before: During the 1980s, when general aviation hit its nadir, with light aircraft plants shuttered and flight schools closed, the FAA and industry collaborated on developing the recreational pilot certificate and the primary category aircraft program. Both were designed to reduce the regulatory and financial barriers to flying, yet both failed.
"In both cases, they were not what they needed to be," says Dan Johnson, president of the Light Sport Aircraft Marketing Group. "The recreational pilot rating had too many requirements for the amount of privilege that you got, and it had some significant restrictions, one of which was only being able to fly a short distance." Because the private pilot license took just 10 more hours of flight instruction—40 versus the 30 required for a recreational pilot's license—"most flight schools just said, 'Why should you get a recreational pilot's license when you can't do very much with it? Why don't you just go ahead and go all the way to private?' "
What helped doom the recreational pilot certificate is that it requires the same medical certificate private pilots must hold. And like sport pilots, recreational pilots are restricted to fair-weather, daylight flights, but unlike sport pilots, rec pilots cannot roam: Their flights cannot exceed 50 miles from their home airport.
As a rec pilot, Jim Hazen would not be able to travel much outside the city limits of Mesa, Arizona, but as a sport pilot he ventured all the way from North Carolina to Arizona. Granted, he had to make 10 stops for fuel, and weather grounded him in Tennessee for three days, but he wasn't in any hurry.
Intended to work in tandem with the FAA's rec pilot certificate was the agency's primary category airworthiness certificate. The FAA created the category as a low-cost alternative to designing an aircraft for the agency's Part 23 airworthiness certificate, a standard of safety and redundancy for commercial aircraft. Many in the general aviation industry have argued for decades that the standard is burdensome and should not be applied to private recreational aircraft.
Already, the sport pilot certificate and light sport aircraft category are more successful than their rec pilot/primary category aircraft predecessors. After more than 10 years, recreational pilot licenses have been issued to less than 200 people. By contrast, from July 2004 through February 2007, the FAA issued 1,229 sport pilot licenses. And compared with two aircraft certified in the primary category, nearly 50 have been certified as light sport aircraft.
Most of the new light sport aircraft are manufactured by about 30 companies, a number of them based in Europe. Prices range from $40,000 to $130,000. Some vintage American favorites, such as the Aeronca Champ and the Pietenpol Air Camper, are small enough and slow enough to qualify as light sport aircraft. Last year an estimated 500 light sport aircraft were sold worldwide, and the manufacturers' association hopes to double that number in 2008. The goal appears achievable, especially with industry giant Cessna entering the field.
In November 2005, Cessna appointed a small engineering team to build a prototype LSA. The team included engineer Neal Willford, who the year before had been part of a team given five days to build a flying car on an episode of "Monster Garage" for the Discovery Channel. ("It flew twice," he says.)
"In many ways this [prototype] was a 'Monster Garage' project," says Willford. "You have to be fast. You have to be decisive. You have to get it done. Nine months after they said, 'Go build it,' we flew it."
Aside from the company logo and signature high wing, what Willford and his teammates came up with looks very different from a traditional Cessna. Power comes from a 100-horsepower Rotax 912 engine, for decades a favorite powerplant for homebuilt airplanes and ultralights. The control yokes are gone, replaced by sticks. "The goal of this airplane is to put a smile on your face," says Willford.
Cessna unveiled the prototype at last year's Experimental Aircraft Association's AirVenture in Oshkosh, Wisconsin. After the show, Willford received a letter and deposit check from one prospective customer. He kept the letter but returned the check. On July 10, Cessna announced that it was taking steps to put its LSA into production. "We believe this aircraft will make a major contribution to stimulating new pilot starts," said CEO Jack J. Pelton.
Sport aircraft marketer Dan Johnson believes a Cessna entry will increase sales across the board. "It's tremendous validation," he says. "And it will create instant infrastructure, because Cessna already has a large distribution network and a large number of places that already service their airplanes. For the customer out there, they should say, 'Well gee, if Cessna's doing one of these, LSAs [sport aircraft] must be okay.' " Certainly, Cessna, which has been building airplanes since 1916, has relationships with the general aviation industry, with pilots, and with the FAA that new companies have not yet had time to cultivate.
Sport flying does have its skeptics, among them Mike Carzoli, co-owner of the Blue Skies Flying Service flight school in Lake in the Hills, Illinois, 38 miles northwest of Chicago. "We're a pretty busy airport," says Carzoli. There are three flight schools there, and not one operates a light sport aircraft for flight instruction. "While we do get the occasional inquiry about sport pilot, it is not like [prospective students] are knocking down the doors," he says.
Blue Skies operates three 1980s-vintage Piper Warriors and a Cessna 172. The Warriors rent for $103 per hour. Although LSAs burn about half the fuel of the Warriors, Carzoli believes that the $70,000 to $100,000 price tags for suitable trainers would drive up his insurance and financing costs and that to make a profit, he would have to rent them at almost the same price as the Warriors. To satisfy any emerging demand for sport pilot training, Carzoli is kicking around a plan to use vintage aircraft that fall into the LSA category—Piper Cubs, Aeronca Champs, and Aercoupes—but he doesn't think he'll need to implement it anytime soon.
When Jim Hazen went to apply for his sport pilot certificate at the FAA's Flight Standards District Office in Scottsdale, Arizona, it took a while before he could find anyone there who knew what he was talking about. "Most people in the building had never heard of sport pilot," he says.
EAA president Tom Poberezny, whose organization quarterbacked general aviation interests with the FAA during the decade-long development of the new LSA and sport pilot categories, counsels patience. "This is more like a marathon than a sprint," he says. Poberezny admits that there is a shortage of sport pilot instructors, examiners, and LSA inspectors. "It will be another couple of years before we have the proper infrastructure," he says.
Since receiving his certificate last year, Hazen has been spreading the sport pilot gospel. He is mentoring several students in Mesa, including Greg Robinson, a 41-year-old plumber. Robinson has been interested in aviation since the age of seven. He flies remote-control model airplanes and helicopters and started his sport pilot training last year in an Air Piesek Allegro 2000. "The Allegro is lighter and more responsive than a Cessna, and it's a lot cheaper to fly, but that's not really the issue for me," he says. "You see so much more out of the big windows, and between the view and the sense of accomplishment you get from flying, well, that is what does it for me. I just love the freedom of it."
Tom Zastrow, 64, a retired U.S. Department of Labor investigator who lives in Oviedo, Florida, got interested in the new class of flying by taking rides in a friend's Beechcraft Musketeer. "My friend warned me that flying was like drilling holes in the sky and filling them with money, but sport pilot is still cheaper than the traditional approach," he says. "I'm not interested in flying at night, using a plane for business trips, or instrument flying." Zastrow purchased a used Challenger 2 sportplane for $10,000, and has spent another $6,000 upgrading it. "I'm looking forward to sharing flying with my friends and family," he says. "It's like riding in a convertible."
The new category of flying is "definitely an aviation sweet spot right now," says Tom Peghiny, president of sport airplane distributor Flight Design USA in Woodstock, Connecticut. "The convergence of new technology, new regulations, and the changing pilot demographics. It's pretty exciting." Last year, sales of new conventional single-piston-engine airplanes—Beechcrafts, Cessnas, Cirruses, Columbias, Diamonds, Mooneys, Pipers—reached 2,500. Will names like Allegro, Breezer, Skylark, Sting, and Zenith be as recognizable one day? It will be years before the general aviation industry knows if sport flying provides the tonic it seeks.
---
What's an LSA?
A light sport aircraft…
• cannot take off in excess of 1,320 pounds (1,430 for seaplanes and 660 pounds for lighter-than-air vehicles)
• can be powered by only one reciprocating engine with a fixed-pitch propeller
• must have fixed landing gear
• has no more than two seats
• has a maximum stall speed of 51 mph
• has a maximum cruise speed of 138 mph
---
Further information
Students can receive sport pilot training from any Federal Aviation Administration-certified instructor, and they can take lessons in any aircraft. For the required solo flight, however, student sport pilots must fly an airplane in the light sport aircraft category.
There is not yet enough data to firmly gauge the cost of obtaining a sport pilot certificate, according to the Experimental Aircraft Association. For rough budgeting, the EAA suggests figuring on one-third to one-half the cost of a private pilot certificate.
A person who has been denied an FAA pilot certificate for medical reasons cannot be issued a sport pilot license until approved by the FAA's medical branch. The FAA notes at least 15 conditions that can disqualify someone from receiving any pilot certificate, and FAA rules state that if a pilot knows of any medical condition that would affect his or her ability to operate an aircraft, that person should refrain from acting as pilot-in-command. In addition, a pilot who is severely overweight might have difficulty fitting into the smaller cockpits typical of some light sport aircraft.
For answers to frequently asked questions about sport pilot training, go to www.sportpilot.org.
For answers to frequently asked questions about private pilot training, visit the Aircraft Owners and Pilots Association Web site.
An online calculator to help determine the cost of flight training — aircraft rental rates, instructor fees, study materials, medical costs, and exam fees — is available at www.csgnetwork.com/cost2learntoflycalc.html
A discussion of medical restrictions for sport pilot versus private pilot can be viewed at www.leftseat.com/sport.htm
—Roger Mola