In 1986, David Letterman Went On the Air, In the Air
For the 4th anniversary of "Late Night," the TV host filmed the show on board a TWA 747.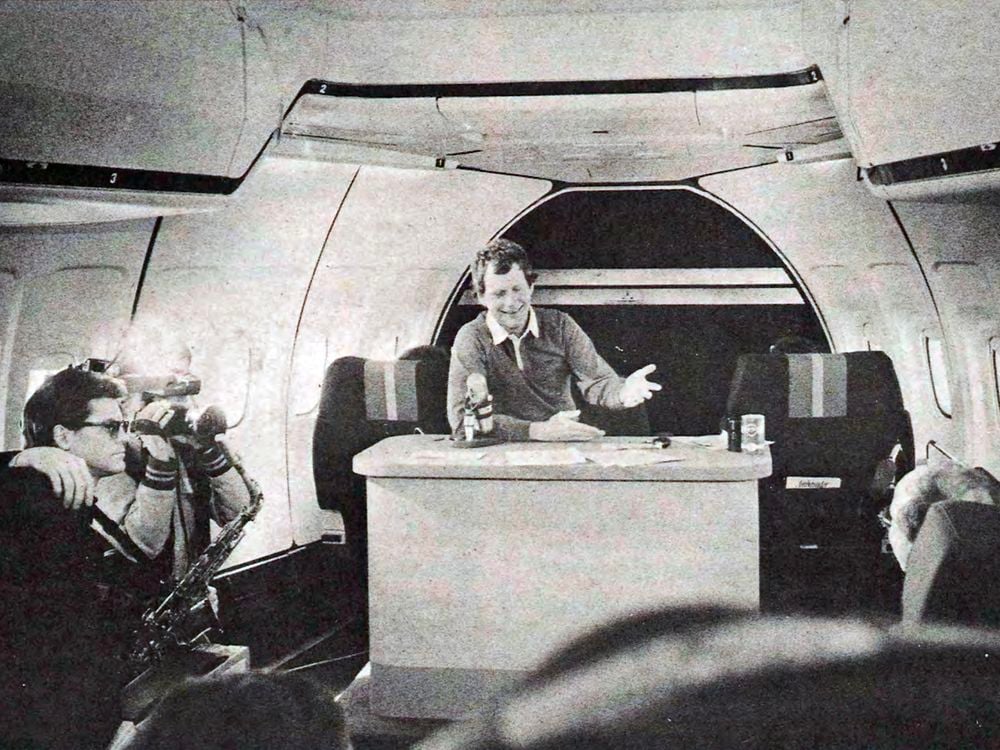 United Airlines recently announced that it would retire its fleet of 747s in 2017, one year ahead of schedule. Delta, the other U.S. carrier that still uses 747s, had already announced it would phase the aircraft out of service by the end of the year. (Cargo carriers and charters will continue to use the iconic aircraft.)
As Christine Negroni noted in Air & Space in 2014, the 747 has transported the equivalent of 80 percent of the human race. But we're reminded of the time the jumbo jet was turned into a TV studio at the request of one specific human: "Late Night" talk show host David Letterman. In 1986 the show was planning to celebrate its fourth year on the air, and Letterman wanted to top the previous anniversary show, which had been filmed in a hospital and featured the birth of a baby.
TWA offered NBC the use of a 747 bound from New York to Miami. "Don't worry about Florida," said Letterman in his opening monologue, "because you're not going to see any of it. Tonight's show comes to you entirely from this gigantic 747 aircraft. And you have my guarantee, ladies and gentlemen, that this program will be as much fun, be just as exciting, and just as entertaining as any really long airplane trip."
TWA Skyliner magazine reported that several rows of first class seats were removed to make room for Letterman's desk, the band, and a couple of cameras—while leaving space for the show's regular feature,  Stupid Pet Tricks (airborne edition). An FAA inspector was even assigned to the flight to keep an eye on all of the modifications. TWA's corporate communications director worked closely with NBC on the show, the first ever to be taped on an airplane in midflight. "Had anything really derogatory occurred during the taping," notes TWA Skyliner, "[the director] could have asked for a retake—but didn't have to." Letterman pokes fun at the in-flight meal (likening it to food given to prisoners at Riker's Island) and TWA's usual passengers ("drunken businessmen"), but kept things pretty tame.
You can still find the show on YouTube: