Bronx Airport? Denied!
In the 1920s, it was still up for grabs which borough would get New York city's airfield.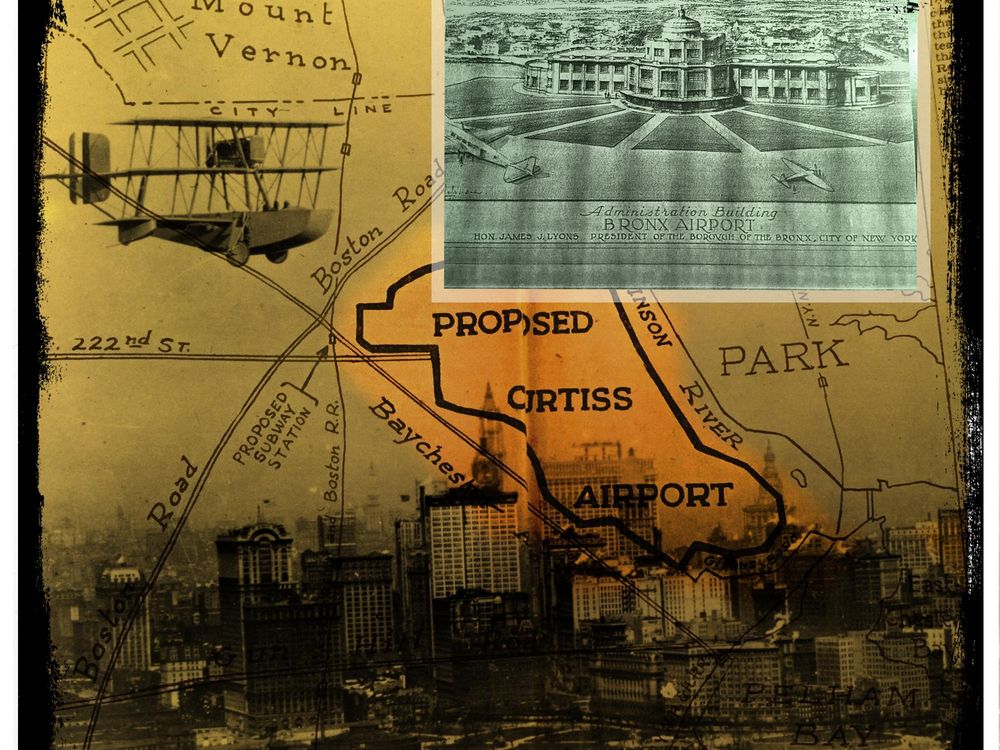 In August 1927 local businessmen gathered in a Bronx marsh for the opening ceremonies of a new airfield. A single-engine biplane soon approached for the inaugural landing, but celebration turned to dismay as it crashed into an unattended car parked on the makeshift runway.
No one was injured, but it was a bad omen for efforts to build an airport in the Bronx, which are long forgotten. Had all gone according to plan, many New Yorkers and visitors would be landing in the eastern Bronx today, instead of at LaGuardia Airport in northern Queens.
LaGuardia is starting to undergo a $4 billion renovation to alleviate its notorious crowding, delays, and inaccessibility. But the airport is hemmed in by the East River and a highway, which all but rule out major expansions. An airport in the Bronx, while farther from downtown Manhattan, would have had room to expand and boasted the nation's first airport train station.
The world's first officially established airfield had opened in 1908 on the site of an abandoned Bronx racetrack, but within a few years it was absorbed into the growing city. Two decades later, the Bronx Chamber of Commerce incorporated the new 1927 airfield, despite its ignominious debut, in hopes of turning it into New York's first municipal airport.
City officials instead chose a site in south Brooklyn, which became Floyd Bennett Field. The Bronx site was among six other locations selected by a federal siting committee as good spots for an airport: Four became LaGuardia, Newark Liberty, JFK, and Teterboro airports. The fifth, Governor's Island, attracted early aviators like the Wright brothers and hosted a runway until the 1960s. Only the sixth site, in the Bronx, remained undeveloped, but not because it was unsuitable. In 1929, as new subway lines from Manhattan made the Bronx the city's fastest growing borough, the newly formed Curtiss Airports Corporation bought the land. The parcel was one of 18 that Curtiss intended for a nationwide chain of airports.
Yet even as Curtiss promised groundbreaking in 60 days, the company's board soon quietly voted to slow development in the Bronx. Seven weeks later, the stock market crashed, and the Great Depression ensured that the bog in the Bronx remained just that.
In 1934, New York Mayor Fiorello LaGuardia refused to deplane at New Jersey's Newark Airport because his ticket read "New York." He called for a new, modern airport closer to Manhattan's business center, and his first choice was a Curtiss airfield in northern Queens.
James Lyons, the new Bronx borough president and its biggest booster, had other ideas. He took LaGuardia on a tour of Bronx airport sites, but the excursion literally hit the rocks: Newspapers ran photos of LaGuardia on his knees peering beneath his Chrysler after it struck a boulder on a rough road "two miles from the nearest telephone."
And LaGuardia had little reason to entertain Lyons, who was the lone Democrat and a constant critic in a city where every major office was controlled by the mayor's Fusion Party. When LaGuardia secured federal New Deal funds for an airport, the money went to Queens.
Efforts to develop a Bronx airfield finally sputtered out when it became clear its flight path would dangerously cross that of the site LaGuardia picked. After World War II, a developer bought the Bronx acreage and eventually built Co-op City, the nation's largest residential development.
Lyons, in his way, did have the last word. Days after New York Municipal Airport was dedicated, on October 15, 1939, Lyons insisted, tongue firmly in cheek, that it be named LaGuardia because it was as "wonderful as the mayor."
And so it was.