Quiet Nights in Tunisia
A diary from WW2 shows how one soldier described his chaotic days in a way to keep himself sane.
Returning to base in Tunisia after an air strike, an American B-25 bomber descended, the five crewmen unaware they were seconds away from a fiery disaster.
86 landed and rolled about 100 yards or so along the ground when a "hung" wing bomb apparently dropped off, blowing up the ship. Lieutenant Gruesser, pilot, Lieutenant Simmons, bombardier, and Tech Sergeant Humeston were blown out of the ship and taken to the hospital. P.O. Watkins, copilot, and Sergeant Robertson (Royal Canadian Air Force), radioman, burned in the ship. Lieutenant Simmons died at the hospital about 2 a.m.
That description comes from the diary of my uncle, Sergeant Sidney Christophersen of the U.S. Army Air Forces' 434th Bombardment Squadron, 12th Bombardment Group. The date was April 29, 1943. The 434th was helping Britain's Eighth Army and other Allied forces push German troops out of North Africa. His job was repairing bombers damaged during air raids.
I knew Sidney as a young child, my head about as high as his belt, but we weren't close. I don't recall us ever having a conversation. A skinny bachelor from Chicago with a receding hairline, wire-rimmed eyeglasses, and a thin mustache, he made this entry the day after the explosion:
Humeston reported out of danger. Gruesser still holding his own, will be four or five days before they'll be able to tell, has some pretty bad burns. Another month shot to hell.
Sergeant Christophersen's sister, my Aunt Marie, kept that diary for more than 60 years before she passed it on to me. I had it for years before I read it closely. Once I did, I was surprised by what a vivid account of the fighting in North Africa my uncle had captured. I made my own transcript of the diary for further study.
Keeping a diary was common among U.S. forces during World War II. My uncle started recording his experiences on February 17, 1943, as his unit rolled out of the British Royal Air Force base at Gambut, near Tobruk in eastern Libya. The Allies had recaptured Tobruk in November, after forcing Germany's Afrika Korps into retreat at the battle of El Alamein in Egypt.
It took eight days for the convoy to roll westward along Libya's long coastline, bouncing over the dusty, damaged roads. Passing through Benghazi on February 19, Sidney described the city as "fairly well blasted up."
The convoy stopped at a different spot each night, covering as few as four or as many as 177 miles each day. They sought protection from air strikes wherever they could. A good campsite was a palm or olive grove. Sidney shared a two-man tent.
Near the end of the journey, the men camped temporarily at an RAF base near Tripoli called Castel Benito. According to my uncle's calculations, they had covered 1,056 miles. They remained there for two weeks. The currency was British military shillings. A mobile canteen sold cigarettes for about eight cents a pack.
The long trek ended on the evening of March 9, when the convoy traveled another 125 miles to El Assa airfield in western Libya, not far from the front lines, and linked up with the bombers.
As the 434th attacked German positions in nearby Tunisia, Sidney noted how many holes each airplane picked up from antiaircraft fire, also known as ack-ack, or AA. The highest number was 109.
Repairing the holes consisted of cutting patches from sheets of aluminum and securing them with rivets. Once, an airplane returned with a dent in a patch that had been put on the previous day. No matter how chaotic a day might have been, my uncle often finished a diary entry with "Quiet night."
March 16 Mission today. All planes returned. About a dozen holes to patch. Gas tank hit on 91.

March 17 Very quiet. 36 years old today.

March 18 Mission called off, a fair sandstorm blowing.

March 19 Sand still blowing. Missions called off. Wind finally died down along about 7 p.m. A rather quiet night.

March 22 Two missions today. Our planes in fairly good shape upon return. 83 didn't fare very well. Capt. Ingraham's ship spinning in from 1,500 feet and exploding. Ingraham's crew all perished. One of the other ships, 94, landed OK, then the landing gear collapsed. Quiet night.

March 28 No missions today—takeoff would have been impossible—the worst sand and windstorm we have encountered—blew down the seven mess tents, operations, supply armament and about half of the rest of the camp.

March 31 Mission again today. AA a bit rough. Crippled up Keeshen's, Morton's and Williams' ships. Keeshen landed in the Mediterranean a couple miles off a small island, picked up by a Walrus [amphibian] after about an hour's wait. Morton's crew reported to have bailed out and supposedly safe. Lt. Williams landed at a fighter field. All reported OK.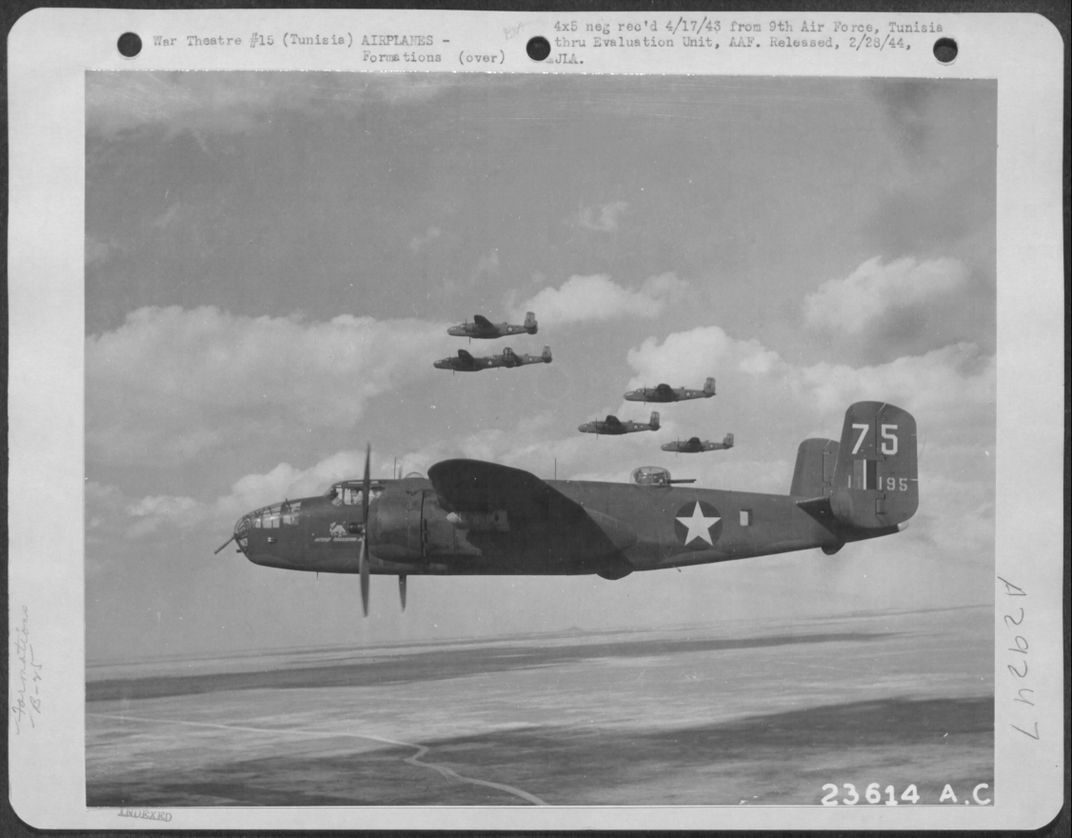 As ground troops pushed German forces farther north, the 434th followed. On April 4, after a little less than one month at El Assa, the squadron packed up and moved to an airfield near Medenine, across the Libyan border in southern Tunisia.
April 6 One mission this afternoon. 18 planes from each squadron at two minute intervals. 49 picked up 58 holes. 31 a piece of the right rudder. Jacobs hit in leg, tendon cut. Lt. Titus hit in face.
On April 17, the squadron proceeded north to an airfield near the Tunisian coastal city of Sfax, an area the B-25s had hit recently. My uncle pitched his tent 20 feet from a bomb crater left by one of his own airplanes.
April 25 (Easter Sunday) Two missions today, second called back. When forming up, one 340th ship rose and cut the tail off another 340th ship. Both went down and everything was blown to hell. All our ships came back OK. On the 23rd, there were over 1,500 sorties over enemy territory in Tunisia. Movie tonight: "Fleet's In." Quiet night.

April 26 One call for a mission at 3:30 a.m., another at about 8 a.m. Both canceled before they left the ground. Left on a mission shortly after noon. One ship, 49, came in with a rudder about half shot away. He came in on the cross runway and narrowly missed three other ships coming in on the other runway.

Later, two ships did get together, one 340th ship coming in on one engine on the cross runway and 49 coming in on the other runway collided. 49 tried to go up at the last instant but did not clear. Both ships a total loss. A miracle that no one was seriously injured. Still later, a 340th ship bellied in. He did a smooth job of it. One ship made a forced landing at a nearby fighter field. Quiet.

April 28 Going to chow, I fell off the jeep, landed flat on my face. Hurt a couple of ribs or something in my chest and my left leg between hip and knee. The doc taped up my chest which eased the pain some. Quiet night.
Sidney was shipped out to the 38th General Hospital in Cairo on May 9. The last German troops in Tunisia surrendered on May 13.
He was never well after that. He died on September 24, 1949, at Hines Veterans Administration Hospital near Chicago. The cause of death was lung cancer. He was 42 years old. Quiet night.