So That's What Flying Cars Are For
A new business model may make them real this time.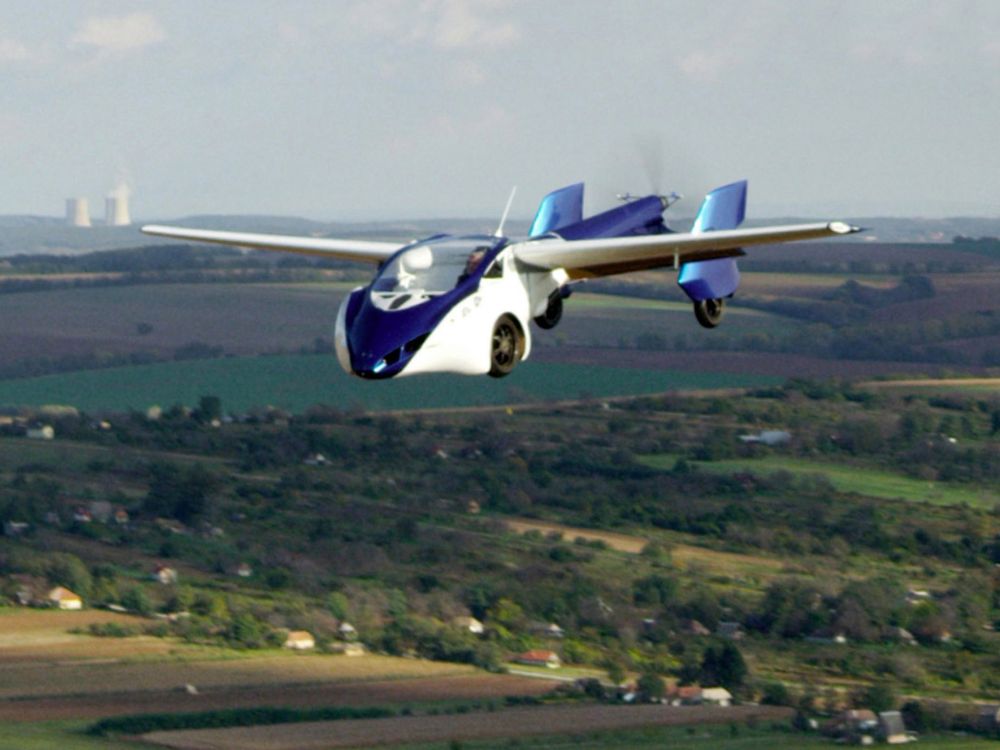 You can find the future of aviation inside an unremarkable building in Woburn, Massachusetts, tucked behind an Irish pub and a Dunkin' Donuts. This is where Terrafugia is working on the Transition, the most mature and probably the best known of a 21st century crop of aviation's perennially just-around-the-corner technology: flying cars. With a pusher-propeller and wings that fold, the Transition is a light aircraft that seats two, boasts a flight range of 400 miles, and meets all the Federal Motor Vehicle safety standards. The airplane can run on automotive gasoline and fold its wings in less than a minute, a trick that converts it from an airplane into something that will easily fit in a garage.
Terrafugia founder Carl Dietrich says the Transition is designed to mitigate the reasons general aviation pilots choose not to fly—fear of getting stuck somewhere due to bad weather, being marooned on the tarmac after landing, getting stuck with excessive parking and fueling fees—and to attract new fliers. It's designed to make flying easy, with only a 20-hour sport-pilot license required to get behind the stick. "The vision is to make personal flight useful for everyone, not just for the niche community that finds general aviation fun today," Dietrich says. "We would like people who never thought of becoming a pilot before to consider it because, hey, it's a flying car."
When Dietrich launched Terrafugia in 2006 from the basement of the Massachusetts Institute of Technology, "people thought we were crazy," he says. Now he seems prophetic. Flying cars are having something of a moment, with no fewer than 10 ventures—the number keeps growing—working on designs. Terrafugia itself received the vote of confidence only investment can give in November, when it was acquired by Chinese automaker Geely. A Slovakian firm, AeroMobil, which is offering a hybrid-electric roadable airplane, has also attracted investors and recently made the rounds of international car shows. Its prototype first flew in 2013, and the company states its $1 million luxury vehicle will come to market in 2020.
The flying-car concept itself is expanding, from an aircraft for a pilot to fly from airport to airport (then convert to a car and drive home) to a passenger-carrying drone that can land and lift off anywhere. In Germany, for example, the company Lilium is ditching the driving aspect altogether and pinning its hopes on the convenience of vertical-take-off-and-landing (VTOL) technology—offering not a car but something that could still drop you off in front of your friend's house. The company claims its all-electric, tilt-wing design will carry five people as far as 190 miles. Another German company, Volocopter, gets its vertical lift from a technology known as distributed electric propulsion. Its craft has 18 rotors arrayed around a metal ring, from which is suspended a passenger cabin. (For more about electric aircraft, see "Green Skies," August 2018.) Volocopter views its vehicle as an instrument of urban mobility, a sky taxi, and has already flown its craft—without a passenger—over Dubai. It may have competition from Chinese company eHang, which has flown its own drone-like craft. Both companies claim their vehicles will fly autonomously, with passengers but no pilots.
At a conference in Dallas in April 2017, ground-bound rideshare giant Uber laid out a vision for taking its business to the skies. As detailed in a white paper and promoted in a slickly produced video, Uber hopes to combine electric VTOL craft (created by aerospace partners) with its rideshare cell phone application to provide on-demand urban air mobility. Pilot programs in Dallas and Los Angeles are scheduled to begin in 2020.
Aerospace titan Airbus has two flying-car related projects, including its all-electric VTOL, Vahana. Boeing has acquired or invested in several companies that are developing technologies to enable a flying-car future and in January announced a new uncrewed cargo vehicle that will be a test bed for electric propulsion and autonomous flight systems. The new wave of flying car ventures is growing fast enough that it can be hard to keep up. Toyota, Google's Larry Page, and a member of the DeLorean family—yes, that DeLorean family—all have plans, models, or prototypes in the works.
The Transition, however, has a 10-year advantage over most other designs. The road-plane on the shop floor during my first visit first flew in 2009, and a second-generation prototype was at the airport for taxi tests during my visit. A third-generation vehicle, which Dietrich says will become the production model, is in the design phase, and should be ready for market in 2019. Before the decade is out, you will be able to buy your very own flying car, for a price that "will likely be close to but under half a million dollars," Dietrich says. That's certainly beyond what most people will spend on a car, he admits, but "it's on par with the current best-selling aircraft, which is the Cirrus SR22, which is about $700,000, and the Cessna 172, which is the best-selling aircraft of all time, and that is about $400,000." (Those prices are for brand-new airplanes, an order of magnitude beyond what used models cost, but the new ones still sell.) And Terrafugia's price is half that announced for AeroMobil's flying car.
But whether it's a Terrafugia Transition in your garage or a flying Uber on your office rooftop, it's fair to ask: Is it for real this time? After all, we've heard this one about flying cars before.
**********
In 1917 the Curtiss Aeroplane and Motor Company introduced the first of the flying cars: the Curtiss Autoplane, a luxurious-for-the-time car connected to a detachable biplane wing, tail, and propeller section. It never flew, the company being distracted by manufacturing more conventional JN-4 Jennys during World War I. In the 1920s, Henry Ford—following the end of his own unsuccessful attempt to build a conventional, folding-wing airplane for Everyman—is reported to have said, "Mark my words. A combination airplane and motorcar is coming. You may smile. But it will come."
And then, in 1949, there was Moulton Taylor's Aerocar. The Aerocar anticipated the Transition, receiving approval from the Civil Aeronautics Authority (a precursor to both the Federal Aviation Administration and National Transportation Safety Board) and complying with state highway regulations. The wings and propeller section of the car could be towed in a trailer and attached or detached in just 15 minutes, but despite decades of trying and three different models, Taylor failed to find a manufacturer willing to bring the Aerocar to market.
What makes today's ventures any different?
**********
The problem with the flying car ventures of the past, according to Rob McDonald, head of vehicle engineering at the Uber Elevate project, is that they all focused on whether the craft could fly and not on who would fly it. "All those enthusiasts through history never had a customer," he says. "They were technologists who were visionaries and dreamers, and they all thought they understood the customer. 'If I build this, I will sell a million of them. I'll be rich.' "
But this, in McDonald's estimation, misses the essence of what people want in a so-called flying car: not so much the literal marriage of Chevy and Cessna, but the freedom of flight with the convenience of a car. On-demand mobility is what Uber already does on the ground, he says, "and it makes sense to extend that to the air." Uber isn't designing a flying car of its own; it plans to be the major customer for other ventures, standing ready to help get flying cars off the ground in much the same way as the U.S. Postal Service supported early fixed-wing aviation.
The technologies required to make a practical flying business based on the Uber model are not quite there yet, but they are getting closer. As Uber laid out in its 2016 white paper, the company's vision relies on several technical innovations that seem ready for the real world.
"Distributed electric propulsion is at the core of the colliding technology frontiers that enable this new capability," says Mark Moore, director of vehicle systems at Uber Elevate. The idea is that using many small rotors or propellers, each of which is driven by its own individual electric motor, is better than one large rotor; thrust can be better distributed, power added more efficiently, and emergency systems made more redundant. Moore believes the approach can reduce the operating cost and noise profile of aircraft to the point that an electric VTOL taxi could routinely and unobtrusively operate in cities. Moore would know: He joined Uber last year after a decade at NASA designing and building distributed electric flight demonstrators, namely the Leading Edge Asynchronous Propeller Technology (LEAPTech) project, "a Mad Max kind of semi-truck that drove across the desert" attached to a giant wing with 18 electric rotors arrayed along its edge. He jumped to Uber because, he says, "NASA was never going to incubate the urban aviation mobility market."
Uber is. Its 2020 pilot programs in Dallas and Los Angeles—cities with the semi-permanent road congestion Uber believes will tempt the traffic-bound to try ride-sharing in the skies—are only the beginning. From 2023 to 2025, Uber will focus on scaling up the pilot programs to "a mass transportation solution," says Moore. "A transportation alternative that can help unlock the congestion that exists in these major metropolitan areas."
That's a vision Uber shares with Airbus, according to Zach Lovering, project executive for Vahana, the proof-of-concept electric VTOL craft the company began test flying in 2018. Airbus, with its decades of building much larger craft for much longer journeys, is intent on proving the long-term feasibility of app-based urban air mobility for the masses. But to do that, Lovering says, Vahana, Uber, and all the others in the flying car space need to address the elephant in the cockpit: the pilot. "Today, there are approximately 25,000 commercially rated VTOL pilots in the United States," Lovering says. "A full-scale human-piloted urban air mobility solution requires hundreds of thousands of pilots."
That unreachable requirement explains why the second technology enabling flying cars is autonomous flight.
**********
It's just before Christmas and the team at Near Earth Autonomy is celebrating. More than 100 people fill an otherwise empty warehouse, mingling over drinks and appetizers or flying small quadcopters around cardboard cutouts of Star Wars storm troopers. The employees and their families have reason to celebrate: The company, whose leaders are all alumni of Carnegie Mellon University's Robotics Institute, recently won a major investment from Boeing, and the Pittsburgh warehouse where they're partying will soon become their new digs. Behind them, on a large screen, videos of drones and pilot-less helicopters highlight their recent successes.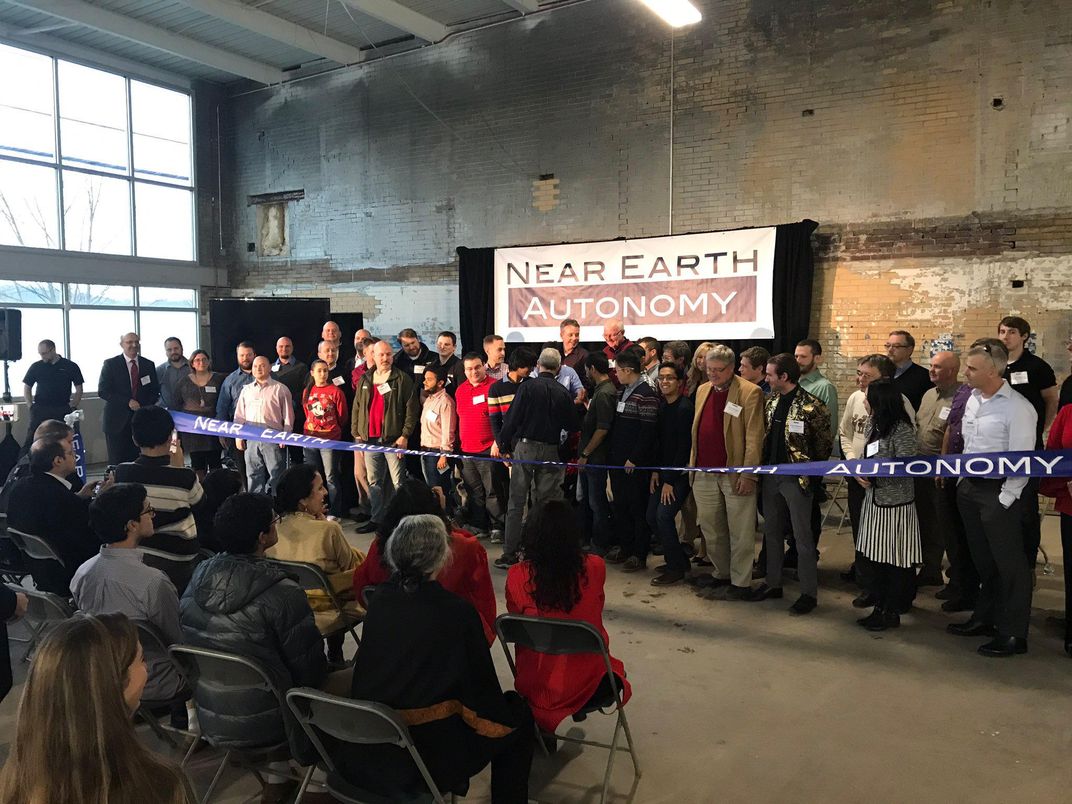 "I came to work on the first self-driving car in 1985 at Carnegie Mellon," says Near Earth CEO Sanjiv Singh. "Sensors were huge, computers were big—we could barely get these things to drive at a walking speed." Now self-driving cars are on the cusp of a breakout, and aerial autonomy might not be far behind. Near Earth Autonomy's software has flown successfully on various craft, including military helicopters in the U.S. Navy's Autonomous Aerial Cargo Utility System program. "We are building the autonomy. We partner with people for their aircraft," Singh says. "We recently contracted with Airbus to fly on their Vahana vehicle." Even a few years ago, urban air mobility might not have seemed feasible, Singh says, but now with autonomy and electric propulsion advancing, "we're starting to see how they could connect."
But fully autonomous vehicles are not yet ready to carry people, Singh admits. There are certain challenges his team faces that do not plague the self-driving car folks. Aerodynamics are harder to deal with, he notes; a self-driving car doesn't have to worry too much about variable winds, the weight of luggage in the trunk, or the ambient temperature of the air. On the other hand, Singh says, there are certain advantages to building autonomy for the air. "There are no potholes that you have to avoid," he says. When driving, you are in constant contact with the road surface and must manage close interactions. But when you're flying, he says, "if you detect anything, you're going to stay away from it. That is one of the key things that makes the problem simple." Of course, even if you build a computer that can technically fly your electric VTOL aircraft, convincing the FAA that it can do so safely is another challenge. "We have some different ideas," he says. "We have some ideas of stepping stones, some milestones we could do to get to that."
Terrafugia's Carl Dietrich thinks that's a long road. "I tend to be a little bit less optimistic about the path to full autonomy than most people in this space," Dietrich says. While Terrafugia's master plan is to one day field an autonomous electric VTOL craft, he isn't comfortable putting that reality within any time frame. Setting aside the technical challenges of developing full autonomy in flight, Dietrich says, the FAA, which currently requires a pilot in control to be responsible for any certified aircraft, "will likely need to see a million hours of proven flight experience with some sort of machine learning or artificial intelligence to get to the point where they're going to have confidence that that type of system will be robust enough to trust people's lives with."
The FAA has been monitoring progress in autonomous control, communicating with various manufacturers on how they might certify autonomous systems. But "these autonomous passenger air car concepts are still in their early stages of development," FAA spokesperson Les Dorr wrote in an email. "Several areas need further research, particularly identifying the operational risks, making sure the automation that flies the autonomous vehicle is safe, and how the automation will interact with the air traffic control system."
**********
Autonomy is not the only hurdle. The reason why the Transition production model will use a hybrid-electric engine, for instance, is that no battery can supply what Terrafugia demands. High-capacity, quick-charge batteries are the third enabling technology underpinning the hopes of the new wave of flying cars.
"The electrics have huge benefits, certainly from an environmental perspective and from a noise perspective," Dietrich says. "The thing that kills it is the battery. The battery is just not there yet."
Even Uber admits in its white paper that battery technology, for all the advances in recent years, isn't up to the challenge of keeping flying machines reliably aloft. Dietrich stresses that he is a constructive critic of these technologies—the more flying car ventures succeed, the sooner the future arrives for everyone. "Right now and in the near-term foreseeable future, it will actually be easier to get safe scalability if we're not 100 percent electric," he says.
Besides, there are already VTOL aircraft flying today that don't require any new engineering solutions, but will be the first to include new electric or autonomous technologies if and when they arrive: helicopters.
"Ignore these new technologies at your peril; that's where we're coming from," says Kurt Robinson, president of Robinson Helicopter Company, which makes the wildly popular R22 and R44 light helicopters and their variants. He says his team is always looking for ways to make their helicopters quieter and more cost efficient—to allow them to sell more aircraft—but that as far as they can tell, reliable electric power plants are still "maybe 15, 20 years out."
In the meantime, Robinson says, many of his southern California customers are excited about what Uber calls its "Elevate" model but are puzzled by the insistence on electric, autonomous aircraft. "Using an app or something to connect people—that has a lot of promise and is something that a lot of people want to do," he says. "I guess most of us in the industry are like, do you really care about the motor? Or how the aircraft is driven? I think what you want is the most efficient, cost-effective way to do it." According to the Robinson Helicopter website, an R44 costs about $209 an hour to operate today. And what about noise, by far the public's most frequent source of resentment toward light airplanes? After all, electric cars are virtually silent. "I am not so certain that an electric [flying] vehicle will be as quiet as people think," Robinson says. "The engine is only one aspect of the noise—you have the main rotor, the tail rotor. You have other factors that create noise. And when you go from one blade to four blades, that doesn't mean it's going to be quieter. In some ways, it could spin faster and in fact be louder."
The availability of existing aircraft as a potential test bed for flying car business models sounds alarm bells for Richard Aboulafia, vice president of analysis with the Teal Group, an aerospace and defense consultant firm. "There's no reason you can't prove the concept using a super-efficient piston engine. They're really good," he says. Aboulafia is ardently skeptical that any of the enabling technologies cited by the optimists are anywhere near market ready. Battery capability? "That's not off by an incremental factor. That's off by a geometric factor." Autonomy? "Before we start discussing autonomy in three dimensions, it's really important to achieve, let alone perfect, autonomy in two dimensions," he says. "You can't pull over to the side of the air."
But the business case for the widespread adoption of flying cars gives Aboulafia the most pause. It has already been tried, he says, and with less than stellar results.
"I think it's William Gibson who said, 'The future is here, it's just unevenly distributed,'" Aboulafia says. "You can see the future. It's called São Paulo." Faced with a dual plague of crime and congestion, the Brazilian megacity has one of the highest rates of rotorcraft usage in the world, Aboulafia says, but the skies are not saturated with them. "You see dozens, scores per day," he says. "Fundamentally, they are simply too expensive."
**********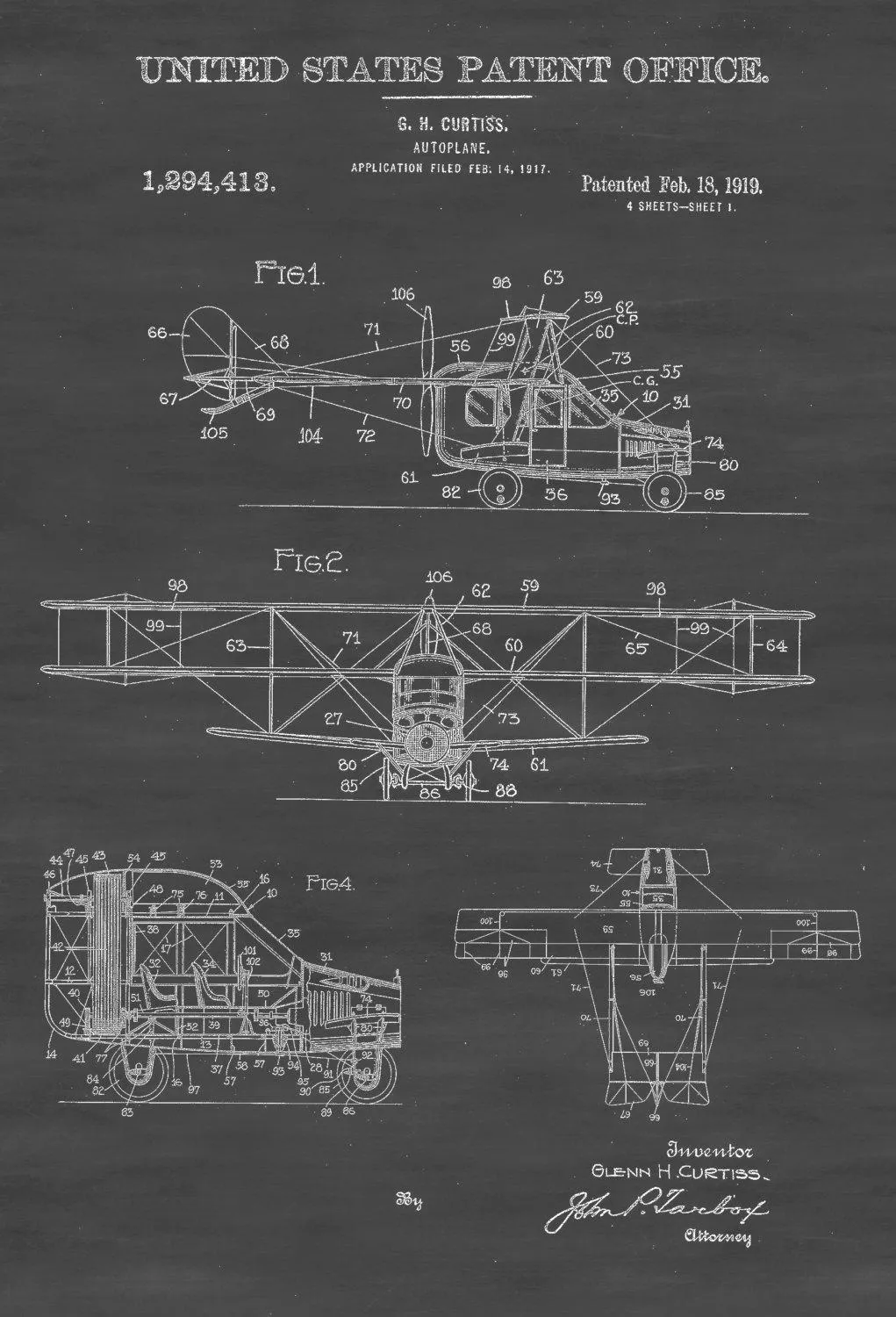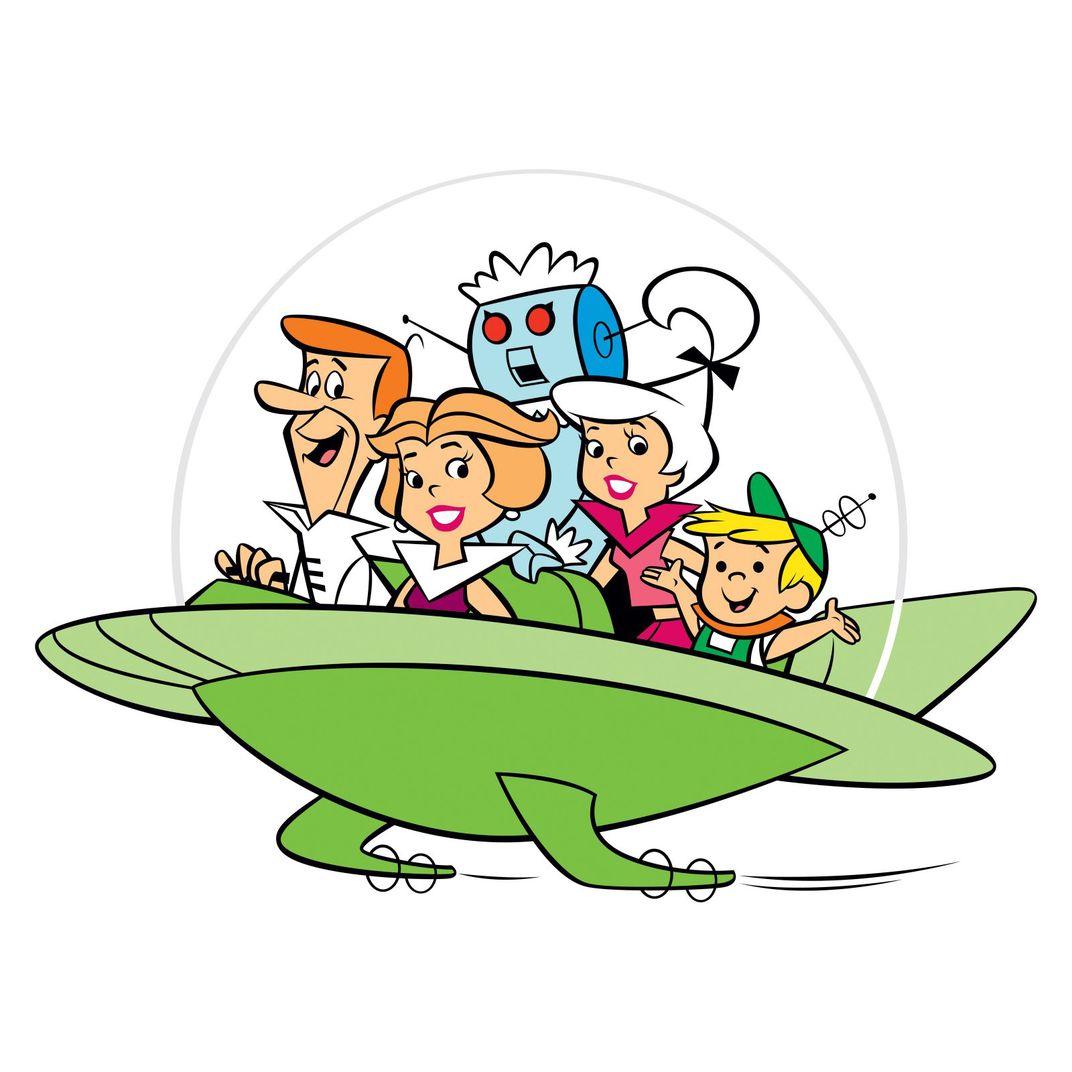 Are flying cars fated to forever be just around the corner? Or like nuclear fusion power, always 20 years in the future? Perhaps their future is not as dismal as Aboulafia would paint it. After all, in 2016, Bloomberg writer Blake Schmidt used an experimental Uber app option to book a helicopter ride from northern São Paulo to Guarulhos International Airport for $63, not an astronomical sum to turn an hour-long, rush-hour slog into a 10-minute breeze. Even if new technologies take a bit longer to mature, slowly lowering that cost over time might yet add up to wider adoption.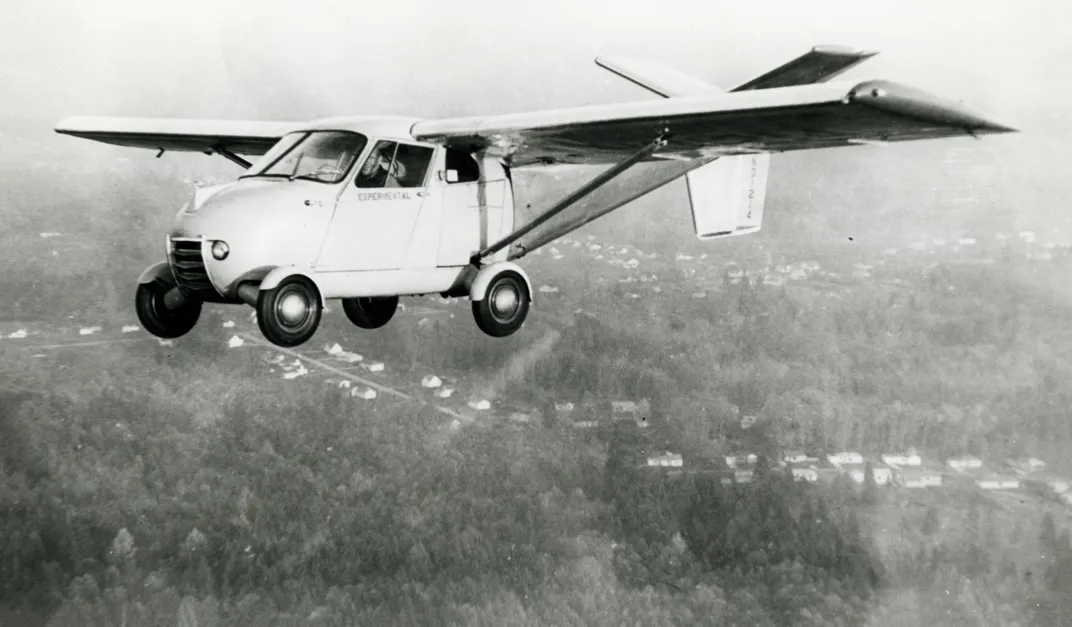 Terrafugia, at least, is in it for the long haul. The company's strategy is one of slow, gradual adoption. That's why it targeted the existing general aviation market with the Transition rather than immediately developing an eVTOL craft, though that remains the company's ultimate goal. "This should be something that we as a society should be able to figure out how to do," Dietrich says. "It's not going to happen overnight. It's going to be a generation or more," not five years.
Flying cars are not impossible; they're just hard. And hard things take a little time to get off the ground. Sooner or later, there will be some cool new vehicles in our skies. Whether flying cars can stay aloft this time is very much up in the air.