100 Years of Naval Aviation
The Navy's first pilot and 10 more milestones.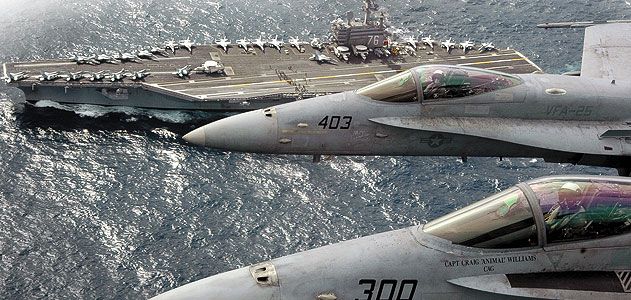 Before the U.S. Navy had airplanes or pilots, it had an interest in aviation. As aviation pioneers demonstrated their inventions in the United States and Europe, naval planners attended airshows to watch the new technology develop. By 1910, the Navy had appointed an aviation officer, and a civilian pilot, Eugene Ely, demonstrated that an airplane could take off from a ship. About the same time, Glenn Curtiss proposed free flight instruction to the Navy, and Lieutenant Theodore Ellyson was ordered to the Glenn Curtiss Aviation Camp at North Island, San Diego, to accept his offer. By 1911, naval aviation was under way. That year, the U.S. Navy bought its first airplane, the Curtiss A-1 Triad. From these humble beginnings the Navy's aircraft inventory has grown to more than 30 types of fixed-wing, rotary, and remotely piloted aircraft today. We've highlighted a few in this list of 10 milestones, assembled to kick off the centennial. Well aware that 10 milestones can't cover a full 100 years, we invite you to suggest what you consider the most significant aircraft or events in naval aviation history. Visit our Web site, airspacemag.com, and add your comments to this feature. The Web site also has a special section: 100 ways to celebrate 100 years of naval aviation—our suggestions of events, activities, exhibits, and further reading for the centennial year. — The Editors
SOME PEOPLE MAKE their way into history through hard work and perseverance. Others show up by accident. Theodore Gordon "Spuds" Ellyson, the Navy's first aviator, made history both ways.
On December 16, 1910, at the urging of aviation visionary Ken Whiting, Ellyson submitted a request for flight training to the Secretary of the Navy. At the same time, Glenn Curtiss sent a note to the Navy offering to train an officer—at no charge—in the construction and operation of his airplane. The air-minded Captain Washington Irving Chambers thought the proposal a fine idea, but by the time his recommendation got kicked down the food chain to the detail officer, it was December 23, and folks were trying to leave early for Christmas. The harried detail officer grabbed the first request at hand—Ellyson's—and sent out the orders that afternoon.
Two weeks later, Ellyson was on North Island in San Diego Bay, learning the intricacies of the Curtiss biplane. At a local airshow, Ellyson sat in the aircraft—only the second time he had done so—and as the surprised crowd watched, he inadvertently took off on his first solo flight. A governing mechanism on the biplane malfunctioned, causing the airplane to soar 15 feet into the air before crunching down on one wing.
For chance acquaintances, Curtiss and Ellyson got along well. Ellyson happily tinkered with carburetors and leaky valves in addition to learning piloting basics. The two also collaborated on the seaplane, or "hydroaeroplane," which Ellyson felt to be the future of naval aviation. He compiled an impressive list of firsts: He was the first passenger to go aloft in a seaplane, and was aboard on the first flight of Curtiss' A-1 aircraft. He was the first naval airman to fly at night, and flew the first airplane successfully launched from a wire cable.
In March 1912, Ellyson tried out the A-2. Curtiss suggested a cautionary air test, but Ellyson ignored his advice, taking off over the two-mile straightaway. In a letter to Chambers (now in the Library of Congress) recounting what happened next, fellow student Jack Towers wrote: "[Ellyson's aircraft shot] straight into the ground at an angle of about 45º and from a height of about twenty-five feet. It was so sudden that he did not have time to do anything and there was not enough room to recover anyway." It took Ellyson more than five weeks to mend, but in September of that year, he added another accomplishment to his list: He piloted the first floatplane successfully launched from a catapult.
Something changed—we don't know precisely what—over the next few months to turn Ellyson away from flying. In March 1913, Ellyson wrote to his wife, "I have decided to quit flying for good and all, that is never to get in a machine again for any reason. Things have come to such a pass here that I had to decide, either to go to Annapolis and take charge of the camp or quit for good. I have not told anyone yet of my decision, nor will I for the present. I cannot do the job half way."
The next month would find him aboard the battleship South Carolina, where he seemed content: "I took the bridge today for about an hour, my first watch, and it did seem nice to be in charge of a ship underway once again," he wrote to his wife on April 29. (Ellyson added, "I am really feeling fit and in good condition for the first time since I bumped my head out at San Diego.")
A chance meeting with an aviator aboard the South Carolina reveals Ellyson's conflicted feelings about flying, as outlined in a January 1914 letter to his wife: "B.S. Smith is here with two flying boats and is flying his head off. He must have been in the air over five hours today. I was sorely tempted to go up with him to get an idea of what Culebra [Puerto Rico] is like, but decided I had no right to with present responsibilities, since I am not in the game at present. Another thing I don't like to go up when anyone else is doing the driving."
For the next seven years, Ellyson roamed the seas aboard steamers, battleships, and destroyers, traveling to Haiti, England, Italy, and Russia with seemingly little interest in aviation. In October 1919, when offered a position as part of the commission charged with carrying out the Austrian peace treaty, which ended World War I, Ellyson complained to his wife, "I cannot understand what my status is going to be on this Commission…. My ignorance on present day aviation is pitiful, and I cannot understand why some of the Flight Officers in Paris, who were ordered over here for this job, are not detailed in my place. I suggested this to the Admiral, and he replied 'I don't want any highbrow aviators on my staff. I want a Naval Officer of some experience with a little common sense, and you are the one who comes nearest to fulfilling those requirements.' "
But in 1921, Ellyson was offered a position as executive officer at the naval air station at Hampton Roads, Virginia, and was then detailed to the U.S. Naval Mission to Brazil. He and his family spent three years in Rio de Janeiro, where Ellyson offered the Brazilian air force technical and flight instruction—to little effect. (After complaining that the pilots were erratic fliers fond of breaking formation to perform stunts, Brazilian officials excused them by saying, "Young men must show off for their girls.")
The family returned to the United States in 1925, and Ellyson began fitting out the USS Lexington, the Navy's second aircraft carrier; he would eventually become the ship's executive officer.
On February 27, 1928, Ellyson learned from his wife that their 11-year-old daughter Mildred was gravely ill. He asked to borrow Norfolk air station's Loening OL-7, and two crew members, and fly to Annapolis. The aircraft took off from Norfolk that night, but never arrived at its destination. On March 11, the Secretary of the Navy's office sent a telegram to Helen Ellyson: "Very reluctantly yesterday the Secretary came to the conclusion that it was necessary for us to declare the officers who were lost in the plane with your husband officially dead. We had hoped against hope that something might be found of those officers living but it does not seem now that there is any hope left."
For more than a month the Navy searched for the missing airplane. On April 11, Ellyson's body washed ashore in the lower Chesapeake Bay. —Rebecca Maksel
1. SIKORSKY SEAHAWK In December 1994, a Black Hawk variant called the HH-60G lifted off from an Air National Guard airfield in Long Island, New York, to search for Ukrainian sailors bobbing in the north Atlantic. Their ship, the Salvador Allende, had sunk in 30-foot waves 780 miles from land. After 15 continuous hours in the air, including 10 midair refuelings, the helicopter returned to its Long Island base with a world record for longest over-water rescue. The helicoptrian Igor Sikorsky, who felt that fixed-wing airplanes were only good for throwing funeral wreaths when a person is drowning, would have been proud.
Sikorsky's most ocean-minded line of twin-engine helicopters flies under the name of Seahawk. First fielded in 1983 as the SH-60B and later exported as the S-70, the Seahawk and its subsequent variations have been successful enough to show all older U.S. Navy helicopters the door. Sikorsky's forward momentum continues with the Navy's recent decision to carry out all helicopter operations with just two Sikorsky Seahawk platforms: the MH-60R for anti-vessel operations and MH-60S for multi-mission work. Think of the "S" model as a Swiss Army knife, suited for rescue, transport, resupply, combat insertion, medevac, and surface attacks executable with guns or missiles like the Penguin and Hellfire. When SEALs need to pay bad guys a visit, there are fittings to tuck an inflatable boat under the fuselage.
Ocean work is demanding enough to make Seahawks pricier than land-bound Black Hawks. All Seahawks have main rotor blades that fold and a tail pylon that swings on hinges. Together, these modifications shave more than 23 feet off its length when parked. Seahawks also have corrosion-resistant engines and are set up for extra fuel capacity and dicey landings on frigate helipads.
Says Sergei Sikorsky, son of Igor, retired but still consulting: the firm's MH-60R and MH-60S Seahawks "will be the workhorses of naval helicopter operations for the next 10 to 15 years." Depending on the date chosen to retire the last of the CH-46D Sea Knight tandem-rotor helicopters, this sea change in naval aviation could be complete by 2018. —James R. Chiles
2. BLUE ANGELS June 15, 1946: The Blue Angels Flight Exhibition team, named by its pilots after a Manhattan nightclub, makes its first public performance, at Craig Field in Jacksonville, Florida, in three Grumman F6F-5 Hellcats, led by Lieutenant Commander Roy "Butch" Voris. The team's purpose was largely recruiting; despite postwar cuts in military service, the Navy needed young men—naval aviators—to staff its aircraft carriers. And the Navy wanted a bigger piece of the defense appropriations pie to build more carriers. Voris told the authors of Blue Angels: 50 Years of Precision Flight he had his own motivation: "Beat Army [Air Forces]." He choreographed flashy aerial maneuvering, reasoning: "This should give [Army] something to jump at." In a "combat segment" of the show, the team downed a North American SNJ trainer in Japanese Zero livery.
In May, the Blue Angels had performed for Vice Admiral Frank Wagner, who would give the new team a thumbs-up or -down. Says Voris: "The admiral was there and about four or five captains, horse-holders, and so forth…in folding chairs, pretty close to the flight line. We shoot down the Zero and out goes the dummy pilot. The static cord fails, and the parachute does not open. The dummy full of sand and sawdust, chute still packed, hits about 5 feet in front of the admiral's group. It could have killed half of them if it had hit them…. We finished the show and landed, pulled up, and got out. I knelt down on one knee in front of them because they were still seated, and the admiral was shaking his head…. I thought I was looking at a court-martial, and he said, 'Voris, I've got one suggestion: Move it out a little further on the field just in case that happens again.' " —Patricia Trenner
3. DOUGLAS DAUNTLESS It was a mediocre airplane. Even with its pedigree—it was an early design of Douglas Aircraft brainiac Ed Heinemann, later a Collier Trophy winner—the SBD Dauntless dive bomber was sluggish enough to make its crews spend at least a few of their flight hours daydreaming about its replacement. Though historians have noted that the pilot-gunner pairs who sat back to back in the SBD were the ones deserving the label "dauntless"—for flying an unremarkable aircraft in such a way that it destroyed more enemy ships in the war than any other type—its pilots trusted it. In the shipboard humor of World War II, they changed SBD from "Scout Bomber—Douglas" to "Slow But Deadly."
The Dauntless earned its glory at the 1942 Battle of Midway. The four Japanese carriers sunk were attacked by six different types of aircraft, including B-17s, and most of the attackers simply missed. With deadly aim, Dauntlesses dealt the fatal blows. Today there is a slight disagreement over whether the SBDs slipped in because the Japanese defenders made mistakes, or because the unlucky crews of the torpedo bombers drew the defenders away from the dive bombers that followed. One is tempted to say: Whatever. Four carriers gone. The Dauntless changed the momentum in the Pacific. —Linda Shiner
4. P-3 ORION " 'Adored' would not be too strong a word to describe how most of us feel about a bird who did so much and always got us home," says Vince Mazzola about the Lockheed P-3 Orion. Mazzola, a retired U.S. Navy pilot, flew the long-range patrol aircraft on dozens of flights over the Pacific, searching for Soviet submarines during the late 1960s and early '70s.
The P-3 has been flying maritime surveillance and anti-submarine warfare missions for more than 45 years. In the last decade, though, the aircraft has expanded its scope, flying general battlespace reconnaissance missions over land and sea, and providing real-time assessments of combat conditions to U.S. ground forces in Iraq.
Pilots love the P-3's maneuverability. "You can haul it into a 60-degree angle of bank to get back to a sub contact at slow maneuver speeds," says Mazzola, "then turn around and accelerate like a sports car to quickly dash to another contact point." To aid in low-level flying, P-3 pilots rely on a robust autopilot, which includes a radar altimeter to precisely measure altitude and lock the aircraft at a constant setting (200 feet above the water for sub-hunting missions). Wing kit modifications will keep at least 40 P-3Cs flying well past 2019. —Diane Tedeschi
5. SUB HUNTING Whether mounted on blimps or on long-range patrol airplanes, Air to Surface Vessel (ASV) radar and Magnetic Airborne Detectors (MAD—later Magnetic Anomaly Detector) transformed naval aviation by making submarines vulnerable to aircraft. During the first years of World War II, the tenuous Allied supply line to Great Britain came under savage and sustained U-boat attack, and a desperate search for countermeasures began. British efforts at the start of the war resulted in ASV radar capable of detecting surfaced U-boats at night or in poor weather, while MAD allowed detection of submerged U-boats after 1942. Combined with intelligence from Ultra code breaking, these systems eliminated German Admiral Karl Dönitz's submarine force as a significant threat to Allied supply lines.
The U.S. Navy assumed prime responsibility for the anti-submarine role in 1943 and began employing ASV radar on blimps and carrier-based aircraft as well as its PB4Y-1s. In early 1944, PBY-5 Catalinas of Patrol Squadron 63, equipped with magnetic detectors, closed the Straits of Gibraltar to U-boat traffic.
Before 1943, only one in 40 U-boat sightings resulted in a sinking. As ASV radar and MAD became effective, the ratio became one sinking per four sightings. In May and June 1943, the U-boat service lost nearly 100 submarines in the Atlantic. German countermeasures like the Metox radar detector and the Schnorkel system (which allowed diesel engine operation while submerged) temporarily slowed the U-boat's death spiral, but not before the Allies' crucial innovations had decisively altered the course of the war. —Roger Connor, Curator, Instruments and Avionics, National Air and Space Museum
6. FIRST CARRIER LANDING To prove the concept of carrier-based aviation, someone had to confirm two possibilities: that you can land an airplane on a ship, and that you can take off from one. One pilot did both. Eugene Ely was a member of Glenn Curtiss' exhibition team, flying a four-cylinder-engine biplane. In 1910, at the International Air Meet at Belmont Park, New York, Curtiss and Ely met Captain Washington Irving Chambers, the U.S. Navy's point man on integrating aviation into naval operations. They discussed demonstrating an airplane taking off from a ship (the Navy had first offered the opportunity to the Wright brothers, but they said no). Chambers had a platform built on the USS Birmingham, and on November 14, while the cruiser was off the coast of Virginia, Ely took off from it. After that success, Chambers, hoping to prove a ship landing was possible, had a larger deck constructed on the cruiser Pennsylvania. Twenty-two lines of manila fiber were strung across the deck, with each line anchored by two sandbags. Ely's airplane was fitted with steel hooks to catch in the lines.
On January 18, 1911, Ely, flying at about 40 mph, approached the Pennsylvania in San Francisco Bay. His hooks missed the first 11 ropes, but caught on the next.
The carrier concept wasn't instantly loved. Secretary of the Navy George Von L. Meyer declared: "When you show me that it is feasible for an aeroplane to alight on the water alongside a battleship and be hoisted aboard without any false deck to receive it, I shall believe the airship of practical benefit to the Navy." It wasn't until 11 years after Ely's historic landing that the Navy commissioned its first aircraft carrier, the Langley. On October 26, 1922, Godfrey Chevalier, flying an Aeromarine 39B seaplane trainer, set down on the Langley off Cape Henry, Virginia. And that was the world's first carrier landing. —Perry Turner
7. CURTISS A-1 TRIAD On July 1, 1911, the U.S. Navy purchased its first aircraft, a Curtiss Model E amphibian, with funds appropriated for the Navy to gain a start in aviation. The hydroaeroplane was equally at home in three environments: at sea, on land, and in the air.
Glenn Curtiss had been developing hydroplanes for many months, and after proving that the hydroplane was of practical use to the Navy, Curtiss moved on to the next challenge: designing an amphibian. He completed the pioneering aircraft in just a few days, and it flew for the first time on February 26, 1911. The first A-1 Triad flight made by a naval aviator occurred on July 1, 1911, when Lieutenant Theodore Gordon Ellyson piloted the craft on a brief flight from Lake Keuka near the Curtiss factory in Hammondsport, New York.
After one of his early test flights in the Triad, Curtiss described his experiences aloft that day. He wrote that "flying a hydroaeroplane is something to arouse the jaded senses of the most blasé. It fascinates, exhilarates, vivifies....[and] furnishes a thrill and inspires a wonder that does not come with any other sport on earth." Curtiss may have been anticipating the spirit of naval aviators who followed in his slipstream over the next hundred years. —Dik Daso, Curator of Modern Military Aircraft, National Air and Space Museum
8. SUPER HORNET Can't afford revolutionary? Consider evolutionary—and multi-role. For this, no airplane can best the Boeing F/A-18E/F Super Hornet, the U.S. Navy's yellow jacket of all trades.
The Hornet evolved from the Northrop prototype that competed in 1975 to be a lightweight Air Force fighter (won by the General Dynamics YF-16). Though it lost, the prototype grabbed the Navy's eye as an affordable replacement for the A-7 Corsair II and the F-4 Phantom II. McDonnell Douglas took charge and upgraded the YF-17 to the carrier-suitable F/A-18, with more combat radius and better radar. The Hornet became operational in January 1983. Cheap, quick, and maneuverable, it's been ideal for the Blue Angels. But its 51,900-pound maximum takeoff weight and 1,089-nautical-mile range left fleet pilots wanting more.
They got it with the 25-percent-larger Super Hornet, operational since 2001 in E (single-seat) and F (two-seat) models. The Super's jet intakes are squared off and stealthy. With 8,000 pounds more thrust, the Super Hornet increased in maximum takeoff weight to 66,000 pounds, and its range grew to 1,275 nautical miles. Its landing weight increased as well: When the ordnance drop doesn't happen, 9,000 pounds of those expensive smart bombs get returned to the carrier instead of dumped in the drink. The Super Hornet has replaced the F-14 Tomcat, while an electronic warfare variant, the EA-18G Growler, is replacing the EA-6B Prowler. The Super is a refueler too, replacing A-6 Intruders and S-3 Vikings. The larger wing lowers the landing speed to 144 mph, down 23 mph from that of the legacy Hornet.
Yet it's still an F/A-18, says Captain Michael "Woody" Peoples, a former test pilot and deputy program manager for mission systems at Patuxent River Naval Air Station in Maryland. "As a Hornet guy who's spent 20 years flying the legacy airplane, you can jump into an E/F and start it right up and probably fly the airplane with little or no instruction." That of course doesn't happen, but legacy pilots do say they make a seamless transition. "Flying it, you don't feel like you're in a bigger airplane," says Peoples. "With roll rate in a bigger airplane, usually you'll feel a little more sluggish. You don't feel that." He adds: "And the new car smell is always nice. On my operational tours, I flew Block 10 legacy Hornets, and loved 'em. You jump in those airplanes and the paint's worn off in the cockpit. Hundreds of guys have flown the airplane. Then you jump in a [Super Hornet] that was at St. Louis-Boeing two days before. It's like getting the 2011 Cadillac Escalade compared to the 1985 version." —Michael Klesius
9. BATTLE OF THE CORAL SEA History's first fight between aircraft carriers—the Battle of the Coral Sea—was also the first in which the opposing ships neither saw nor fired directly upon each other. More important, the battle, fought from May 4 to 8, 1942, set the course for the end of Imperial Japan's sea power in World War II.
In the battle, U.S. and Australian forces, led by the carriers USS Yorktown and Lexington, stopped a Japanese attempt to land at Port Moresby, Papua New Guinea, by turning back Japan's covering carrier force. In four days of fighting around New Guinea and the Solomon Islands, U.S. Grumman F4F Wildcats, Douglas SBD Dauntless dive bombers, and Douglas TBD Devastator torpedo bombers clashed with Japanese Mitsubishi A6M Zeros and Nakajima B5N2 torpedo-bombers to see who could inflict more damage on the enemy's fleet.
Allied casualties included two fleet carriers (the Lexington scuttled, the Yorktown damaged) and 69 aircraft. For Japan, the losses included one light carrier, one destroyer, and 92 aircraft. But two of its fleet carriers, Shokaku and Zuikaku, were damaged enough to be unable to fight the following month in the decisive Battle of Midway, the turning point of the Pacific war. Because of Coral Sea, when the Americans entered that carrier battle, they had rough parity with the Japanese—and they won. —Paul Hoversten
10. UAVs IN THE NAVY John VanBrabant is fired up about the Fire Scout, the Navy's first unmanned helicopter. "If you don't need to put a crew at risk, why do it?" asks the former U.S. Navy helo pilot. VanBrabant, now Northrop Grumman's business development manager for maritime unmanned aerial systems, likes the vehicle's eight-hour endurance too, more than twice what his Sikorsky SH-60 Seahawk offered. "At 3.5 hours, you just had to go back to get gas. If you were on a mission where you're tracking somebody, you lose situational awareness." While it probably won't fly from aircraft carriers, the 10-foot-tall, 1.5-ton helo can fly from any ship with a decent landing pad. The Navy may take delivery of up to 168 Fire Scouts after trials conclude in the coming year.
The Scouts are one example of how far naval aviation has come since the Navy fielded Pioneer, its first unmanned aerial vehicle (UAV), in 1986. The 14-foot-long, twin-tail, 26-horsepower, propeller-driven airplane was a joint venture of AAI Corporation and Israel Aircraft Industries. Pioneer offered peeks over the horizon at 109 mph with a ceiling of 15,000 feet, primitive by today's standards. Having proven its chops in the Persian Gulf, Bosnia, the former Yugoslavia, Somalia, and Iraq, Pioneer bushwhacked a path that is now seeing some exotic stuff.
"As we turn the corner on the second hundred years of naval aviation, we'll be taking people out of the airplane," says Walt Kreitler, a former P-3 Orion pilot now shepherding the Broad Area Maritime Surveillance (BAMS) UAV program, the Navy's version of the Global Hawk, for Northrop Grumman. "Nobody wants to fly Friday afternoon, or Saturday or Sunday. BAMS will be remarkably obedient."
Finally, for autonomous and anonymous, there's the X-47B, a creature resembling a throwing star and expected to make its first autonomous landing on an aircraft carrier in 2013. A tailless stealth fighter/bomber with no pilot, it's an unmanned combat air system, as large as an F-14 Tomcat, able to reach an altitude of 40,000 feet and cruise at high-subsonic speed with 4,500 pounds of ordnance. The demonstrator is now being flight-tested at Edwards Air Force Base in California. —Michael Klesius