Where would you go to experience EVOTOURISM?
Where have gone that gave you a new appreciation of evolution? Where would you like to go? What evotourism destinations would you like us to look into?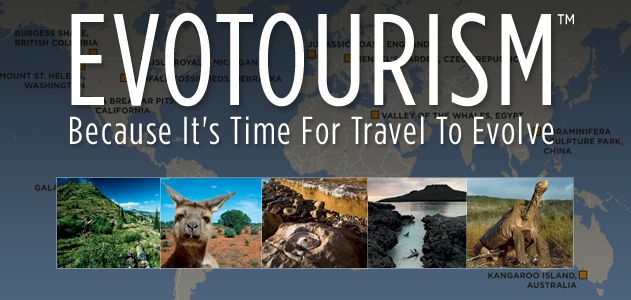 Evolution is everywhere. You don't have to go all the way to the Galapagos Islands, as Charles Darwin did more than 150 years ago, to observe the living results of natural selection (although we recommend that you go there if you can). Vivid concrete evidence of evolutionary change is virtually everywhere in nature, and when we go out of our way to pay attention to it we get a better sense of life's great diversity.
After much research, our editors recommend 12 outstanding evotourism™ destinations that can change how you look at the world.  But now we would like your suggestions.
For starters, we asked Smithsonian paleontologist Matthew Carrano for his favorite site:
"When I was first at Dinosaur State Park in Rocky Hill, Connecticut, I was probably about 9 years old," says Carrano. "It was just very dramatic. The footprints are on the spot where the dinosaur stepped. They are still there. Seeing them was almost more like being close to the living animal."