The Great Books and Movies to Read and Watch Before Visiting India
A list of some of the best books and films about the subcontinent to take in before you go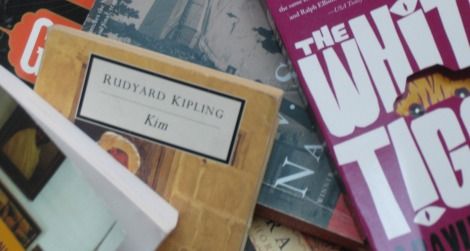 I don't like packing and getting shots, but when it comes to getting ready to travel, I love reading books and watching movies. I'm currently planning a trip to India, which I haven't visited for almost 15 years. I want to find out how it's changed, spend a week doing yoga at an ashram, see the burning ghats at Varanasi and taste the spicy food of the subcontinental south.
To prepare for my first trip I took in such standards as director Richard Attenborough's 1982 epic Gandhi and David Lean's 1984 film take on E. M. Forster's A Passage to India; "The Jewel in the Crown" miniseries based on novelist Paul Scott's Raj Quartet; Paul Brunton's esoteric A Search in Secret India; A House for Mr. Biswas, V. S. Naipaul's heartbreakingly funny look at family life in the Indian diaspora community; Midnight's Children, Salman Rushdie's evocation of India at independence; and everything by Louise Nicholson, the queen of India guidebook writers.
This time I'm finding much more to read and watch—India updated.
English, August (1988), by Upamanyu Chatterjee, follows a confused, morose, insidiously funny young man to an Indian Civil Service posting in the provincial backwater of Madna where, almost in spite of himself, he sees deeper into the nature of India with both its glories and absurdities.
A Fine Balance (1995), a richly textured, bighearted novel by Rohinton Mistry that follows two village tailors who search for work in the city during the "Emergency" from 1975 to 1977 when the government of Indira Gandhi suspended individual rights and democratic elections, resulting in widespread abuses. "You have to maintain a fine balance between hope and despair," a fellow train passenger tells them—sound advice, it turns out, as the tailors are beset by more woes than Job. Together with his more recent novel Family Matters (2002), A Fine Balance establishes Mistry as one of  the best, most vivid and moving chroniclers of contemporary India, especially Mumbai.
India (2011), by Patrick French, a contemporary study of the Indian nation assessing the singular nature of its democracy, the flush economy and enduring poverty, religious fractures, intransigent caste system and high-tech genius—all backed up by moving portraits of Indian people, be they quarry workers, Bollywood stars or dirty politicians.
The Last Mughal (2006) is historian William Dalrymple's detailed look at the 1857 Indian Mutiny, the chaos it wrecked on New Delhi, the brutality of British retribution and the pathetic end of the great Mughul dynasty under its last unfortunate emperor, Zafar.
Sacred Games (2006), by Vikram Chandra, is part-thriller, part-police procedural, all extraordinary literary investigation into the beating, red heart of the Indian city of Mumbai. It features a valiant, long-suffering Sikh policeman and bizarrely tortured crime overlord, along with the fully Dickensian world of characters who bind them together. A terrific read.
Salaam Bombay! (1988), artfully directed by Mira Nair, tells the story of a boy on the mean streets of Mumbai, the drug addicts, pimps, prostitutes and thugs he befriends and his hopeless struggle to make enough money to return home to the mother who all but sold him to the circus. If Slumdog Millionaire is glass half full, Salaam Bombay! is a more realistic glass half empty.
Sea of Poppies (2008) is the first book in a projected trilogy by Amitav Ghosh, set in the early 1800s when the British-run opium trade was pillaging Hindustan on one hand and enslaving China on the other. To evade it a group of travelers set out in a great sailing ship to the island of Mauritius, mixing customs and languages from all around the Indian Ocean, the rich backdrop for this epic of the Indian diaspora.
Slumdog Millionaire (2008), director Danny Boyle's first hit film, uses flashbacks during a young man's appearance as a contestant on the Indian TV version of "Who Wants to Be a Millionaire?" to tell the story of three orphaned children growing up in the shantytowns of Mumbai. It's pure wish fulfillment with a full-throttle happy ending, but segments were filmed in desperately poor neighborhoods of the city most visitors never see, like the unforgettably funny scene set in a slum toilet.
A Suitable Boy (1993) is a novel by Vikram Seth that depicts the lives and preoccupations of middle-class India as a young woman chooses a husband from three very different suitors. Set against the political maneuvering of the post-independence era, it unfolds like a soap opera—but with finer sensibilities—and creates a world of involving characters. At almost 1,500 pages long, in for a penny, in for a pound.
The White Tiger (2008), by Aravind Adiga, another novel—contemporary Indian writers excel in fiction—channels the hilarious voice of a devious Delhi chauffeur to serve up a scathing picture of democracy in India—vote-buying, bribes, kickbacks and all.
Still, one book stands above all as required reading for the traveler in India: Kim, by Rudyard Kipling. First published in 1901, it is considered a relic of British imperialism by some critics (like Edward Said) and many Indians. But to my mind Kipling's classic remains a window on the Indian soul and a spiritual lesson. Starting from the steps of the Lahore Museum, it travels across India in the company of an orphan boy learning to spy for the British and a Tibetan Buddhist holy man who meets adversity by remembering that "just is the wheel." For historical background dip into The Great Game: The Struggle for Empire in Central Asia (1990), by Peter Hopkirk.