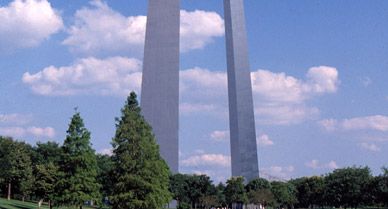 Population: 347,181 (2006 estimate)
Percentage of retirees: 11.8% in 2006
Cost of living index: Below average
Public libraries: 24
Public transportation: MetroLink is St Louis' light rail system. Several far options are available. The MetroBus serves all parts of the St Louis area. Amtrak has two stations in the city.
Access to airports: Lambert-St Louis International Airport is connected to the city by the MetroLink, the city's light rail system, and by an airport bus.
Tax breaks: In Missouri, for taxable years beginning in 2007, Missouri resident taxpayers are allowed a state income tax deduction for Social Security benefits received by individuals 62 years of age or older.
Number of museums: 33
Number of cinemas: 30
Number of sunny days a year: 195
Cultural Highlights: Strong museum and music offerings.
Access to Healthcare: Good, with a number of teaching hospitals.
Climate: Hot summers and cold but not harsh winters.
Annual precipitation: 35.2 inches
Nearby Attractions: Meramec Caverns within an hours' drive. The Mississippi and Missouri River corridors offer a number of hiking/biking trails, nature preserves, and historic sites.
Useful links: St. Louis Convention & Visitors Commission
In the Know: "You take all these cultural institutions and you put them together, not only are they world class and affordable, they are available. Literally, on a weekday, if there is a concert at the St. Louis Symphony, you can generally get tickets the day of. For folks who are thinking about a place for late career or to retire, I couldn't think of a better city. They'll be a stranger here for about a week because there's lots of stuff to do and lots to get engaged in." -Vince Schoemehl, mayor of St. Louis from 1981-1993 and president of the Grand Center Arts and Entertainment District
St. Louis can claim many of the assets of a big city, but it wraps them in an unassuming Midwestern bonhomie. Despite the number of colleges here, most notably Washington University, the city doesn't feel like a college town, perhaps because it also has a strong manufacturing and business base. Its neighborhoods are diverse and distinct. And of course the Mississippi River, historically the city's raison d'etre, flows along the eastern edge of town, with architect Eero Saarinen's famous Gateway Arch soaring at the river's edge.
In 1904, this city in the geographic heart of the country was chosen to host the World's Fair, and the lovely lakes and green spaces of Forest Park, the original fairgrounds, have been preserved ever since. The St. Louis Art Museum is housed in one of the fair buildings, the city's fine zoo is here, and so is the MUNY, a 12,000-seat outdoor amphitheatre featuring summer revivals of popular musicals. A summer Shakespeare festival offers free weekly plays in the park.
The acclaimed St. Louis Symphony performs summer through fall in Powell Symphony Hall, but the city also has a rich jazz and blues tradition and strong African-American arts in general. Clubs and performance venues are scattered throughout town, with a concentration in the Grand Center Arts and Entertainment District, just north of St. Louis University.
Of the city's dynamic neighborhoods, the Hill celebrates its Italian roots with superb cuisine and long-cherished neighborhood traditions. The upscale Central West End was an early pioneer in the concept of gated communities, though it has opened up considerably, welcoming streetside cafés, boutiques and restaurants. The University City area around Washington University is far less buttoned-down, and its old neighborhoods are also an easy walk to restaurants, unexpected shops and the lively campus of Washington University.