South Carolina - Cultural Destinations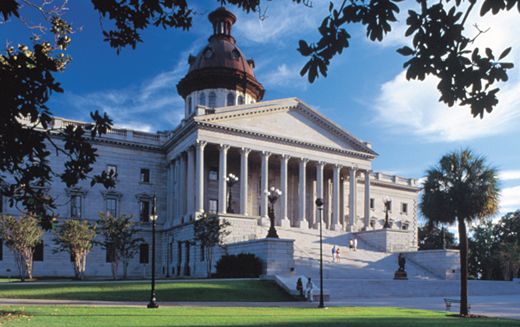 Aiken-Rhett House
Built in 1818 and expanded and remodeled by Gov. William Aiken Jr., this palatial residence showcases city life in antebellum Charleston. Aiken and his wife traveled to Europe and bought magnificent crystal and bronze chandeliers, classical sculptures and paintings to furnish the house. Many of these objects still remain. The intact work yard is one of the nation's most complete and compelling examples of African-American urban life. Original outbuildings include the kitchens, slave quarters, stables, privies and garden follies.
Andrew Jackson Museum and Andrew Jackson State Park
The Lancaster County museum tells the story of Jackson's boyhood experiences during the Revolutionary War and highlights life in the South Carolina backcountry, from Jackson's birth in 1767 until he left South Carolina in 1784.
Antiquers Haven Museum And Shop
The South's largest collection of antiques. A seven-room house is furnished with 1690 to 1890 period pieces, clothing, toys, guns, and fine china. In the Emporium, read an 1863 newspaper account of the attack on Ft. Sumter. Check out the medicines, fashionable jewelry and salesman samples. There is an 1887 barbershop with its bleeding bowl, a tavern with an 1800 bar and 1860 pool table, and a dentist office with a foot-powered dental drill and folding chair for traveling. Twenty vintage automobiles date from 1904 to 1934.
Catawba Cultural Center
Located in Rock Hill, the center offers exhibits, videos and guided tours about the Catawba Indian Nation. A craft store, which features the distinctive Catawba pottery and nature trail also are open.
Charleston Museum
South Carolina history begins at America's first museum. Since 1773, the Charleston Museum has collected and preserved artifacts pertaining to the cultural and natural history of the Lowcountry. Visitors of all ages will be transported back through time, viewing everything from ancient fossils and an enormous whale skeleton to elegant costumes and Charleston silver. The museum also is noted for its exhibits on African-American history, crafts and slavery.
Children's Museum Of South Carolina
From discovering fossils at the Fossil Hunt to sailing the high seas on the U.S.S. Kids Afloat, all of the exhibits at this Myrtle Beach museum are designed with one thing in mind—fun.
Children's Museum Of The Lowcountry
This interactive children's museums in Charleston offers children ages three months to 12 years and their families the chance to cast nets and count the catch, steer the boat through stormy waters, cook dinner and hear the sounds of ocean life on a 30-foot Shrimping Trawler. Kids can also dress up in Medieval costume in the Castle Stories area or put on puppet shows.
Columbia Museum of Art
The Columbia Museum of Art is South Carolina's premier international art museum with extraordinary collections of European and American fine and decorative art, including an impressive collection of Asian art and famous pieces such as Sandro Botticelli's "Nativity," Canaletto's "View of the Molo" and Claude Monet's "The Seine at Giverny," as well as art glass by Louis Comfort Tiffany
Ferrell Museum
Housed in Turner's Corner Store in Edgefield, the museum features a large collection of Edgefield pottery, Southern Appalachian baskets, quilts, tools, furniture, folk art and more.
(Florence) Museum Of Art, Science & History
The Art-Moderne museum building features changing art exhibits, regional history, Asian, African, ancient Mediterranean and Southwest Pueblo cultures. Children can visit the Children's Gallery and hands-on activity area. The minuscule one-room schoolhouse found in adjacent Timrod Park was once presided over by Henry Timrod, poet laureate of the Confederacy. A 1917 locomotive is on site. The nearby Florence Railroad Museum features a caboose and boxcar filled with railroad memorabilia.
(Hampton) Museum
Housed in the 1892 Bank of Hampton Building, with its original bank vault and safe with hand-painted doors still intact. The museum provides exhibits of regional Indian lore and collected artifacts and medical equipment. A military room, children's room, materials related to the atomic submarine the USS Hampton, and a 1930s-era beauty shop also are on display.
Kudzu Kabin Designs
Come see the restored 100-year-old Kudzu Kabin Barn in Walhalla with its stuccoed kudzu bales for the walls. This new facility will allow you to take a kudzu basketry or papermaking class. The gallery features kudzu paper cards, wall art, and baskets by artist.
(McCormick) Arts Council at the Keturah (MACK)
Revolving art exhibits now draw crowds to the old Keturah Hotel, where vacationers used to stay in the early decades of the 20th century. The adjoining city park and amphitheater host plays and concerts in the summer.
McKissick Museum at the University Of South Carolina
The largest university museum in the Southeast, the McKissick offers collections in material culture, decorative arts, natural sciences, history and fine arts
Museum & Gallery at Bob Jones University
The Museum and Gallery at Bob Jones University houses one of the finest collections of religious art in the Western Hemisphere. The museum contains 30 galleries filled with art, tapestries, furniture, sculpture and architectural motifs from the 14th through the 19th centuries. Located in Greenville.
National Steeplechase Museum At Springdale Race Course
In the heart of South Carolina horse country, this museum showcases the history of American steeplechase racing. Displays include trophies and memorabilia, jockey silks and a library with old books and references. Springdale is home to the nationally renowned steeplechase races, the Carolina Cup each spring and the Colonial Cup each fall.
Old Edgefield Pottery
This museum and studio in Edgefield tell the story of the alkaline glazed, traditional pottery made in the area by African-Americans in the 1800s as they had done in their native land. The most famous, Dave the Potter, sometimes inscribed his work with a poem. See examples of his pottery, original Edgefield pottery dating to the 1820s and reproductions in the museum. Also watch the resident potter give demonstrations of the craft.
Old Slave Mart Museum
Possibly the only known building used as a slave auction gallery in South Carolina still in existence, the Old Slave Mart in Charleston was once part of a complex of buildings known as Ryan's Mart. The complex had a brick-wall enclosed yard, a four-story building that contained a "barracoon" or slave jail, a kitchen and a dead house or morgue. Slave auctions ended here in Nov. 1863.
(South Carolina) Artisans Center
Declared the "The Official Folk Art and Craft Center for South Carolina" by the state legislature, this Walterboro center offers juried folk art and crafts for sale to the general public. Representing the work of over 200 of the state's finest artists, from blown and formed glass, sweetgrass baskets, furniture, carvings, pottery, jewelry, quilts, tatting, whimsical folk art, metalwork and much more.
(South Carolina) Cotton Museum
This Bishopville museum preserves the history of South Carolina's cotton culture. See an original plantation spinner, a 130-year-old loom, a three-foot tall boll weevil, original tools and more. Interactive exhibits and amusing stories in an authentic setting allow you to experience a way of life long gone yet very much a part of the present.
(South Carolina) State Museum
Experience South Carolina in all its beauty and diversity. Climb aboard the "Best Friend of Charleston" train. Stroll along a boardwalk at the beach diorama. Learn how a South Carolinian invented the laser. Enjoy the spacious Lipscomb Art Gallery. This interactive "people's museum" offers exhibits and programs in art, history, natural history, science and technology. Hands-on exhibits are featured throughout its four-story 1890s building, which housed the world's first all-electric textile mill.
The Citadel Archives and Museum
Located on the Citadel's Charleston campus, the Archives and Museum is the repository for all the historic materials relating to the Citadel, from its founding in 1842 to present day.