Snapshot: Deer Isle
Natural beauty abounds on Maine's second-largest coastal island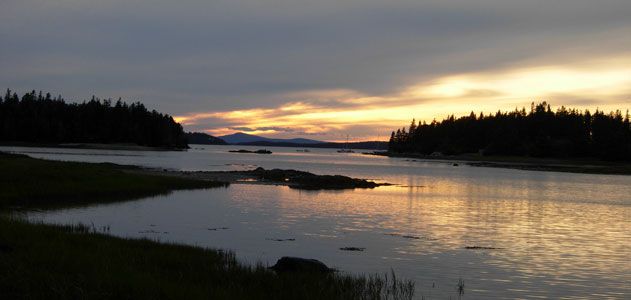 Origins: People have lived on Deer Isle and its dozens of rocky surrounding islands since at least 11,000 B.C. Around 8,000 B.C., a culture arose that included sophisticated tools, land and sea trade, and made extensive use of the islands' rich clam and mussel beds. Lore, if not the archaeological record, suggests that Vikings explored the islands in the 11th century A.D. By the 16th century, several Algonquin-speaking groups had settled the area, most of whose members left or fell to disease or battle after the first white settlers arrived in 1762.
The appeal: Lobstering, rather than tourism, remains Deer Isle's primary economic engine. And thanks to the Haystack Mountain School of Crafts, which draws artists from all over the world—dozens of whom have made the island their home—art may be the second-largest industry. Stonington, the island's largest town, reflects that balance with an old-fashioned harbor crowded with lobster boats and a main street dotted with galleries. Perhaps because of this balance, Deer Isle remains a place to enjoy natural beauty rather than a tourist Mecca filled with t-shirt shops and noise. The air, cooled by the Atlantic and filtered by dense woods of white pine and birch, energizes visitors who hike its many trails or explore its coves and islands by kayak or sailboat, as well as those who choose to simply sit and enjoy the quiet. Bald eagles, osprey, a panoply of duck species and other water birds make frequent appearances. Harbour porpoises are also known to summer here. The bracing air (and chilly waters) rouse big appetites for the local bounty. Deer Isle is known around the world for its sweet Maine lobsters and fat clams. Natives and veteran visitors seek out succulent rock and peekytoe crabs. In recent decades, organic farms and dairies have added to the feast. Sheep and goat farming, practiced here since the late-18th century, continue to provide fresh cheese, wool and meat. And of course, wild Maine blueberries are everywhere during the summer.
Interesting historical facts: Deer Isle granite was used in the Manhattan Bridge, the Boston Museum of Fine Arts, and John F. Kennedy's grave at Arlington National Cemetery, among other notable sites. The Defender, which won the first America's Cup in 1895, was crewed entirely by Deer Isle residents.
Famous sons or daughters: Buckminster Fuller, inventor of the geodesic dome, and famed park architect Frederick Law Olmsted spent summers on Deer Isle.
Deer Isle was also home to the woman considered to be Maine's oldest. Born in 1800, Salome Sellers, a direct descendant of the Mayflower settlers and stoic matriarch of an island family, lived through two wars and several epidemics. She died in 1909 at 108. Her farm house is now a museum.
Who goes there? Deer Isle has about 3,000 year-round residents. Perhaps twice that number visit between May and October. In addition to the scions of families that have been summering here since the industrial revolution, Deer Isle draws nature-loving vacationers from all over the world, as well as hundreds of artists and art-lovers who support Haystack, the island's 40 or so galleries, and the Opera House, which produces live performances and serves as the islands' only movie theater. Unlike many holiday destinations, the pace on Deer Isle is resolutely mellow and friendly. At the entrance to the Island Country Club, the sign says, "Public Welcome." Visitors to Deer Isle are happy to leave the cocktail-party circuit to Kennebunkport and the honky-tonk bar scene to other points south.
Then & Now? In 1792, Nathaniel Scott started a ferry service to bring people to and from the mainland. The Scott family ran the ferry until 1939, when the suspension bridge that still connects Deer Isle to the rest of Maine was completed.
Siobhan Roth is a regular Smithsonian.com contributor.