Rock, Pedal and Roll: Band Tours the World by Bicycle
"I believe the bicycle is one of the best, if not the coolest, machines ever invented," says the frontman of the Ginger Ninjas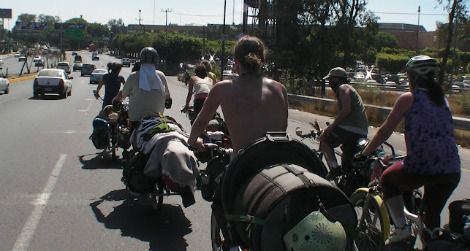 Since the era of Elvis and the Beach Boys, cars and motorcycles have been a prominent element in the world of rock and roll—as vehicles for drag racing, carrying the band to nightclubs and generally showing off.
But some bands ride bicycles. The Ginger Ninjas—a folk-funk band from Northern California—is now touring in southern Mexico, and they got there, along with their instruments, by pedaling. A fully off-grid band, the Ginger Ninjas even use a pedal-powered sound system while performing. They are one of several musical groups that have rejected the resource-intensive lifestyle of most touring bands and, instead, opted for a cleaner, simpler alternative.
"I don't want to be in Chicago tonight, Boston tomorrow and Tokyo the next," said guitarist and singer Kipchoge Spencer, the Ginger Ninjas' frontman. "It's too consumptive of resources. Plus, there's a sort of egotism that I don't care for—like, 'The world needs to see me so much that I'll use up the Earth's resources just to make it happen.'"
Spencer, 39, says that as his band gains popularity, demand is growing for his music—which he labels "mind shaking love groove folk funk roots explosive international pedal-powered mountain music for a pleasant revolution." The call to play live shows increasingly far and wide, even abroad, is also growing louder. It's the dream of virtually any group of musicians, but it's a force that Spencer and the Ginger Ninjas consistently choose to resist. Even playing in Portland, Oregon one night and Seattle the next—a piece of cake for the average airplane-supported rock band—is beyond reality for the Ginger Ninjas.
"That doesn't work for us, so we say no to a lot of gigs," Spencer said.
The band, formed in 2001, has traveled on fully pedal-powered bicycle tours six times now. Spencer, an avid cyclist almost all his life, first gave serious thought to a bike-powered tour in 2006, when he and several of his musicians rode bicycles from show to show during a tour of the Olympic Peninsula. A van and several cars carried their gear and roadies, but a year later the Ginger Ninjas went full throttle: They rigged trailers to their bikes and, each pulling between 100 and 200 pounds, rode from Lake Tahoe to Chiapas, Mexico. It was an 80-show tour, mostly played in Mexico, in which even the sound they made was pedal-powered; that is, they placed their bicycles onstage as stationary generators while fans took turns pedaling the bikes to power the custom-rigged sound system. Each year since, the four-piece band has toured, riding bicycles as far south as Guatemala in 2009 and traveling throughout Europe in 2010. To get there, they took a train to New York and a boat to Southampton, and then they moved for several months by bicycle and rail, playing 50 shows in England, Holland, Germany, the Czech Republic, Austria, Hungary, France and Spain. The group caught a boat home.
Of all the nations the group has visited, Mexico has treated the Ninjas most kindly.
"There's certainly a warmth here," Spencer said, speaking to me by phone from a town called Cuernavaca, south of Mexico City.
The culture is particularly welcoming to live music, too, he said: "Mexico has a great civic tradition and culture. You can just show up in a plaza, without planning or permits or permission, and start rocking to the people."
While traveling, the Ginger Ninjas and their crew of supporters—including roadies, technicians, a masseuse and a cook—ride anywhere from 30 to 50 miles per day, spending months pedaling distances that most bands might cover by plane in three hours. The band brings camping gear and sleeps out roughly 50 percent of the time—almost never in campgrounds, almost always for free. Occasionally the band has encountered hostility. One evening as the sun grew low in the vineyard country near Santa Barbara, the band—growing anxious about where they would camp that night—hopped a barbed wire fence. Hauling their gear, they all managed to slip into the brush unseen—except for two stragglers, and as the pair lifted their bikes over the fence, a pickup truck arrived. The driver—the landowner—brandished a shotgun and ordered the group onward.
And in Guatemala the Ninjas were robbed at gunpoint.
"We lost five bikes," Spencer told me.
"That must have been devastating," I replied. "What did you do? I mean, five bikes?"
"Five bucks," Spencer repeated.
Ah.
In addition to making music, Spencer wants people to understand that relying entirely on bicycles and public transportation (airplanes not included) is a viable means of living—even as a traveling band.
"I believe the bicycle is one of the best, if not the coolest, machines ever invented," Spencer said. "Part of what we do is show people how capable bikes are, and part of my vision is that (riding a bicycle from California to Mexico) is something almost anyone can do. That's part of what we want people to see."
He meanwhile has little faith in cars and the culture we've built to sustain them. Car culture "is part of the broader picture of our twisted priorities and twisted development patterns," he said. "It's a cultural design that will fall in on itself in not too long. It's doomed, and it's dooming us."
The band's current tour is a short one—just 20 concerts or so—and by June, Spencer needs to be back in San Francisco to assist with running the upcoming Bicycle Music Festival, a day-long event on June 23 featuring a handful of pedal-powered groups, hundreds of fans and a bike for every person. The Ginger Ninjas spent several months riding to Mexico, and to come home the group is taking a bus—which runs on veggie oil.
The Ginger Ninjas aren't alone in employing pedal power to move and make noise. SHAKE YOUR PEACE!, a San Francisco-based folk-rock band, is currently on a relatively short Bay Area tour, rolling on muscle-powered bicycle wheels. Another San Francisco musician, Paul Freedman, goes by the stage name of Fossil Fool: The Bike Rapper and, like his comrades in the community of pedal-powered musicians, he shirks cars and embraces bicycles and public transportation. Jan Repka is another of the community, though the native of the Czech Republic usually pedals and plays around Europe. And near Istanbul in 2009, I met two Polish men carrying guitars and a drum and playing Polish folk music as they cycled around the world. They said they would be rocking—and rolling—for years.
And even if rock and roll can't change the world, some musicians believe just maybe the bicycle can.