Daydream About Summer With These Color-Drenched Photos of the Great American Fair
Photographer Pamela Littky set off across the United States to discover why these timeless summer festivals have such staying power
With camera in hand, Los Angeles-based photographer Pamela Littky crisscrossed the United States in 2015 capturing perhaps one of the most ubiquitous examples of Americana: the American fair.
From dusty rodeo grounds in Nebraska to the kaleidoscopic whirls of carnival rides in Kansas, Littky's new book "American Fair" documents the nostalgia of hazy summer nights spent with friends and family at these seasonal events, which began in the 19th century for agricultural purposes.
And although each fair takes cues from its regional surroundings, Littky did notice one common thread that connected them all together, which is a sense of community. As she puts it in her book, "these fairs continue to draw people from all backgrounds and upbringings. They celebrate the heartland. They celebrate diversity. They celebrate community. And by doing so, they showcase the power and meaning of some of the most unifying and nostalgic ideals of our American culture and society."
Smithsonian.com talked to Littky about her new book, published by Kehrer Verlag, the role that fairs play in communities across the United States and why this rich example of Americana continues to thrive well into the 21st century. "American Fair" will be released on March 13.
What initially sparked your interest in photographing fairs?
Although I live in Los Angeles and mostly work from there, I've always been interested in small-town Americana, the fabric of those communities and the bonds of the relationships citizens feel in these places. Choosing to shoot at a fairground seemed like the perfect backdrop in which to capture the portraits and landscapes of quintessential Americana. The longing to embrace our common traditions—and connect on the most basic human level—has become more important than ever.
Why do you think fairs have become so embedded within American culture?
While the fairs were initially intended to celebrate agriculture, I think they have staying power due to a certain nostalgia that comes from an event that occurs once annually, typically over the summer when school is out, when the days are long and the smell of that warm summer air beckons people outside.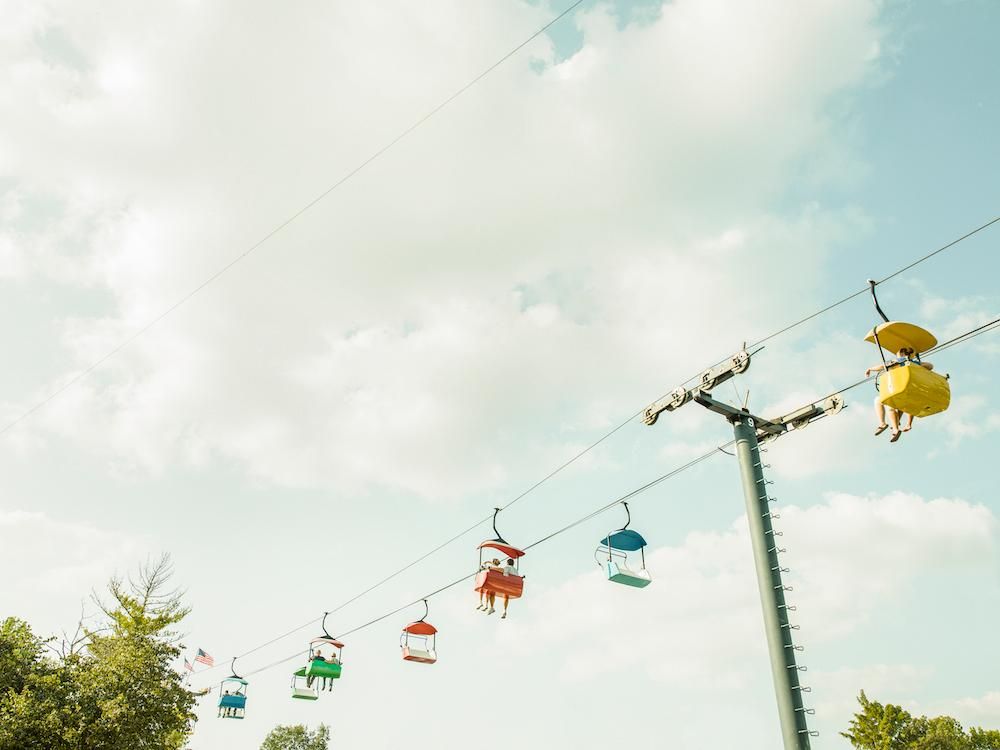 Can you share a memory that you had growing up that took place at a fair that has stuck with you?
I had my first kiss at the South Florida Fair where I grew up. A lot of those seminal coming-of-age moments seem to happen at the fair.
Not only did you photograph attendees, but also the workers who travel the country to put on the fairs. What's something you learned from that experience that gave you a new perspective on the subject matter?
Meeting the workers who travel with the fairs and produce all of the events and attractions was one of the most interesting parts of the project. Their world is one hiding in plain sight at the fairs, but the people involved and their lifestyles are rarely directly considered by fair attendees. Something I learned along the way is that they consider the term "carnie" to be derogatory.
You mention "community" in your book. Why is this important and how do fairs provide this?
While much of the fairs' historical and practical origins in agriculture are still in place today, as time has gone on fairs have grown to become places of entertainment for local communities. Fairgoers have transformative experiences there that are often distinctly bound to their local culture and community. And though these people have memories of the physical event and their personal experiences at the fairs, they probably share an intangible feeling with their fellow citizens who also attended that can't be transcribed into words. 
Do you think fairs will continue to prove popular with future generations?
Hopefully. These fairs help foster human connections for people of all ages with their communities and culture. As human connections become more and more prevalent via technology, fairs offer a live- and in-person experience that can't be duplicated.