Missouri - History and Heritage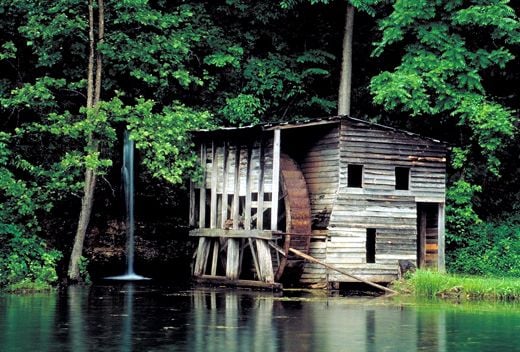 Mark Twain Boyhood Home and Museum(Hannibal)
In a small stretch of street in Hannibal, visitors can relive the boyhood of famed author Samuel Clemens. At his boyhood home, which has been open to the public since 1912, you can imagine the stories of Tom Sawyer coming to life. The museum is a fun attraction for the kids, where they can paint a fence, ride in a stagecoach, and even try to turn the wheel of a steamboat.
Laura Ingalls Wilder Home and Museum (Mansfield)
Take a trip to the old Rocky Ridge Farm to see the writings and pioneer artifacts of Laura Ingalls Wilder. This is the place where she wrote her Little House on the Prairie books. The home has been furnished to match the style of her lifetime, and the museum has been filled with memorabilia for all to view.
Battle of Lexington State Historic Site (Lexington)
The site features the Civil War battlefield and historic Anderson House, which was used by both sides as a field hospital during the September 1861 battle. Highlights include a visitor center with exhibits, an interpretive, self-guided trail on the battlefield and guided tours.
Wilson's Creek National Battlefield (Springfield)
Visitor center features a 13-minute film, a museum and changing exhibits. A five-mile self-guided tour with short trails leading to various battle sites allows visitors to explore the battlefield at their own pace. The museum contains an outstanding collection of artifacts relating to the Civil War west of the Mississippi River.
Lincoln University (Jefferson City)
At the end of the Civil War, the soldiers of the 62nd and 65th United States Colored Infantries donated more than $5,000, which for many equated to a year's pay, to found a school to educate the newly freed blacks in the state. A monument to these founders sits on the quadrangle of the historic hilltop campus.
Missouri Town 1855 (Blue Springs)
Visit this living history and village museum with original structures. Interpreters in period clothing portray life in western Missouri during the mid-1800s.
Missouri History Museum (St. Louis)
Located in Forest Park, the museum is a combination of two grand structures: the Jefferson Memorial Building and the Emerson Center. The museum offers exhibitions and interactive galleries, plus concerts, lectures and community enrichment programs. Permanent exhibits include "Seeking St. Louis, 1904 World's Fair," and "Lindbergh."
Soulard Market (St. Louis)
This open-air market, boasting more than 90 vendors, has been serving the St. Louis area for more than 200 years. Vendors provide fresh produce, meats, fish, poultry, baked goods, spices and more, all at reasonable prices. Saturdays, the market includes clothing, home decor and craft items. It's open Wednesday through Saturday.
Harry S. Truman Birthplace State Historic Site (Lamar)
Harry S. Truman, the 33rd President of the United States, was born here in 1884. This charming historical home is open year-round for free tours.
George Washington Carver National Monument (Diamond)
This 210-acre park features the Carver Museum, Carver Science Discovery Center for students, 1881 Historic Moses Carver house, Carver Cemetery and a three-quarter mile nature trail. Workshops are offered; contact park for information. The nature trail is partially handicapped accessible.
Truman Presidential Museum and Library (Independence)
Experience the eventful and triumphant life of America's 33rd President. Permanent exhibits include: "Harry S. Truman, The Presidential Years" and "Harry S. Truman, His Life and Times." Unique temporary exhibits offer an opportunity to explore the powerful decisions of the Truman era. A Thomas Hart Benton mural greets visitors. See a replica of Truman's Oval Office. Visit Truman's grave site.
Attend a special exhibit, "Treasures of the President's," May 1, 2007 to Jan. 4, 2008. This exhibit highlights possessions from the 12 presidential libraries. It features more than 200 rarely seen treasures, including: ornate head-of-state gifts; campaign memorabilia; personal items from first families; and documents that shaped the course of history. See George Washington's portable writing desk; John F. Kennedy's rocking chair; the pen Lyndon Johnson used to sign the Civil Rights Act; the safety plug from "Fat Man," the atomic bomb dropped on Nagasaki on August 9, 1945; and other of our nation's fascinating artifacts. Video stations and interactive exhibits will be available.
Scott Joplin House State Historic Site (St. Louis)
This house showcases the modest flat where Scott Joplin wrote his famous ragtime classics "The Entertainer," "Easy Winners" and others. The apartment is lit by gaslight and contains 1902 furnishings. An antique player piano fills the home with The King of Ragtime's unique music. The New Rosebud Cafe is a reconstructed bar and gaming club that once operated in the area. It can be reserved for private functions.