Joshua Hammer on "In Sicily, Defying the Mafia"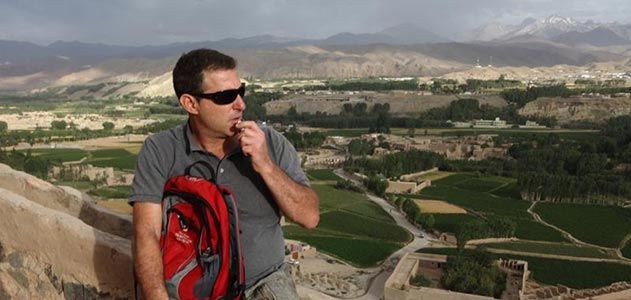 Berlin-based author and freelancer Joshua Hammer is a frequent contributor to Smithsonian, having written, just in this last year, about Kashgar's imperiled old quarter, antiquities smuggling in Mali, Sherlock Holmes' London and a new approach to the electric car. For the October issue, he reports on the anti-Mafia movement in Sicily, led by organizations like Addiopizzo, a group of business owners working, as its name suggests, to bid goodbye to the pizzo, or the protection money the mafia has long forced them to pay.
What drew you to this story?
I've been interested in the mafia for years. My father was a journalist and author, and he specialized for many years in organized crime. I did a little digging and found out that there was something of a grassroots, anti-mafia movement going on in Sicily that seemed to be building momentum. It seemed like a good Smithsonian story because it had somewhat of a positive spin, but it was rooted in this legacy and history of violence.
When did you go to Sicily?
I went there in March, and I was there for about eight days. I rented a car and found after a little bit of a search a reasonably good interpreter. We worked together for a week, driving around. Most of it was in and around Palermo. The farthest afield I got was Corleone, which was an hour or so outside of Palermo. But there was really no need to venture much beyond those environs because the Jato Valley and Palermo are really where the mafia heartland has always been.
Did you have any problems getting people to talk to you?
People who might not have talked to me several years ago were quite willing to meet and talk. The mafia has really changed in the last decade or so. It's still very much a presence there, but the intimidation of the past is really not there anymore—not in the open anyway.
What surprised you the most about the Sicilian mafia?
I guess it was the fact that everybody told me that it was still so prevalent in society and yet really impossible to feel and see—just how invisible and yet how potent a force it still is. That was mysterious and tantalizing to me and made the story very difficult. How do you dramatize something that you can't see or feel?
Another surprise was seeing how Salvatore Riina, the boss of bosses, this incredibly violent figure, had been living so openly in a Hollywood Hills-style villa close to the heart of Palermo before he was captured in 1993. It made you realize that this guy must have had an incredible network of political and police allies and protection on levels we can't even imagine that allowed him to live like that. Bernardo Provenzano, by contrast, was living in this shack deep in the mountains above Corleone when he was caught in 2006. It just shows you what had happened, the changing nature of the mafia, in those 13 years.