Far from the Madding Crowd
Travel tips from this month's Journeys column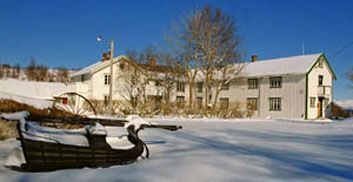 Before 1996, when Midway Atoll was opened to the public as a national wildlife refuge, it was only the rare scientist or Navy family that enjoyed the atoll's fantasia of natural history delights. Now you, too, can become one of the hundred visitors allowed on Midway each week. While there, you'll surely encounter the acrobatic antics of tricolored-->spinner dolphins--> playing in the lagoon and hear the clattering beaks of hungry albatross chicks. If you're lucky, you'll catch a glimpse of the "green flash," that momentary splash of light in the sky above a setting sun so sought after in tropical latitudes.
And, birds. Birds by the thousands. Exotic mynas, black noddies and sooty terns, to name a few, join with the albatross, the subject of Timothy Foote's Smithsonian Journeys article, to create a rich blend of bird languages—grunts and squawks and scoldings. Here are a few tips for your Midway journey.
Getting There
To visit the atoll, contact Honolulu, where you'll catch an New York's JFK International, $960 from Chicago O'Hare and $600 from San Francisco. Or, join a tour. The Oceanic Society (800-326-7491) offers natural history expeditions in which participants assist researchers in such projects as monitoring seabirds and spinner dolphins. An eight-day trip, which includes airfare from Honolulu and accommodations on Midway, costs $1,970. For the 55 and older crowd, Elderhostel (877-426-8056) offers educational trips to Midway. A ten-day trip focusing on the atoll's military history costs $2,515, an eight-day spinner dolphin research trip $2,000, and a two-week program studying seabirds $2,710; all fees include round-trip airfare from Honolulu, meals and accommodations. Adventure travel packages can be arranged through Destination: Pacific (888-BIG-ULUA), an ecotour group.
When to Go
The best time for fishing and diving is April through September. In late November, the skies are filled with Laysan and black-footed albatross, the atoll's dominant species, as several hundred thousand fly in to mate and nest. Once the chicks have hatched, between April and June, the albatross population peaks at upwards of 800,000. Birders in search of bristle-thighed curlew or red-footed boobies may prefer the period between August and October when all the albatross are gone. Temperatures are mostly mild year-round, ranging from 60° F to 88° F. In the winter, the weather is on the cooler end and more variable (this is not the South Pacific), but rarely inclement. Summer is beautiful, although it can get hot.
The Ins . . .
Before your departure to Midway from Honolulu, plan for an extra day in Hawaii to rest, swim, loll, explore, or to pay a visit to the Pearl Harbor Memorial and Museum (Smithsonian, December 1991). Viewing the sunken hull of the battleship Arizona, around which delicately hued little fish dart here and there, is a good introduction to the relics of the June 1942 carrier battle you'll see on Midway.
. . . and Outs
You won't need your passport to visit Midway, but you will need it to reenter the United States.
More Midway Must-Haves
Pack your camera and binoculars so you don't miss anything. Sun block, sunglasses, a billed hat and deck shoes are good to have along on boating excursions. The best island attire is light clothing, including a hooded foul-weather jacket.
Recreation Station
Apart from the activities planned by group expeditions, Midway Phoenix compiles a weekly schedule of events. Programs include tours of the islands and trails, presentations by wildlife experts, and videos on the atoll's history. Midway Guest Services will arrange personalized tours, or fishing, snorkeling and diving trips upon request. Self-guided walking tours allow visitors to explore at their own pace the islands' memorials and former naval structures—such as the Command Post, a supposedly bombproof building that served as a command center until December 7, 1941, when it was destroyed by a Japanese bombshell. Visitors can also make full use of the islands' library, bowling alley, tennis courts, gym and weight room.
Midway Holiday
Once a year, on July Fourth, the islands commemorate U.S. independence with an all-hands party featuring food, drink, music, musical chairs, dancing, a mammoth game of tug-of-war, a "slow" bike race of 120 feet, plus bowling with cocoa nuts. This occasion also commemorates the delivery of the first telegraph sent around the world. On July 4, 1903, President Theodore Roosevelt wished the United States—as well as American territories and properties—a happy Independence Day.
Time Travel
Keep in mind that because Midway is several hundred miles west of Honolulu, there is a one hour time difference between the two. That makes Midway four hours behind Los Angeles and seven hours behind New York City.
Friend From Afar
If you are unable to visit Midway but would like to make a contribution to the well-being of the atoll, consider joining Friends of Midway Atoll National Wildlife Refuge (W5094 Highland Place, LaCrosse, WI54601). This organization supports the refuge in preserving and monitoring the islands' wildlife and history. Membership fees vary from $10 for students to $500 for corporations.