Eins, Zwei, Drei Strikes You're Out at the Ol' Ballgame
What happens when the American pastime comes to Germany?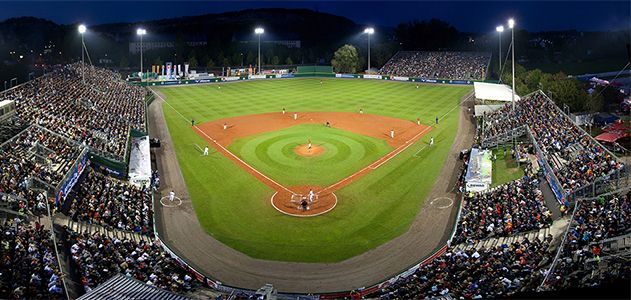 One sunny afternoon last year, I sat at Wurstküche, a 14th-century riverside café in the Bavarian city of Regensburg, eating sausages and drinking Pilsner with a local sportsman named Martin Brunner. Crowds strolled over the Danube on the Stone Bridge, a landmark completed in 1148. Above a medieval skyline of Gothic clock towers and red-tile roofs, I could see the spires of the Regensburg cathedral, where Joseph Ratzinger served as cardinal before he became Pope Benedict XVI. Regensburg, which was barely touched by Allied bombs, is today a UNESCO World Heritage Site and one of Bavaria's most popular tourist attractions. Lately the city has taken on a new identity: the capital of German baseball.
Brunner—the man largely responsible for that transformation—grew up 70 miles from here, in Weilheim, south of Munich, and fell into baseball in 1990 at age 17. Major League Baseball at the time was sponsoring a "Pitch, Hit and Run" program that dispatched coaches to Western Europe, spreading America's pastime to youth groups and high schools. "My friends were raving about it, so I came out and tried to hit that ball," he told me. "When the ball jumped off that bat, it felt so good I wanted to have it every day. It caught me." His enthusiasm for the sport grew when he spent a few months in Indiana on a college engineering internship. One day he watched the Fort Wayne Wizards play before a crowd of 10,000 people. It was only a minor-league team in a second-tier stadium, but he found the experience "exhilarating". During that same trip in 1994, he was invited to work out with the University of Arizona baseball team at its stadium in Tucson, and he marveled at the Bermuda grass covering the outfield. "I just had to reach down and grab it. Was it for real? Was it artificial?" he recalled. "It is so thick, so brilliant. It was like your feet never touched the ground."
Brunner, a short, balding, and energetic 39-year-old who speaks fluent English with just a trace of a German accent, was good enough to land a spring training tryout with the Montreal Expos in 1997. "If you grow up swinging aluminum and never see a pitch faster than 80 [mph], good luck adjusting," he told me. The team cut him loose. He was disappointed, but he'd become infused with a new ambition: to build the foundations for the sport to grow in Germany. That same spring, after he returned from the States, he was recruited as a player and coach by the Regensburg Legionäre, the local semipro team; five years later, Brunner rented space in a boarding school to house five teenage players, recruited from baseball programs across Germany, and founded the Regensburg Baseball Academy.
***
The young prospects, who now number 16, attend high schools in Regensburg, and follow a year-round regimen of cardiovascular work, diet counseling and weight training. Most play more than 100 games between April and October—a dozen graduates have signed U.S. Major League contracts—including Berlin-born Max Kepler, an $850,000 bonus baby with the Minnesota Twins, and Donald Lutz, a rising star in the Cincinnati Reds farm system.  
After a walk along the Danube, we got into Brunner's Mercedes and traveled across town to the Armin-Wolf-Arena, a €2 million, 4,500-seat baseball stadium that Brunner helped get built on the site of a former limestone quarry. It was a beautiful summer afternoon, and as I stepped through a tunnel and emerged into the grandstands, I felt a pleasant shock of recognition. The elegant lines of the stadium, the four-hundred-foot-deep centerfield wall (the outfield measurements are displayed in both feet and meters), the lush green outfield and groomed red-clay base paths, and the sheer unlikelihood of its being in Bavaria, took my breath away. A dozen young athletes gathered around the backstop at home plate, waiting for their turn at bat. Brunner stood behind a protective screen on the pitcher's mound, firing fastballs and offering encouragement. "Attaboy," "Find a good pitch," "Noch mal [one more time]". He invited me to take a few swings, and I lined the first pitch into center-right field.
"Jawohl!" Brunner exclaimed.
***
Roughly 25,000 Germans between the ages of five and 50 play organized baseball- a miniscule number compared to the six million who play soccer. They include about 1,000 players on 70 semiprofessional teams in three German Bundesliga, or national leagues. For virtually all of them, it is a labor of love, not money. Playing semipro baseball in Germany means squeezing in a couple of hours of daily practice after nine-to-five jobs, and spending weekends on team buses slogging to neglected baseball diamonds that can make the average American high-school field look like a professional ball park. It means playing the game often before a few dozen spectators, and facing the indifference or perplexity of friends and family. Almost no German ballplayer earns a living wage.
Even so, the game's popularity is growing. Two year-round baseball training schools, in Mainz and Paderborn, have opened in the last two years, competing with Regensburg for the country's young talent. The Regensburg Legionäre draw a respectable 600 fans on average to its home games at the Armin-Wolf-Arena, and more than 1,000 for the playoffs. Other baseball stadiums have opened in Stuttgart, Heidenheim and Bonn. The quality of play is inching upward. Germany's national team is ranked 17th in the world by the International Baseball Federation, a significant improvement from just a few years ago when, says German national team coach Greg Frady, "the team had no success, and got no respect. We may not have been in the top one hundred."  Frady cites a new spirit of competition, and a surging national pride that has helped to turn around a once-diffident and hapless squad. "I do believe that Germany's recent history...made them reluctant to appear aggressive," he told me. A watershed for all German sports came during the 2006 World Cup in Germany, when German fans cast aside their post-Nazi-era reticence about displays of patriotism, and exuberantly flew the flag from car antennas, windows, and apartment balconies. "There's been a change of mentality," said Frady.
Germans' growing fondness for baseball resists easy interpretations. This isn't the Dominican Republic, a nation drawn to baseball as a way out of poverty, or Japan, which embraced the game wholeheartedly in the 1940s partly in homage to American power. So what's driving the baseball boom? For one thing, the globalization of American sports has exposed Germans to baseball as never before. Two decades ago, most Germans' only awareness of the game came from watching dubbed American sitcoms such as "Die Bären Sind Los," (The Bad News Bears), and occasional games aired at 6 a.m. on the U.S. Armed Forces Television. Today, Major League Baseball games are widely available in Europe via mlb.tv and ESPN America. And the Major Leagues have embarked on a new effort to recruit European teenagers, with a dozen scouts based in Europe. Since 2004, the majors have sponsored a 16-day academy in Tirrenia, Italy, every August that has become the premier showcase for European up-and-comers. For many of these young players, the prospect of signing a U.S. contract—and, perhaps, stepping up to bat in the Major Leagues-is an enticement more alluring than a professional soccer career in Europe.  "Everything is bigger in America, shinier in America, it's just something that dazzles you," says Brunner.
Still, some German baseball players say that America had little to do with it. They were drawn to baseball for its own sake—its exactitude, its elaborate set of rules, its cerebral dimensions. "I had no clue where the game came from," says Michael Francke, 31, a substitute on the German national team who grew up in the East German town of Strausberg and started playing baseball when, shortly after the fall of the Berlin Wall, he saw two ex-American servicemen shagging fly balls on a field near his house. Francke, who later played minor league ball for a Milwaukee Brewers farm team, was intrigued by "the chess-like aspect, the strategy, the mental part" of baseball as well as its demands for all-around athletic skill.
Max Kepler, the son of an American mother and a Polish-German father, both ballet dancers in Berlin, got his start pitching in the city's German-American Little League. The Saturday games—barbecues, kids in Yankee pinstripes and A's green and gold, American baseball moms shouting encouragement from the sidelines—connected Kepler to his American roots. And he admired baseball's acrobatics, athleticism, and a pace unlike anything he had encountered in European sports. "In baseball it may look like you're hanging out and doing nothing," he told me. "But then you hear the crack of the bat, and that split second when you get that shot, when you make that diving play, is the best feeling ever."
Several players I talked to told me that baseball, with its one-on-one confrontations between batter and pitcher and its emphasis on solitary action, embodies, in a seductive way, the American celebration of the individual, in contrast to the collective spirit of European football. At the same time, Brunner says that many in this nation that has produced the BMW and the Mercedes-Benz seem to have an instinctive appreciation for baseball's precision—the narrow strike zone, the tiny margin of error for throws from third to first base to beat a runner. "There's something about that that appeals to the engineers in us," said Brunner, who studied mechanical engineering in college before embarking on a baseball career.
***
Claus Helmig, 76, remembers a brief time when baseball seemed on the verge of winning over Germany. I met Helmig in the Armin-Wolf-Arena's VIP tent, a cozy, heated refuge from the autumn chill of the baseball stadium. It was late September, and I had returned to Regensburg to attend a qualifying round for the World Baseball Classic, the sport's top international competition. It passes almost unnoticed in the United States but is closely observed by baseball aficionados in the rest of the world. The national teams of Germany, Great Britain, the Czech Republic, and Canada were playing an elimination series; the winner would advance to the official 16-team tournament. In March, the Dominican Republic bested Puerto Rico in the finals held in San Francisco (Canada, the victor in German's qualifying round, would not advance out of pool play against the USA, Mexico and Italy.) The red-carpeted lounge was filled with corporate sponsors and Major League scouts, dining on steak and sipping Rieslings. Mustachioed, white-haired and solidly built, Helmig sat on a corner sofa and talked to me about his journey from the ashes of World War II to a shot at the Major Leagues in Dwight D. Eisenhower's America.
Helmig was born in Frankfurt in 1936. That year, at the Berlin Olympics, a pair of American college teams played an exhibition game before 100,000 mostly perplexed spectators, including Adolf Hitler. Der Führer watched the sport's German debut from a seat behind third base and chatted up the players afterward. Baseball returned to Germany in the aftermath of the war with the arrival of occupying American forces. In Helmig's hometown, Mannheim, he and his friends used to go to the soccer stadium on weekends to watch the Mannheimer Tornadoes, a segregated US Army League team starring a power-hitting first baseman named Ernie Banks, who would later have a Hall of Fame career with the Chicago Cubs. At his first game, Helmig caught a foul ball that had sailed over the backstop. "It was like a pearl," he recalls. "I fell in love with the game at that moment." He remembers "the hamburgers, the hot dogs, the Coke, and the American ice cream. This was something that no German had ever tasted before."
In the late 1940s, Helmig and his older brother Jürgen played in a baseball league organized by the U.S. Army's German Youth Activities program. It was a golden age for German baseball, with 140 teams and tournaments across the country. "The kids would be taken in army trucks to play other teams in Mannheim and Heidelberg," Helmig says. When he was 16, his uncle—a sportsman who had often "gone hunting with Hermann Goering""—brought him along on a hunt with several U.S. generals. Helmig used the opportunity to wangle an invitation to put a squad together and play exhibition matches against their teams. Soon the scouts came calling, and the Helmig brothers landed contracts from the Baltimore Orioles.
Claus, an outfielder, and Jürgen, a pitcher, touched down at Idlewild Airport in New York City in the spring of 1956. They were greeted by a swarm of newsmen, eager for a glimpse of the two German brothers who had mastered America's game. The Helmigs met Yogi Berra and Mickey Mantle in the Yankees' clubhouse, attended the Baseball Writers of America Dinner at the Waldorf Astoria, and played alongside Brooks Robinson in spring training before being sent down to the minors—Jürgen to Georgia, Claus to Paris, Texas. By September, they were history. Cut from the Orioles, they finished the season playing for the Baltimore Elite Giants in the Negro League World Series. Then their visas expired and the U.S. Department of Immigration put them on a plane home.
Helmig came back to Germany and found the sport in decline.  German Youth Activities had abandoned the baseball program. "There was no more equipment," he remembers. "No more coaches, and the game disappeared." Helmig tried to keep German baseball alive, running little league teams and clinics. But "soccer kills everything else," he told me. "And the media had no interest." By the 1960s, soccer had totally eclipsed Germany's baseball culture. It would take another five decades before the game began to make a resurgence.
***
After meeting Helmig, I walked back to the Armin-Wolf-Arena. The temperature had dropped into the low 50s, and a wind was blowing off the nearby Danube. Vendors had set up kiosks on the promenade leading to the stadium, selling Mexican burritos and glühwein, a hot mulled wine native to this region. German parents browsed with their children —a new generation learning to love the game—through Legionäre baseball jerseys, Louisville Sluggers, hardballs, mitts, catcher's masks, cleats and batting helmets. In the packed stadium fans were bundling themselves in scarves and winter jackets. Grounds keepers swept the base paths, and an organist warmed up the crowd between games of a doubleheader with "Take Me Out to the Ballgame," sung in English. The smell of grilled wurst wafted across the field. Except for the German announcements over the public-address system, it could have been an autumn evening in any ballpark in America.
I ran into Martin Brunner beside the batting cage. He had come out to cheer the eight Regensburg Legionäre who were playing on the national team, including three graduates of his academy. Brunner pointed out Kepler, the star center fielder, a symbol of how far German baseball has come in the last few years, and the possible face of the game's future.
Kepler took a few swings then stepped out of the cage. He was a towering, broad-shouldered kid with an easy smile and a polite, laconic manner, Kepler had spent 18 months at the Regensburg Academy, then—after a bidding war among twelve Major League teams—signed an $850,000 contract with the Minnesota Twins, the richest ever paid to a European ballplayer. In his second season in the Rookie Appalachian League last year, Kepler hit a promising .297, with 10 home runs and 43 RBIs. The Twins' front office was being cagey about his future; severe tendinitis in his arm sidelined Kepler's ascent through the minors, but he is expected to join the Single-A Cedar Rapids Kernels this week and climb to Double-A soon after that. The German media were closely following the ascent of "Der Deutsche Talent." The newspaper Die Zeit had recently anointed him "Baryshnikov mit Baseball-Stollen"  (Baryshnikov with Baseball Cleats) and observed that Kepler was helping to disprove the "American image" of a German baseball player as "a wild man from the bush clumsily swinging a wooden club."  
Brunner told me that if Kepler moves up to the Majors, his success will have a "tremendous effect" on German baseball. "It will energize the sport, give kids a role model," he said. Kepler insisted he wasn't thinking that far. "You focus on the process, on coaching yourself to do better," he told me. Then Kepler joined his teammates and they headed onto the field to face Canada, as the stadium lights came up and the crowd roared.