Day 4: Peak Conditions for a New Telescope
Secretary Clough scopes out the site for the Giant Magellan Telescope and bids goodbye to Las Campanas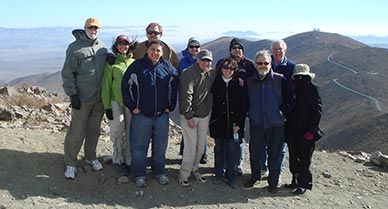 Day Four, May 27. Las Campanas. Weather—chilly and blustery, but spectacularly clear
Our last official duty at Las Campanas before we depart is to visit the proposed site for the Giant Magellan Telescope. Located on top of the Las Campanas peak, it is a relatively short drive from base camp. While the winds are blowing strongly at base camp, they are gusting at Las Campanas on this winter day. It is good to have on multiple layers and Anne and I mentally thank our friend Cristián Samper, director of the Natural History Museum, for reminding us to bring gloves! The site is strewn with large boulders of dense igneous rock. Miguel Roth demonstrates why this peak is named for Las Campanas or "the bells." He picks up a fist-size black rock and strikes it against a larger one. Surprisingly, the rocks ring together with a delightful bell-like tone.
The views from the peak are spectacular and in the distance, the Magellan telescopes stand prominently on a ridge top. The peak was chosen for the GMT after careful consideration of the characteristics needed for a world-class observatory. It provides proximity to the other telescopes and the support capabilities of Las Campanas, and it offers excellent observing capabilities in terms of the number of clear days, the lack of light from urban areas, an elevation that is high, but not too high, and minimal interference from water vapor. Finally, the country of Chile has traditionally been supportive of astronomy and is helping its universities develop their own astronomy programs. Having access to the Las Campanas telescopes is a major advantage for Chilean universities.
On our return to the base camp, we prepare for our departure, appreciative of having been able to experience something special. Miguel and his fellow Las Campanas staff have been remarkably hospitable and Wendy Freedman and Dick Meserve have made sure our time has been filled with learning. Andrea Dupree has given us special insights into her research and explained why the Magellan telescopes are so crucial to her work and that of many other Smithsonian scientists. Above all, being in the company of so many dedicated scientists, having the opportunity to see firsthand how big-telescope work is done, and experiencing the remote and beautiful wilderness of the Las Campanas region with its remarkable starry skies is memorable.
In the afternoon we board the bus for the winding return to La Serena. We conclude the day with a wonderful dinner with our companions, those who are traveling and those who make La Serena home.