Craziest Airplane Cabins of the Future
These airplane cabin designs—both real and conceptual—show what might await us on flights in the near future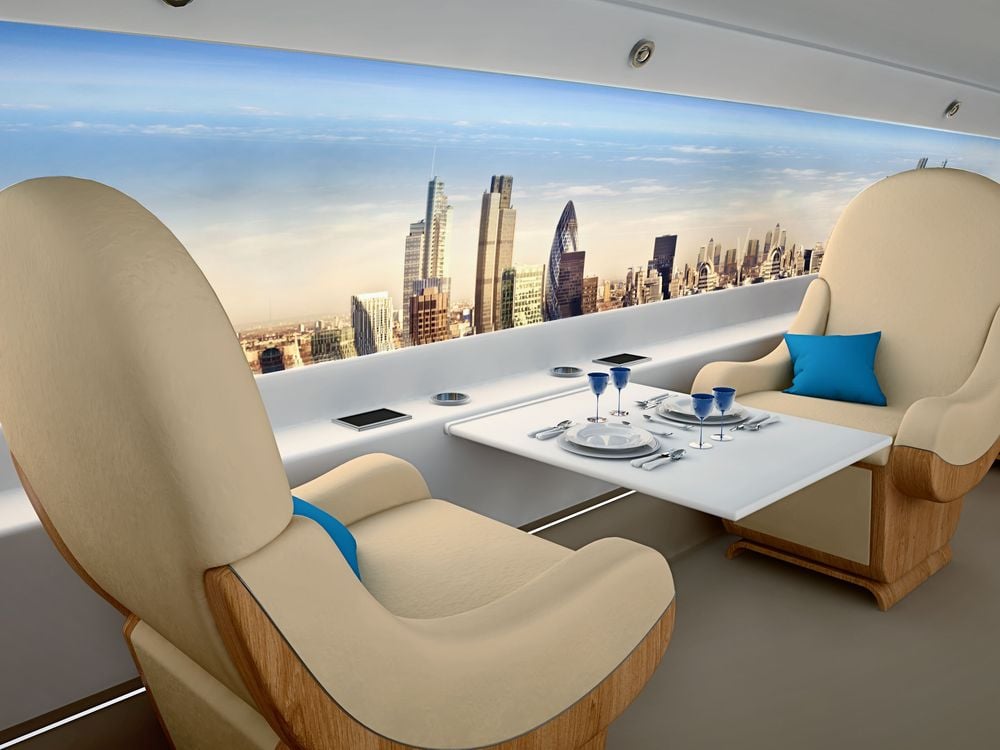 Jonny Clark is an airline brand consultant and founder of the aviation design site  TheDesignAir.net.
Before you know it, the days of sitting in a standard forward-facing seat—and rubbing elbows with strangers—will be a thing of air travel history. Over the past decade, as the economic health of the industry has improved, airlines have been improving the flying experience—investing heavily in unique advanced seating.
Cabin design and interiors are big news, and seat manufacturers around the world are working overtime to produce enough seats to keep up with demand spurred by the recent wave of new aircraft deliveries. Domestic and international carriers are placing enormous orders for technologically advanced airframes such as the 787s, A380s and A350s. All this business has led to a frenzy of innovation not seen in the skies since the jet-set era of the 1960s.
While airlines seek to wow passengers with dramatic and futuristic designs—convertible, butterfly-inspired seats; spacious, multiroom suites; stackable pods—design teams are hard at work problem-solving for the needs of carriers and travelers in the years to come. How many people can be safely crammed into a cabin? How much will passengers pay to preserve their personal space? Can a smart, flexible seat be both comfortable and financially advantageous?
Of course, the transformations taking place aren't limited to an armrest or a cushion. The whole look and feel of a cabin's interiors could be turned around, flipped over and rolled into a circle. Windows could be (and are) traded in for curved, high-definition screens and intuitive circadian lighting.
What isn't changing? At this point, every detail is up in the air.
See eight designs below and the full 13 on Travel + Leisure.
Other articles from Travel + Leisure:
Butterfly Seat Concept (by paperclipdesign)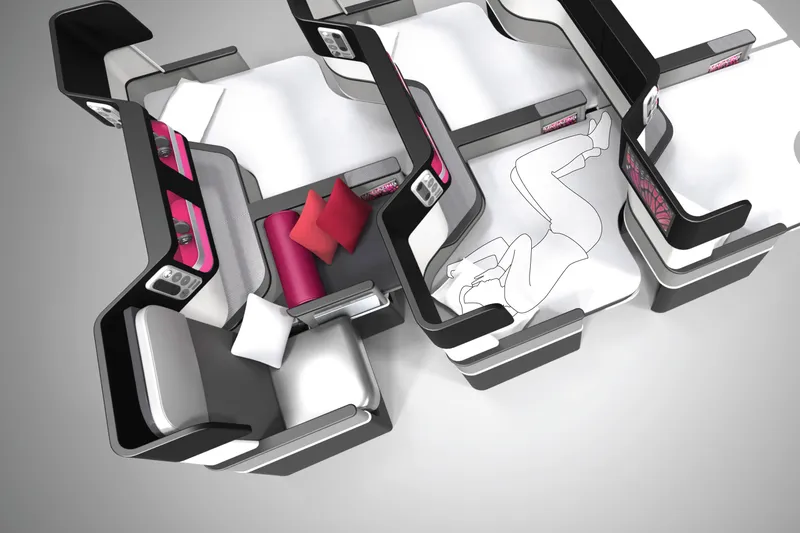 The butterfly seat concept's main attraction is its convertibility. A simple fold of the seats turns a premium-economy-seating configuration into business-class suites. Use the seatback as a bench, a herringbone-style bed or enjoy the added work space. Designer James Lee says, "I believe that flexibility is the future of airline seats. In the past decade, designers have come up with all sorts of wonderful ways to pack seats into the cabin more efficiently while maximizing utility for passengers."
Short-Haul Premium Seat Concept (by paperclipdesign)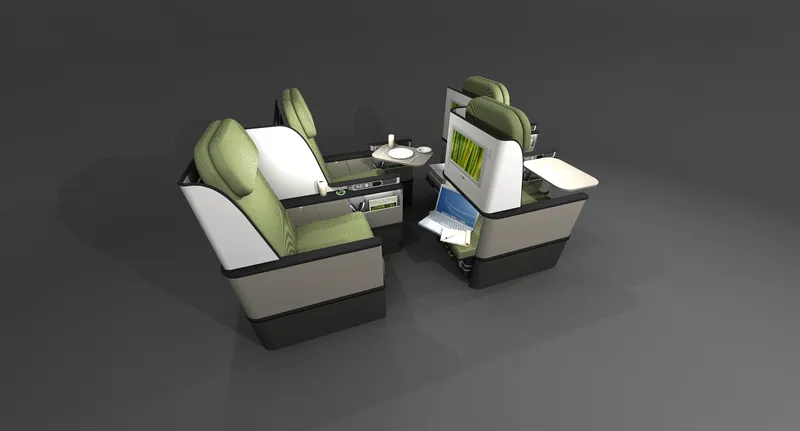 Designed with the business traveler in mind, this seat trades width for pitch in order to gain a better recline and easier aisle access. The increased distance between seats also makes possible other features such as an ottoman, which provides extra storage. Slimmed-down armrests allow for magazine storage and power outlets. A highlight is the secret storage pocket, accessible only when the seat is upright. Finally, fliers can doze without worrying about their valuables. The staggered arrangement also gives passengers increased space and privacy, as well as providing the crew with easier access to non-aisle-side passengers.
Embraer E2 Project (by Priestmangoode)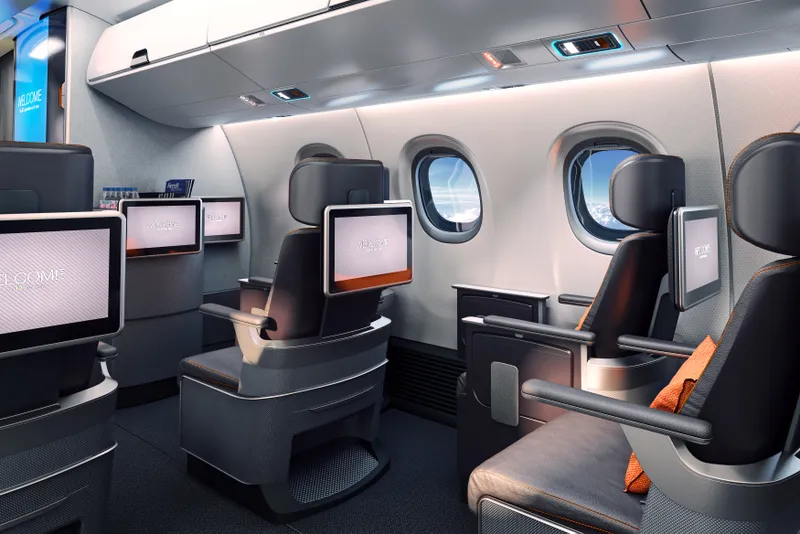 In a similar approach to the Short-Haul Premium Seat, PriestmanGoode's new Embraer concept features a clean, contemporary cabin while improving efficiency and maintenance for airlines. The single-aisle cabin lets carriers chop up and change around seating configurations quickly, and the premium cabin offers staggered seating to provide increased shoulder width to passengers. Here, PriestmanGoode has reevaluated the whole experience: redesigned overhead bins, air vents and reading lights are additional reexamined features in this concept.
The Air Lair Seat (by Factorydesign)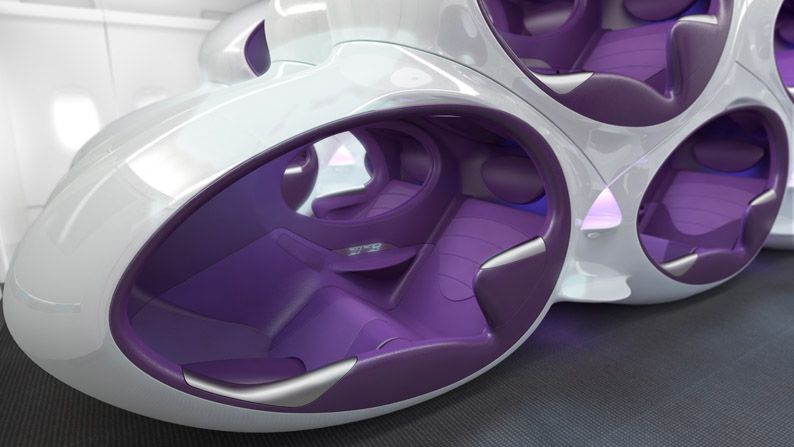 One of the most adventurous 3-D-seating concepts features individual pods that stack on top of each other in rows—similar to a train's sleeper carriage. Director Adam White says, "We were approached…to create something outside the ordinary…but at the same time, we knew we wanted something that we felt had a genuine intelligence in terms of [use of space]." The Air Lair Seat's semi-monocoque structure is stronger and lighter than the standard design, allowing for a flip-down screen with a 3-D projector. Watch a movie, or enjoy a peaceful night sky as you drift off.
Premium Seat Concept (by JPA Design)
The fight for space at the front of the plane (fully flat beds and all-aisle access) is almost over, with virtually every airline adopting this configuration for premium passengers. The next frontier: entertainment and technology. Wraparound television screens could be part of the seat of the future, enveloping passengers in their own world. Smart details, including the organic light fixtures in the ceiling and contrasting stitching on the leather, help give an automotive feel to the passenger experience.
The Windowless Cabin (by Spike Aerospace)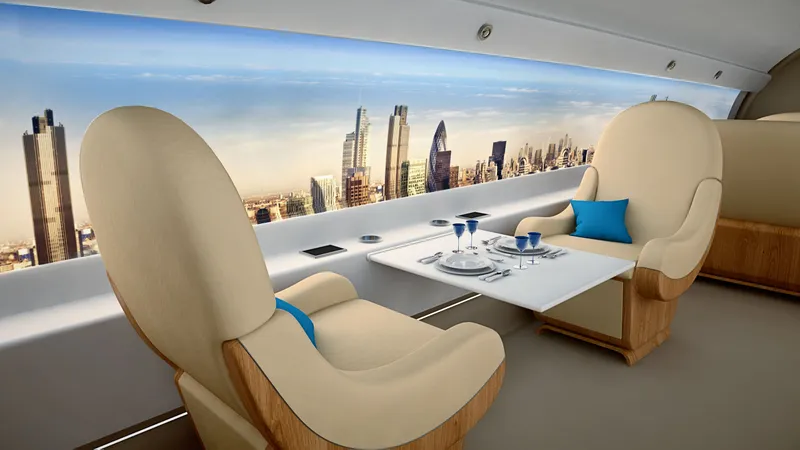 It's not exactly a seat concept, but the windowless plane has been headline news over the past year, with a variety of firms coming to the same conclusion: windowless planes may be the way forward. While consumer reaction has been dubious, and though it's very unlikely this design would get approval by authorities for safety concerns, a plane without a view offers more structural integrity. Without windows, planes are simply less prone to pressurization. The notion has led to a variety of executions, such as videos streamed inside onto curved LCD screens to help entertain—or calm—passengers.
Thales Immersive Business-Class Seat (by BMW DesignWorks)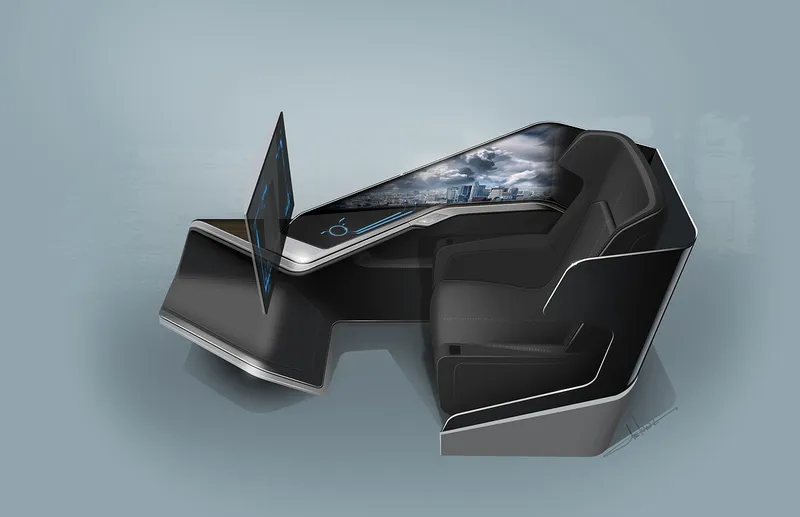 More like the Starship Enterprise than the everyday commercial airplane, this product includes innovations like touch-pad controls integrated in the seat and Ultra-High Definition (UHD) main screens with eye-tracking capabilities and the ability to sync with passengers' mobile devices. If you were watching Planes, Trains and Automobiles at the gate, you can resume streaming content right where you left off on the seat's display, which will automatically adjust to your preferred display settings. Another industry first? Wireless charging for your devices.
Thomson's Family Seat (by Thomson Airways)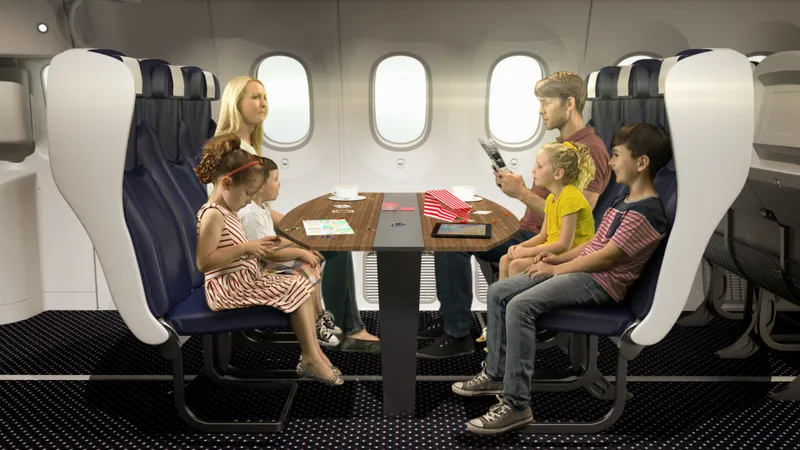 Originally a carrier used for charter vacations, the British airline has reinvented itself with a variety of interiors, including the forward and rear-facing family seat, centered around a single table. It's not unlike something you might find on a train, and for families looking for maximum face time on their annual getaway, it's a dream come true. The economy-class concept is one of the first to make it off the drawing board into a feasible design, and it also tackles a genuine problem found in today's travel habits: how to keep a family together, entertained and contained in one unit on an aircraft.
See more crazy airplane cabin designs on Travel + Leisure.
Other articles from Travel + Leisure: