A Football Team With No One to Play Against
Listen closely around the public parks of Quito, Ecuador, and you just might hear that familiar sound: "Hut hut hike!"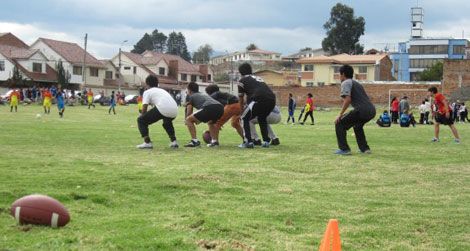 In Ecuador, from sea level to 12,000 feet and more, every village has its own soccer cancha or two, and rarely does a public park see a day go by without a group of locals assembling on the grass with a ball, a few beers and a sack of oranges.
But at Parque Alvarez, on the north side of Cuenca and the west side of the river, a strange and alien phenomenon has been occurring each Saturday for several years–football. Not futbol real, but futbol Americano. The group of players–a team of high school boys called Los Condores–arrives at 3 p.m. with several blimp-shaped pigskins and the challenge of squeezing a 15-by-40-meter (I mean, yard) playing zone in among the three or four soccer games underway at any given hour. There are 12 players on the team–and nobody else in the province for them to compete against.
"There is another team in Quito," coach Robin Ramon, 21, tells me–but the two groups have never faced off.
The Condores have played for four years, Ramon tells me as his players stretch and perform calisthenics and awkward-looking neck-building exercises. They play tackle football, just like the pros, without protective gear or uniforms, and have learned the rules and regulations of American football on their own, both through reading and watching games on television. There is no football organization here–no league–Ramon says. He and these kids are it, though this minimal interest in one of America's biggest sports could be starting to grow. After 30 minutes of warming up, the Condores split in two and face off. I hear that familiar chant of classic Midwest Americana–"Hut hut hike!" –and the game begins. While the boys laugh and giggle and make flying tackles like pumas, Ramon tells me that American football is catching on here. "It's a long process," he admits, almost with a frustrated sigh–but even the local mall is now selling footballs, he says positively, and Ramon expects that in another two years there will be enough interest among kids in the area to form a competitive league.
Four separate soccer games are underway in the same park here, the round black and white balls moving in graceful arcs back and forth, all eyes focused, nearly every person out here vying to get their foot on a soccer ball, as they've been doing since they were barely walking. But at the northeast corner of the field, the young Condores pursue a very different ball. They line up and jump into a quick flurry of action, ending with a tackle and a heap of boys or a lost ball, bouncing left, then right, in that awkward way of footballs–and the metaphor is irresistible: On the grassy soccer fields of Ecuador, which way will the football go?