Sunset lingers on the still waters of the Yellow Water Billabong as an evening cruise glides past water lilies slowly closing their vibrant blooms for the night. Gazing out at this tranquil view, you can almost forget how just a few days before, standing on the bow of a similar boat on the Adelaide River, you watched with heart-pounding glee as a 20-foot crocodile launched itself vertically out of the water.
Australia's Northern Territory, a 520,902 square mile area spanning the tropical shores of the north to the arid desert of the country's Red Center, packs beauty and adventure into every turn. Waterfalls tumble into crystal plunge pools, wallabies dart through monsoon forests and star trails glimmer over Aboriginal rock art sites dating back up to 50,000 years.
On the coast, open-air markets take over Darwin's beaches and indigenous guides teach visitors Aboriginal art on the Tiwi Islands.
With so much to see, you need a few places to start. Here are ten experiences you can't miss:
See Ancient Aboriginal Rock Art at Ubirr and Nourlangie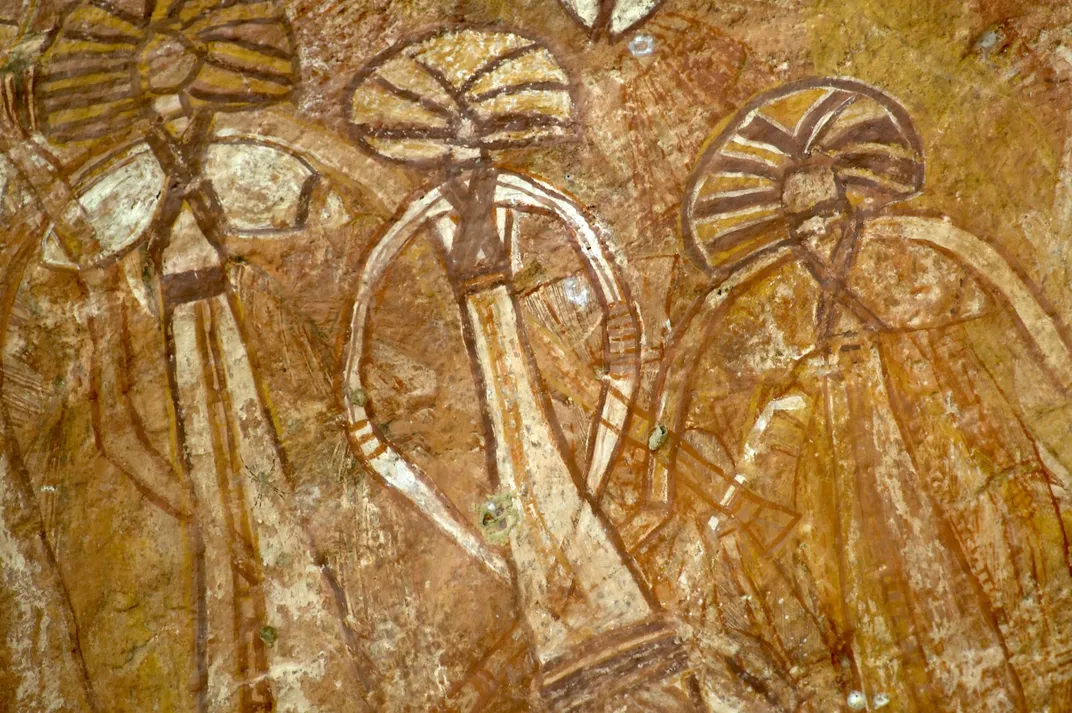 A UNESCO World Heritage Site, Kakadu National Park is home to more than 5,000 recorded Aboriginal art sites. Two of the most famous are Ubirr and Nourlangie, ancient shelters that contain rock paintings dating back 50,000 years. A one-mile path takes visitors through Nourlangie, and a steep climb to Gunwarddehwardde lookout offers incredible views over the Kakadu and neighboring Arnhem Land escarpment. Here a rock painting depicts the Lightning Man, an ancestral spirit heralding the monsoon season (which typically runs November to March). Like Nourlangie, Ubirr boasts breathtaking views over the Nadab floodplain. Look out for unique birdlife and native wildlife across the floodplain.
Cruise the Yellow Water Billabong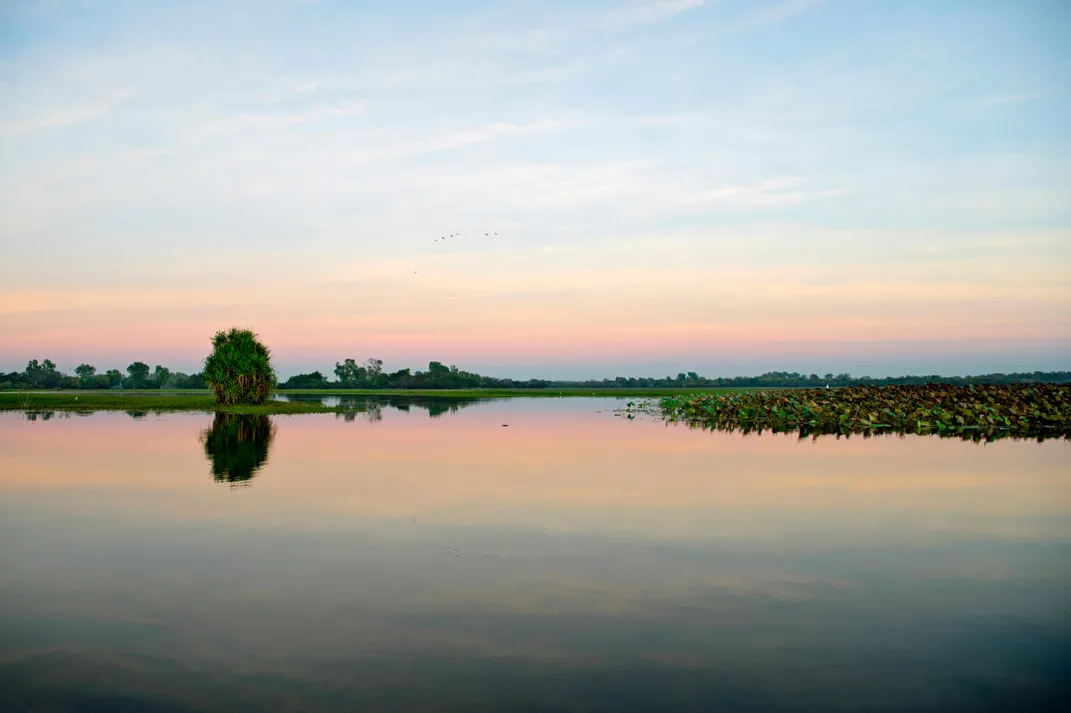 The Yellow Water billabong is one of Kakadu's best-known landmarks. Located in the heart of the national park, the billabong flows through the region's majestic wetlands, reflecting picture-perfect sunsets in the calm waters. Pink and white water lilies dot its surface, and paperbark forests, pandanus and fresh water mangroves line its shores. Cruises operate daily and are a fantastic way to discover the billabong's remarkable flora and fauna. From the deck of your boat, spot crocodiles, wild horses, buffalo and other wildlife.
Explore the Waterfalls of Litchfield National Park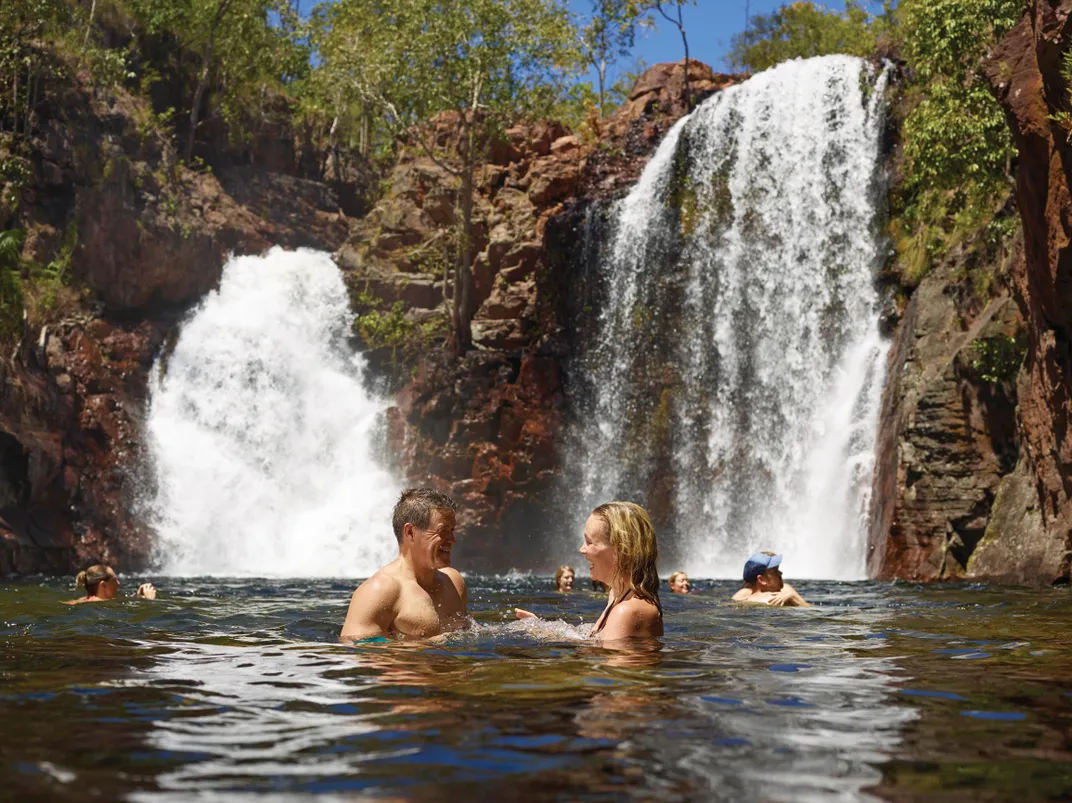 A short, 90-minute drive from Darwin, Litchfield National Park is a favorite for locals. Free to enter, it is home to crystal clear waterfalls and swimming pools. Don't miss Buley Rockhole, Wangi Falls and Florence Falls. From Buley Rockhole, take the two-mile Florence Creek Walk through the monsoon rainforest and spot a range of wildlife, from unique bird species such as kingfishers and fairy-wrens, to bandicoots (small terrestrial marsupials).
Cool off in the plunge pool beneath Florence Falls, or enjoy panoramic views from the viewing platform above. Farther afield, Wangi Falls is one of the park's most popular attractions, featuring waterfalls and a post-card perfect swimming hole.
Embark on a Jumping Croc Cruise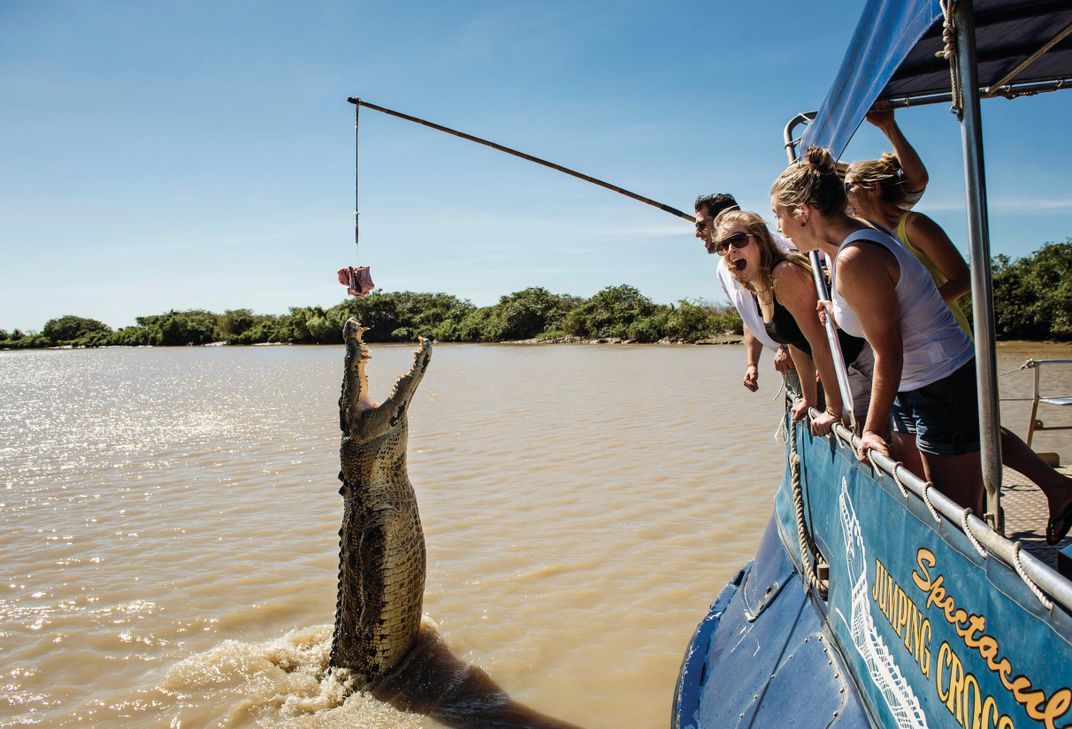 The Australian saltwater crocodile is one of the most magnificent species on the continent. A protected species, today an estimated 150,000 inhabit Northern Australia. The world's largest living reptiles, Australian salties can grow to be more than 20 feet in length.
On the one-hour Jumping Crocodile Cruise, cruise down the Adelaide River and see the massive territorial crocs jump vertically out of the water at close range. Their size and raw power will thrill and amaze you.
Dive With Crocodiles at Crocosaurus Cove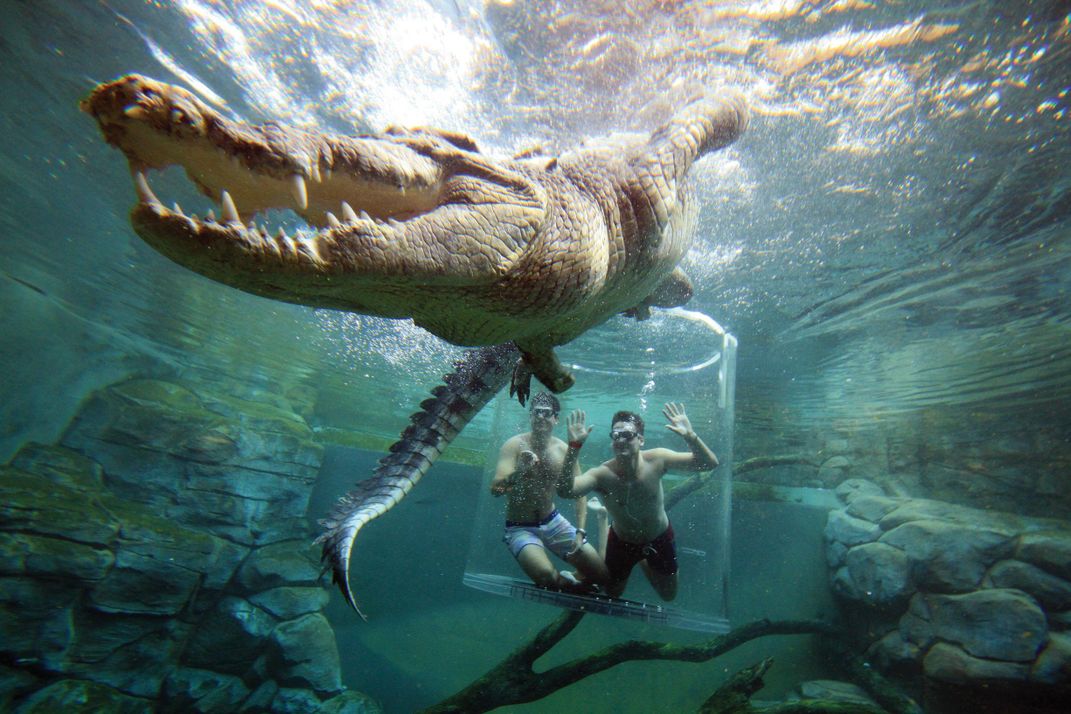 For a bigger adrenaline rush, get even closer to Australia's iconic crocs at Darwin's Crocosaurus Cove. Peer into their underwater environment through aquarium walls, or dare to dive with them in the Cage of Death experience. Australia's only crocodile dive, the Cage of Death takes up to two visitors into an enclosure for 15 minutes. Regular feeding by caretakers ensures that the massive reptiles are active. Watch out for those tails!
Wander the Mindil Beach Sunset Market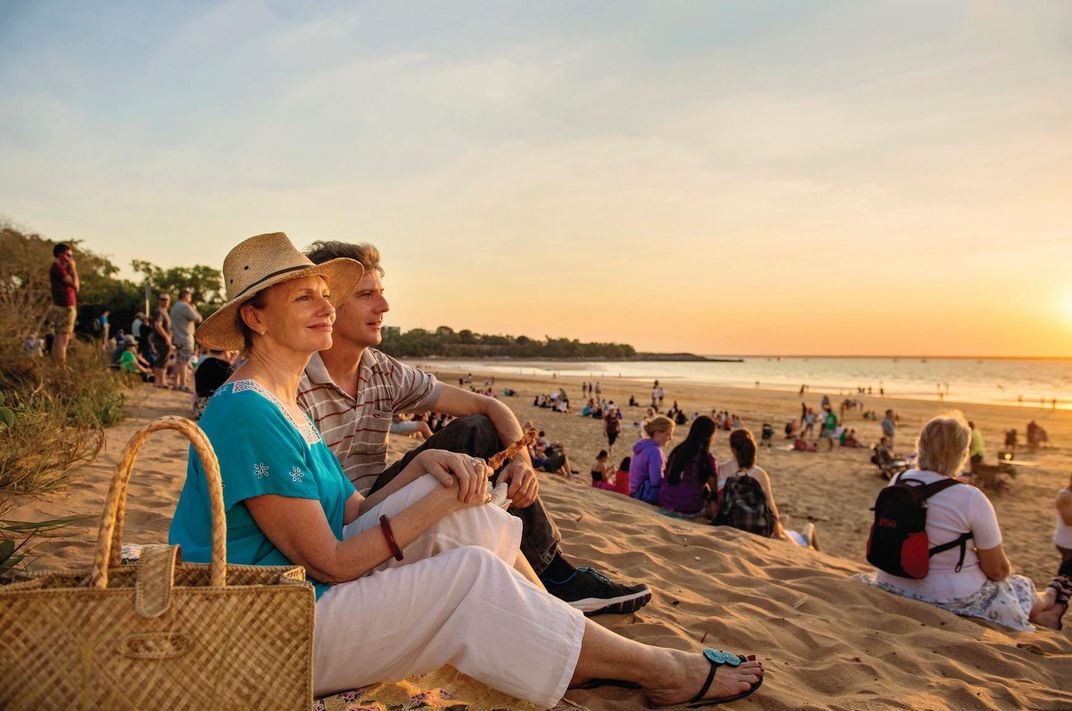 Fresh flavors from across Asia and Australia mix with local arts and crafts in a balmy, tropical setting at Darwin's Mindil Beach Sunset Market. Held every Thursday and Sunday evenings in the dry season months between May and October, this vibrant market is something of a Darwin institution. Locals start arriving at dusk, armed with tables, chairs and rugs, and settle on the beach or grass to watch the sun sink in a blaze of color.
Cruise Darwin Harbor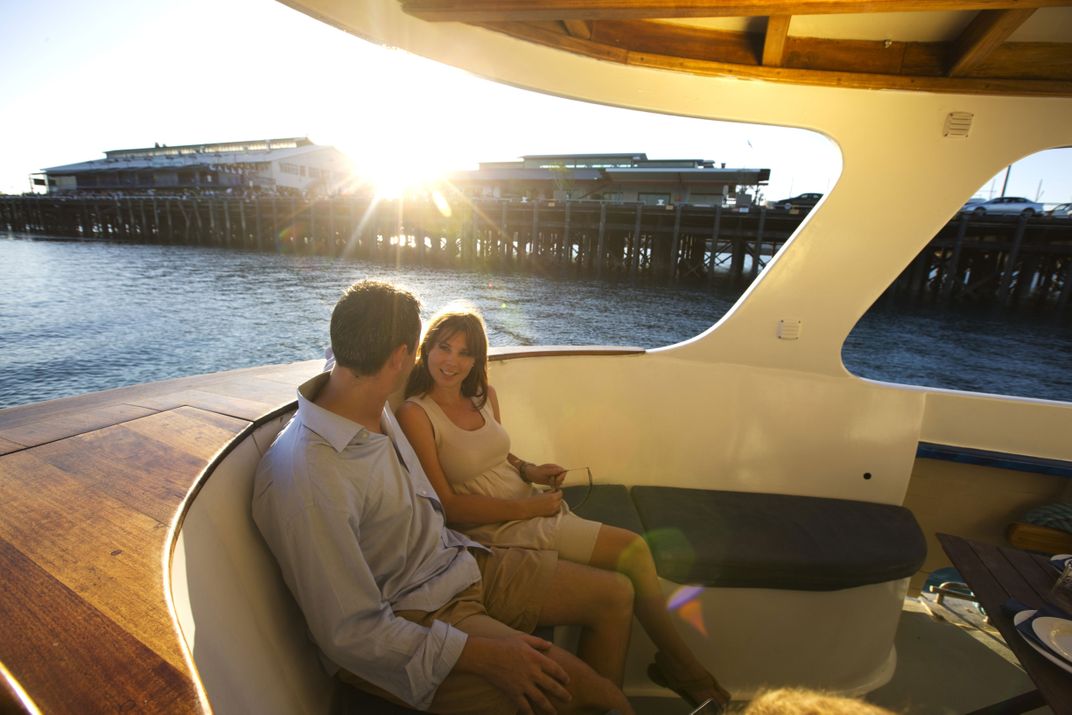 Larger than Sydney Harbor, Darwin Harbor supports a diverse range of marine ecosystems and is a vital transport hub for northern Australia. Cruise its sparkling blue waters surrounded by scenic mangroves aboard the schooner Tumlaren or multi-level catamaran Charles Darwin for a slice of the Northern Territory's Top End lifestyle. Watching sunset over the city from your intimate vantage point on the sea will take your breath away.
See World-Famous Tiwi Island Art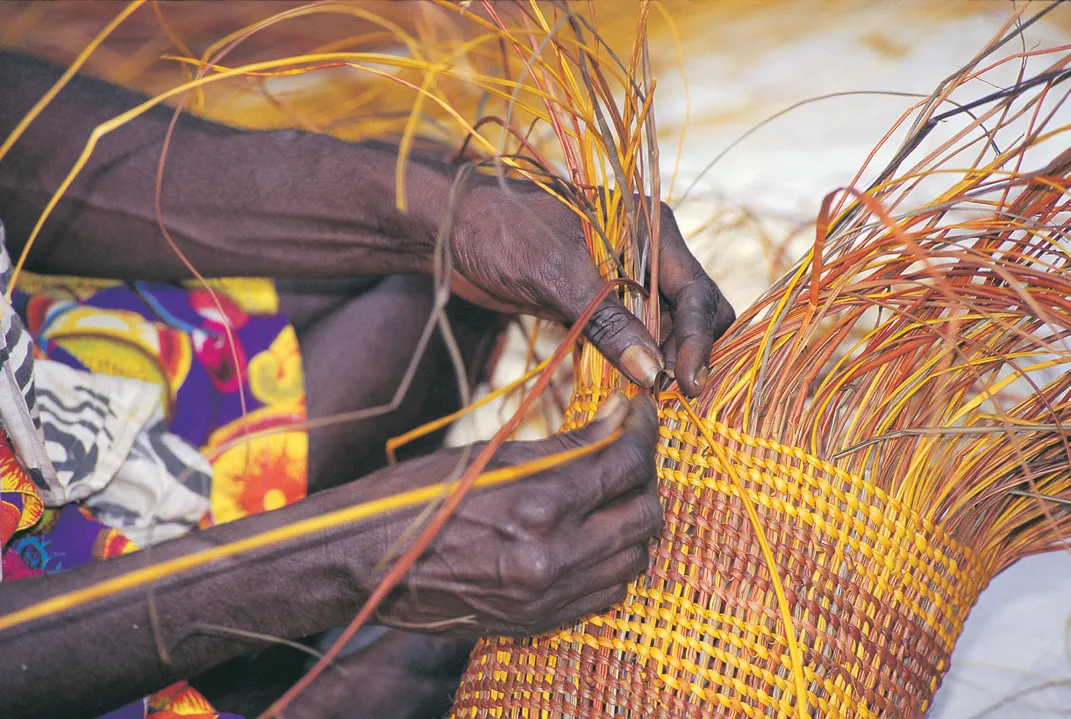 Comprising Bathurst and Melville Islands, with a population of around 2,500, the Tiwi Islands are only 50 miles north of Darwin, accessible via the 2.5-hour SeaLink ferry service. The Tiwi people are known internationally for their unique style of art which includes carvings and bright textile designs. Prized by collectors, many Tiwi artists have exhibited around the world. A Tiwi Art Tour introduces visitors to the islands' rich culture.
Discover Indigenous Culture at Top Didj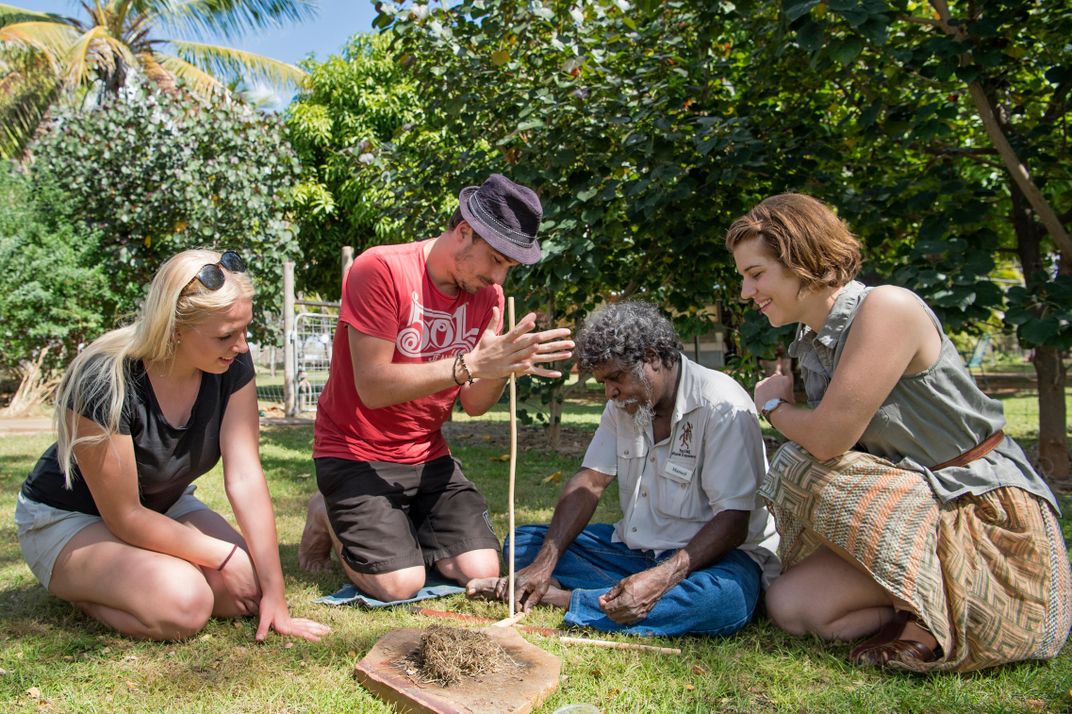 This two-hour experience led by indigenous artists from the Katherine region and Central Australia immerses you in authentic Aboriginal culture. Try your hand at dot painting, building fire with sticks or spear and boomerang throwing, and even feed a baby wallaby. You can also browse a local art gallery featuring didgeridoos, Aboriginal artwork, boomerangs, weavings, clap sticks, carvings and souvenirs.
Paddle Through Katherine Gorge
The Outback meets the tropics in Katherine, a region home to the world-renowned Katherine Gorge. A series of 13 gorges carved through ancient sandstone by the Katherine River, the Gorge is a paddler's dream come true. Push off from the river bank, fasten your life jacket, and embark on an unforgettable journey past waterfalls, Aboriginal rock art sites and wildlife. Regular cruises also run through the Gorge. Helicopters leaving from near the visitor center offer stunning aerial views of the gorge system and Arnhem Land plateau.