With so many seismic changes occurring all around us today, perhaps now is the time, more than ever before, to gaze inward—and backward—for answers. To seek the past, and look to our ancestors for guidance on how to face the global challenges ahead of us. Increasingly, the world is beginning to understand the importance of such ancestral wisdom from the local and Indigenous populations that came before us. And as our society melds that wisdom with more modern discoveries in science, business, economic development and more, it is possible to begin to see the opportunity for real transformation. Arguably nowhere else is this duality more apparent than in Panama.
Occupying just over 29,000 square feet, Panama is a country humble in physical size. But it's also a place where rich ethnic diversity and biodiversity from its extensive past, lay the groundwork for its pioneering spirit in the present day. In fact, Panama is one of only three countries in the world to hold a carbon negative status. And it also happens to be home to seven Indigenous Peoples (Naso, Ngäbe, Buglé, Guna, Bri Bri, Emberá and Wounaan) that, together, have preserved their biocultural heritage throughout millennia—today managing nearly a quarter of the overall Panamanian territory.
According to the United Nations Department of Economic and Social Affairs, "Indigenous Peoples are stewards of the world's biodiversity and cultural diversity. Although they account for only around 5 percent of the world's population, they effectively manage an estimated 20-25 percent of the Earth's land surface." And incredibly, this very land correlates to an astounding 80 percent of the planet's total biodiversity—a clear indication of the critical role that Indigenous Peoples still play in sustaining our natural world even today. 
Located in northwest Panama along the Teribe River Basin, the Naso people have traditionally called the mountainous jungles of Bocas del Toro home and are well known for their connection to water. The Ngäbe and Buglé people, while closely related, speak different languages but constitute the largest combined Indigenous populations in Panama—with agriculture serving as their primary subsistence base, the Ngäbe are also known for their brightly-colored dresses, handwoven bags and intricate jewelry. The Guna, among the most visible of Panama's Indigenous Peoples, live along the eastern Caribbean coast and have a long history of mercantilism and international trade, with an economy based on fishing, agriculture and cloth manufacturing. The Bri Bri are located in Bocas del Toro, and follow a philosophical code called Siwá. The Emberá and Wounaan peoples share dress, habits, and customs with their only differentiator being language.
With travel and tourism numbers continuing to climb each year, Panama is focusing on responsible tourism as a tool to empower its various communities, and it's committed to supporting the conservation and regeneration of its vast ancestral heritage. The nation's Indigenous Peoples are still living and working throughout its lush jungles, soaring mountains (the tallest of which, Volcán Barú, reaches an incredible 11,398 feet at its apex), and along its numerous coastlines, as well as scattered throughout its more than 1,000 islands. Get to know a few of these Indigenous Peoples who are still safeguarding Panama's ancestral knowledge, and gain a deeper understanding of their spiritual relationship to nature that still endures today. 
Emberá - Wounaan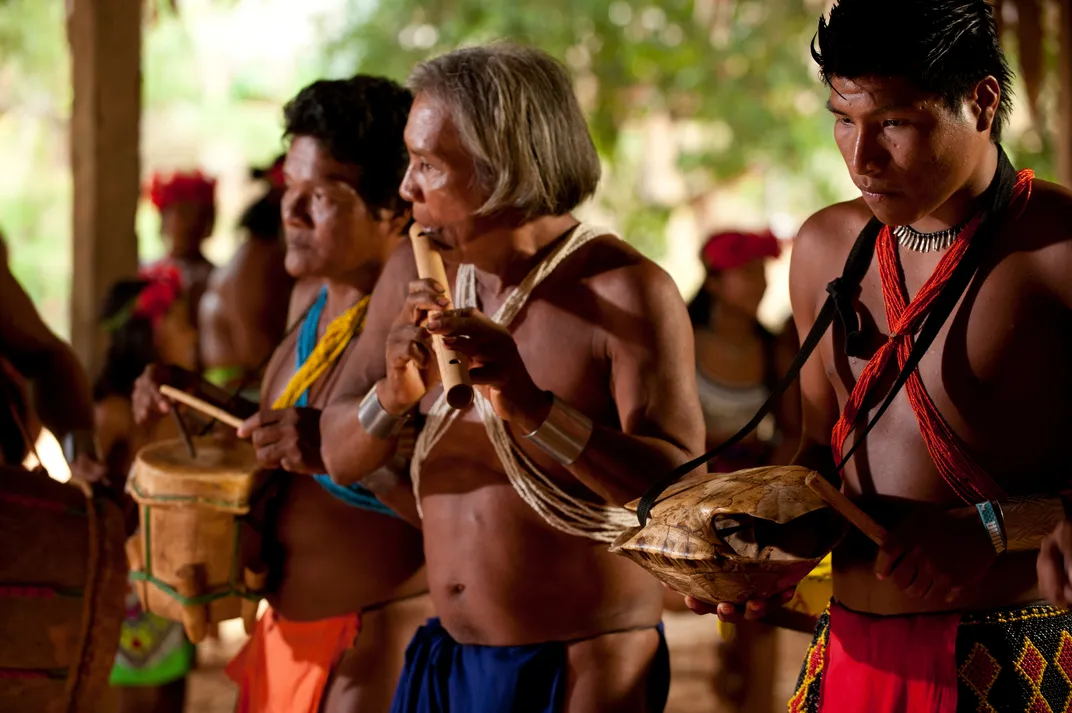 To the Emberá people, rivers are an integral part of their lifestyle and cosmogenic beliefs. Most Emberá villages are located in the Darien province, with a few villages not far from Panama City. A boat ride on the Chagres River can take visitors directly to villages located at the water's edge. 
The region, known as the Chagres Watershed Emberá Region, is home to an incredibly dense and biodiverse rainforest that nurtures many in Panama (and in particular in, Panama City) with fresh drinking water. In addition, this freshwater source is a key supplier of water for the nearby Panama Canal, and the Emberá are guardians and stewards of this critical natural resource for all.

While visiting, travelers can learn the Emberá's stories and ancestral connection to the surrounding rivers and rainforest land. Among the foundations of their natural and spiritual ideologies, the Emberá believe that water (even that which we drink and use today) comes from a great tree that once fell in the distant past—and from its vines, rivers were ultimately formed. This worldview permeates their belief system and is evident in the ways in which the Emberá strive to protect their natural land. The Emberá's relation to water is also marked by the spirit of Antumía, an evil spirit that lives in the water, only visible to the shamans or "jaibanás" today.
Visitors will find that the Emberá are well known for their handmade crafts, such as black palm baskets (Chunga) and intricate animal carvings (made from both Tagua nuts and Cocobolo), along with temporary tattoos made using a black dye from Jagua fruit. On a visit, you'll likely travel in a traditional dug-out canoe, like that of the Emberá, and may be able to experience traditional dance and music.
While many Emberá villages are located deep in the forest in Darien province, there has been some migration to the Panama Canal Watershed area. Villages such as Emberá Quera, Ella Puru, Pararu Purú, Emberá Drua are more accessible to visitors. 
Pararu Purú is home to the current Chief of the Chagres Watershed Emberá Region, Antonito Zarco, the grandson of a legendary Emberá leader, Antonio Zarco, who once trained the Apollo 11 astronauts who would ultimately go to the moon. As the leader of a jungle survival program, the elder Zarco trained many service members and others from the U.S. Air Force and NASA (including Neil Armstrong and John Glenn) in how to survive in foreign environments that would test their mental, physical and spiritual resolve. And in doing so, this leader of the Emberá, among so many other Indigenous Peoples in Panama, have proven that the ideas of the past can guide us on to a better future.
The Naso
The Naso people—also known as the Teribe or Tjër Di, which roughly translates to "river of the grandmother"—is believed to govern the last remaining Indigenous kingdom in all Central America. They live within the recently established Comarca Naso Tjër Di, and in La Amistad International Park (a UNESCO World Heritage Site), a mountainous region in the northwestern corner of the country that's blanketed in thick jungle. 
Amid these 991,000 acres that span both Panama and Costa Rica, the region is also home to the mythical Resplendent Quetzal, a colorfully feathered bird and a hallowed, mythological symbol in both the Aztec and Maya cultures. Its name loosely translates to "sacred" in a of number Mesoamerican languages, and the Naso are leading a significant international effort to protect this species among other biodiverse flora and fauna in this jungle they've inhabited for centuries. 

Subsisting largely on farming and agriculture, particularly growing plantains, yucca and cacao, the Naso also engage in a multitude of handcrafts, such as weaving. Today, visitors can plan a trip to one of several communities within the region, and experience the Naso culture up close. Visitors to communities such as Bonyic, Siekin or Siejic may even be able to meet King Reynaldo Santana, believed to be the last Indigenous monarch in Central America, and perhaps in all of the Americas. Spend a day interacting with the Naso people as they generously share their approach to protecting the natural land around them, something they have undertaken for centuries. Here, you will also encounter Tjër Di, the mythical river (and the Mesoamerican goddess for which it was named), which, through both its flowing transience and its general permanence, marks the spiritual center of the Naso people.
 
The Ngäbe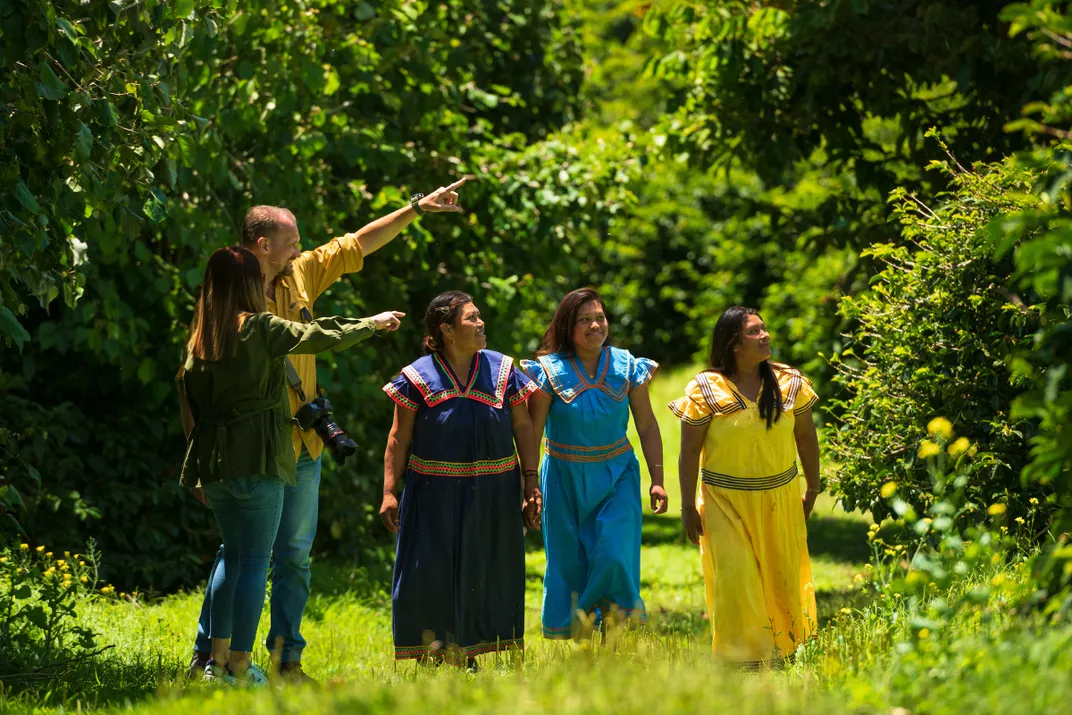 For the Ngäbe people, waterfalls are a sacred and spiritual place, so it's no surprise that Kiki—Panama's highest-measured waterfall, also known as Quiqui (of the Rio Quiqui) to some—is revered among among the Ngäbe people thanks to its intense energy. Located in Soloy, Chiriqui, visitors can feel the immense force of the water, made all the more sensational after having traversed the dense tropical jungle to reach it. The Ngäbe believe that waterfalls are home to the spiritual forces of their own ancestors, and as such, they regard the Kiki and other natural falls as a place of communion—a harmonious place to make contact with the figures of their heritage, along with nature and the expansive cosmos. 
Among the rituals that the Ngäbe people have preserved from their ancestors, the Grö is a rite of passage, practiced by teachers and wise men, that observes the significant transition of tribal boys becoming men. This spiritual journey spans four days and four nights, in accordance with the sacred number four, and it tests the individual's abilities to survive and achieve new spiritual depths. During the Grö ritual, the candidate encounters one of the waterfall-dwelling spirits known as Bube, which is believed to be inherited from generation to generation. These spirits can take the form of wise elders or even animals, and they answer the call of the masters who are performing the ritual. 
In Ngäbe communities such as Soloy, visitors themselves can participate in an authentic cacao ritual. Regarded as an incredibly sacred tradition, the "ajuito" (as the ritual is also known) marks the occasion of the Ngäbe elders attending the home of a sick person in the community, where they keep company, offer support, and share wisdom, stories, and traditions, also known as "kukwe kira."
Mesoamerican civilizations throughout Central America have used cacao in its purest and most traditional form for thousands of years, both in ceremonies as well as in all manner of tribal celebrations. By examining Indigenous wisdom, and how the Ngäbe people and others have employed cacao in traditional medicine, we can see firsthand how the healing approach of cacao has made it a key ingredient in some herbal medicines even today. 
Indigenous Panamanian Peoples have harnessed the powerful potential of cacao, and have passed down its myriad uses from generation to generation. In fact, according to the Ngäbe, when we crave chocolate today, what our body actually craves is the multidimensional healing power of cacao as medicine, along with sacred self-love—if only we would take the necessary time to give ourselves that nourishment.
In addition to traditional cacao experiences, visitors can explore local gastronomy, scenic hiking, and exploration of arts and crafts such as chacaras (bags woven from plant fibers), naguas (ankle length dresses with embroidered details around the neck and hem), and chaquira (necklaces made of natural materials like shell, stone or beads). The Ngäbe live primarily in the Western Panamanian provinces of Veraguas, Chiriquí and Bocas del Toro.
The Guna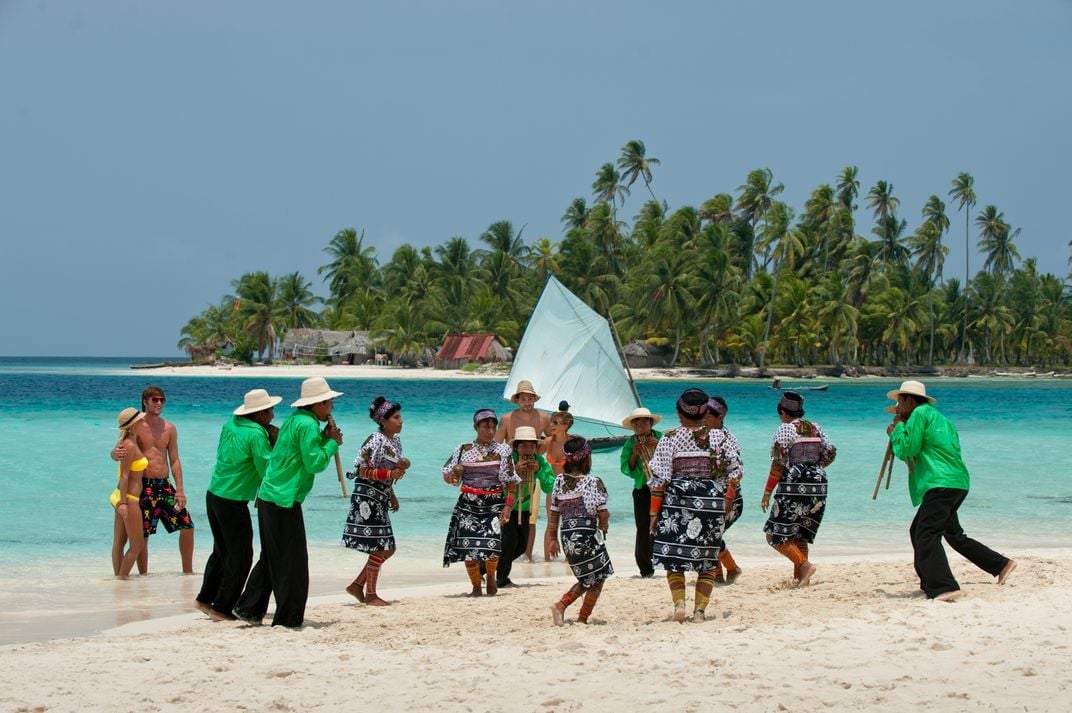 The Guna people, who maintain a semi-autonomous status within Panama, are among the county's most visible Indigenous Peoples. According to historians, the Guna people may have migrated to the San Blas Islands, or Guna Yala as it is known locally, in the 16th century. Today, there are nearly 62,000 people living along 49 of the almost 400 islands in the archipelago. On a visit there, travelers will find immaculate beaches, crystal blue waters, and a thriving culture.
With an economy based on fishing, agriculture and clothing manufacturing, it is no surprise that the Guna people are experts at craft such as "Mola", an intricately hand-stitched fabric that is worn on traditional dresses by female members of the group. Using a technique known as reverse applique, mola often feature motifs inspired by the natural world with sacred animals or the cosmogenic origin story being commonly portrayed.  
Those that want to immerse themselves in the Guna culture can opt for a day trip to explore the islands or stay longer by renting a tent, hammock, or space on a sailboat. While there, sample the distinct, seafood-based cuisine, with dishes like Tule Masi (a fish and plantain soup), fresh red-snapper and coconut-flavored rice.