When photographer Ben Hicks set out for a day of kayaking along the Great Calusa Blueway, a 190-mile marked water trail that covers Estero Bay, Pine Island Sound and Matlacha Pass and the Caloosahatchee River, he brought along a special assistant: his dad.
On a pair of kayaks, the duo moved through the water eagerly observing the Blueway's flora and fauna, including lush mangrove thickets, colorful birds, and even a few surprises. "We got to a place about five minutes into paddling… and we saw a couple of dolphins," says Hicks, a finalist in Smithsonian magazine's 14th annual Photo Contest.
Once on the water, says Hicks, it was easy to leave the built environment behind. "Once you get on the water, especially early in the morning, and breeze starts hitting you in the face, you kind of start to become one with nature. You let things go a little bit."
In the morning, Ben and his dad explored the area around Matlacha Pass. They glided through the area's mangroves, and later took in the sunset from Bunche Beach Preserve. And while Ben is a Florida native, one of the best things about the Great Calusa Blueway is how accessible it is, even for out-of-state travelers. Most of the area's forty launching points are within an hour's drive of the Fort Myers airport. "You could fly in from JFK, be kayaking in the afternoon, [and] have time to eat a great dinner somewhere," laughs Hicks.
Hicks and his dad spent their day exploring two parts of the Blueway, and came back with pictures and stories that illuminate some of the natural wonders of this incredible attraction.
Matlacha Pass Mangroves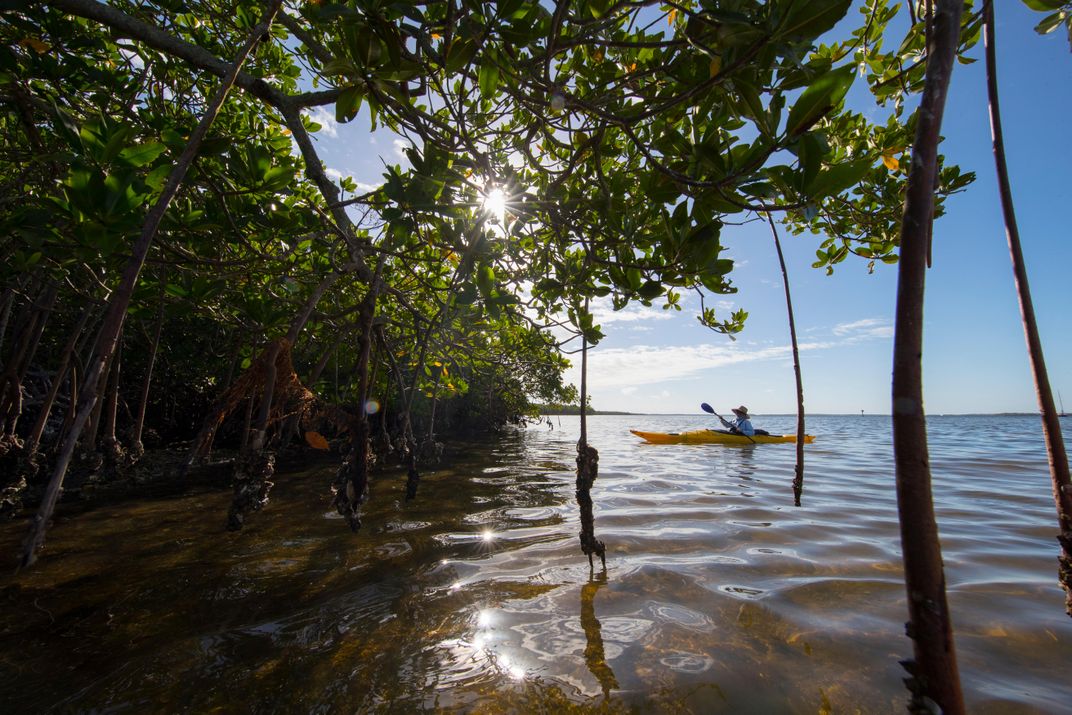 While Hicks is an experienced kayaker, one of the things he noticed immediately is how accessible the Matlacha Pass area is to newcomers. At Gulf Coast Kayak, where the duo rented boats, he says, the staff was "ready to handle everybody—anything from experts to beginners." Launching into the water, it became clear this area was a kayaker's dream: "There's a little bit of a channel where larger boats can go in some of the areas, but for the most part, it's really only navigable by a kayak or paddleboard," he says.
He knew once he was in the water it was going to be a good day for capturing photos—"there were good size mangroves over the edges of the waterways, which always means a healthy environment and good sea life." And as a photographer who frequently takes underwater shots, he was thrilled: "You can't find much clearer water."
Early in the morning, paddling south in the direction of some especially thick mangroves, Hicks was on the lookout for birds, some of which were happy to let him know they were around. "We were hearing the ospreys. Ospreys are birds of prey that fish from mangrove areas. And just catch fish all day. They have these loud chirps, and they're very telltale signs; they're like, 'Okay, keep your distance.'" After snapping pictures of the ospreys, Hicks and his dad paddled through water he describes as "like glass" before eventually turning north, where with the assistance of a drone he captured images of the Blueway from above. "It looks almost like the Amazon," he says, with dozens of tributaries and small waterways that turn the area into a "Choose Your Own Adventure" setup for paddlers. It's also here that Hicks's dad got a look at a special part of Florida wildlife: "He saw a manatee. Two manatees, actually!"
One of the things that makes this part of the Blueway special, says Hicks, is that it's easily accessible by road but, once you hit the water, a totally immersive natural experience. "You're so close to civilization," he says, "but once you're out on the water it's like nothing else exists."
Bunche Beach Preserve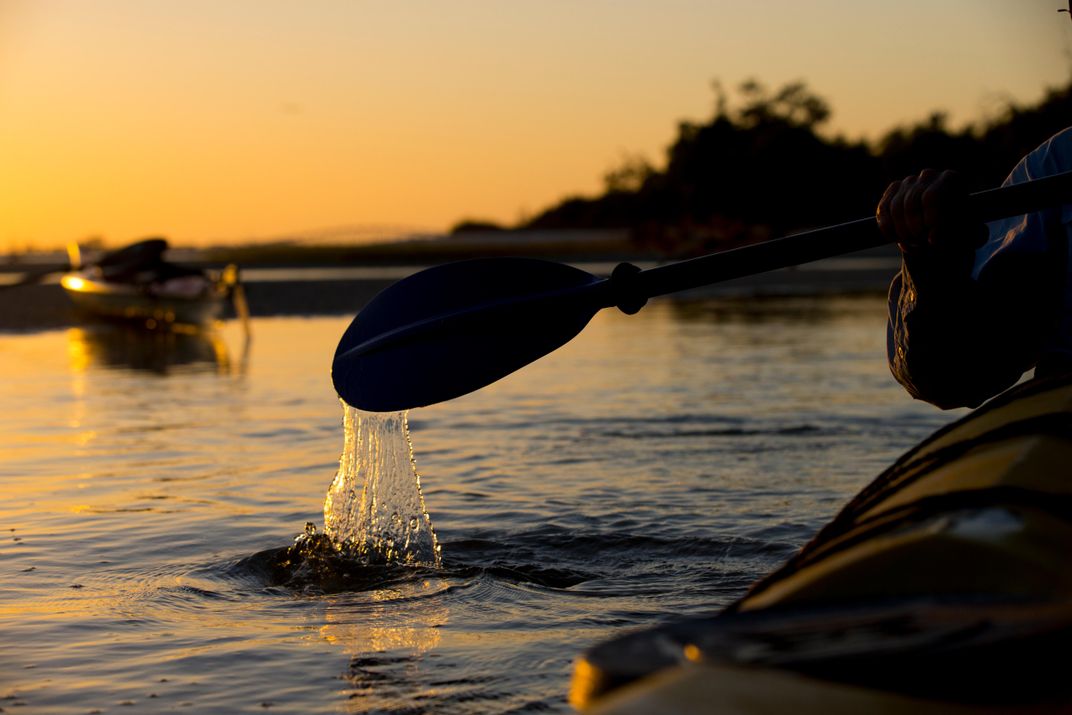 In the afternoon, Ben turned his attention to the San Carlos Bay Bunche Beach Preserve, about 40 minutes south of Matlacha Pass by car. The Bunche Beach Preserve is a public park and beach, and its water is right on the edge of the Gulf of Mexico. What does that mean for kayakers? "So, the closer a waterway is to the ocean," he explains, "the more tide it gets, and the more water moves back and forth. As a result, the ecosystem's a bit livelier."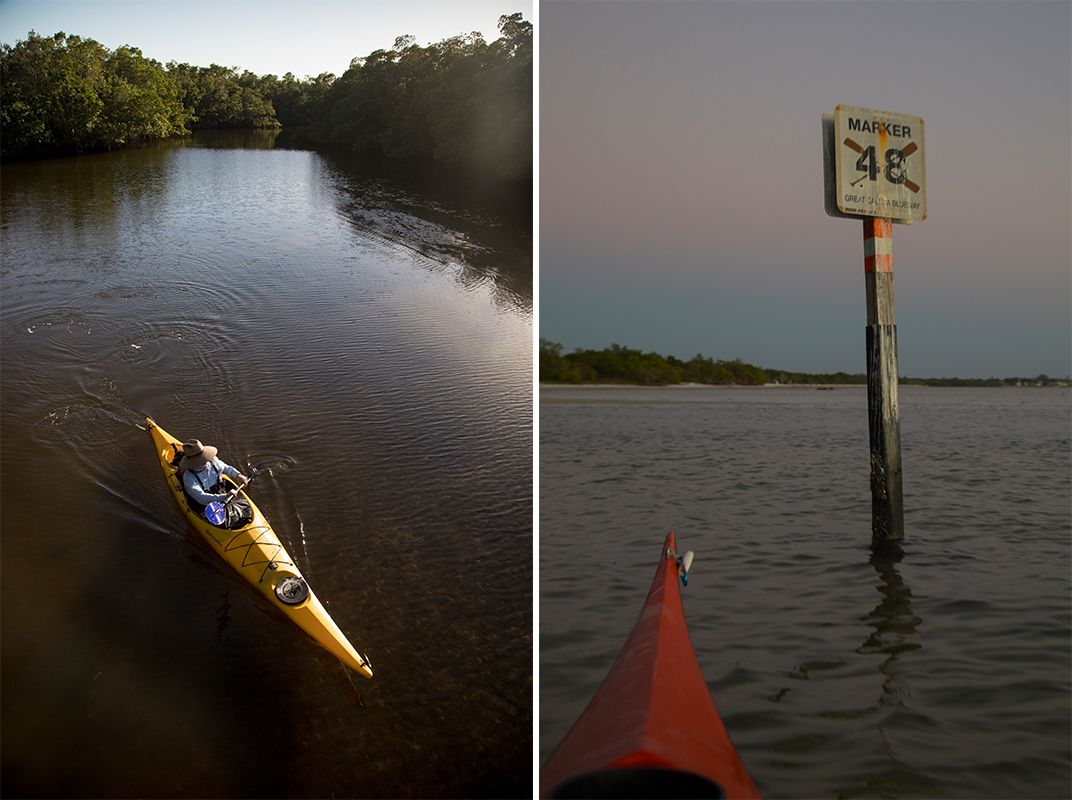 "We saw lots of different birds," he says, "and we did actually see an alligator, which was rare!"
The beauty of Bunche Beach, says Hicks, is that it's a perfect spot for anyone who wants to see where the wind takes them. "You can either go inland to the deeper cut magrove tunnels, or you can paddle west back towards the ocean and the beach, where it was a bit more open. There are also little canals along the side of large sandbars that go in and out of the mangrove tunnels."
And to watch the spectacular Florida sunset? "You can get in your kayak and—with not that much effort—paddle to your own private beach where no one else is."