Uffizi Is Giving Women Artists a More Prominent Space on Its Walls
The director made the decision after talking with members of the Guerrilla Girls, an activist group that combats discrimination in the art world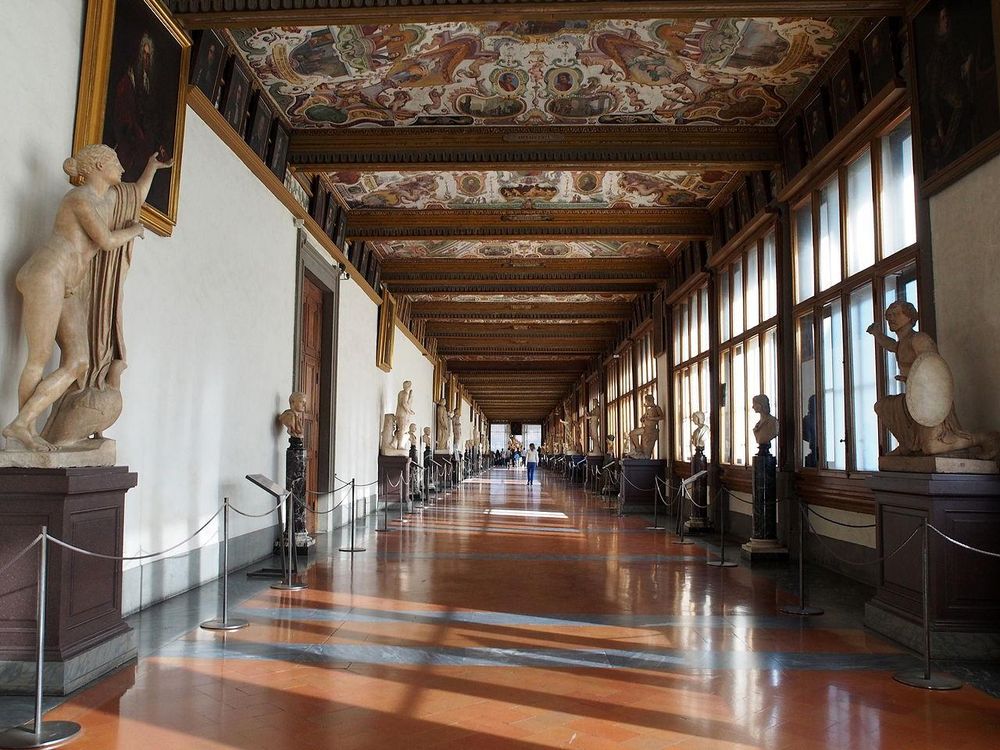 Each year, millions of people flock to the Uffizi Gallery in Florence to see Raphael, Michelangelo, Caravaggio, Titian and Botticelli—all giants of the art world, and all, perhaps unsurprisingly, men.
Now, in an attempt to infuse some gender balance into this line-up, the gallery is giving women artists a more prominent space on its walls. As Hannah McGivern reports for The Art Newspaper, the Uffizi plans to launch exhibitions devoted to the works of two women: Suor Plautilla Nelli, a brush-wielding nun who is Florence's first-known female Renaissance painter, and Maria Lassnig, a pioneering contemporary painter who reshaped the female body in art through a feminist lens.
The initiative to spotlight a greater number of women artists started in 2015 when newly minted Uffizi director Eike Schmidt met with members of the Guerrilla Girls, an anonymous feminist activist artist collective that's been combating discrimination in the art world (while wearing Gorilla masks) since the 1980s.
According to Schmidt, the Uffizi is actually home to one of the largest, if not the largest, collection of works by women artists before the 19th century. But most of these paintings have been relegated to a narrow corridor that links the Uffizi to its sister museum, the Pitti Palace. Because the corridor is only accessible to private tour groups, Schmidt estimated that "far less than one percent" of visitors to the Uffizi see the paintings that hang there.
On March 8—International Women's Day—Nelli's works will emerge from the obscurity of the Uffizi's hidden corridors for the general public's purview. According to Advancing Women Artists, Nelli, a cloistered Dominican nun, painted large-scale religious works with a sensitivity and pathos that distinguished her from her male counterparts. She was quite popular in her day; in Renaissance painter Georgi Vasari's seminal book of art history, he writes that her work hung in the houses of so many Florentine gentlemen that "it would be tedious to attempt to speak of them all."
The Uffizi's Maria Lassnig exhibition will open two weeks later, at the Pitti Palace. Lassnig, who was born in Austria in 1919 and died in 2014, is known for creating self-portraits that reflected the brutality of her own self-image. She painted dismembered and distorted bodies, faces suffocating in plastic, not to mention alien-like figures devouring fruit. Though The Guardian's Christopher Masters writes that Lassnig was regarded highly by her contemporaries, she did not receive her first solo exhibition until she was 90 years old.
These two exhibitions are not just an exercise in tokenism. Schmidt told McGivern that he believes the Uffizi, drawing on its vast collection, could "easily" continue to highlight women artists for the next 20 years.
The Uffizi Gallery isn't the only art museum that's started to give some long-overdue recognition to influential women artists. Next year, Caroline Elbaor reports for artnet News, the 17th-century master painter Michaelina Wautier will have her first-ever solo exhibition at the Rubens Museum in Antwerp.