Weekend Events: George Washington, Student Sit-Ins and Remembering Japanese Internment During WWII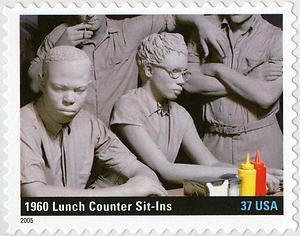 Friday, February 18: Historic Theater: Join the Student Sit-Ins at the Greensboro Lunch Counter
In this piece of interactive theater, learn what it was like to take part in a sit-in—a form of peaceful protest that was a hallmark of the Civil Rights movement. Meet a civil rights activist and take part in a training session to prepare for your first sit-in and decide if you would have the courage to fight for justice. These 15- to 20-minute performances reveal the people behind the objects on view and the emotions in their stories. Free. American History Museum, 11:30 AM. This event repeats today at 1:30 PM, 3:00 PM and 4:30 PM.
Saturday, February 19: Annual Day of Remembrance at the Smithsonian
Today marks the 69th anniversary of Franklin Delano Roosevelt signing order 9066, which effectively forced almost 120,000 Americans of Japanese ancestry to relocate to federal detention camps. In the throes of World War II, these Americans were assumed guilty of disloyalty solely because of their racial background and had to live behind barbed wire for the duration of the war. See the film, 442: Live with Honor, Die with Dignity, the story and legacy of the 442nd Regimental Combat Team, an Asian-American unit that became the most decorated U.S. regiment in the history of the U.S. Armed Forces. The film features archival footage and interviews with several surviving veterans, including United States Senator Daniel K. Inouye and George Sakato. Both veterans were recipients of the Medal of Honor, the highest military decoration awarded by the U.S. government. A forum with director Junichi Suzuki follows. Free. American History Museum, 2:00 PM.
Sunday, February 20: Portrait Story Days: George Washington
In anticipation of Presidents' Day, drop in to see a portrait and hear a story about founding father George Washington. Afterward, you will get to create your own special piece of art. Ideal for young visitors with adults. National Portrait Gallery, 1:00-4:00 PM.
For updates on all exhibitions and events, visit our companion site goSmithsonian.com