Weekend Events August 12-14: Calder Exhibition Closes, Flying Dogs, and a Scavenger Hunt
This weekend, bring your child for story time at the Air and Space Museum, play in a scavenger hunt , and catch a sculpture exhibit that's about to close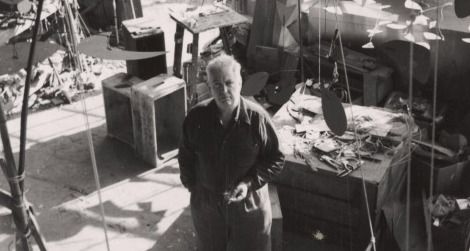 Friday, August 12 Calder Closes
There's not much time left to see "Calder's Portraits: A New Language." Although Alexander Calder is most well-known for his innovative mobiles, the sculptor and artist also created a series of remarkable three-dimensional portraits using bent wire during the 1920s. Next to these unusual portraits, visitors can see contemporary photographs and caricatures of the very same subjects, including Jimmy Durante and Babe Ruth. Free. National Portrait Gallery. Open 11:30 to 7 daily. Exhibition closes on the 14th.
Saturday, August 13 Flying Dogs
Bring your child to the Air & Space Museum for Flights of Fancy, a weekly family-friendly story time about the solar system with a hands-on art project afterward. This week's session will feature Dogs in Space, an eye-catching picture book in which space hounds explore the solar system. Free. 11 a.m. and 1:30 p.m. National Air and Space Museum. For location, ask at Welcome Center.
Sunday, August 14 Pheon Scavenger Hunt
Have you ever wanted to play capture the flag in the Smithsonian? Come play Pheon, a new scavenger hunt game! Via cell phone, players join a team, complete tasks based on the museum's collection, and ultimately try to capture the Pheon to earn victory. The game takes 90 minutes and is suitable for ages 12 and up, or children with their families. Free. American Art Museum. Sign up in the Luce Foundation Center between 2:30 and 4 pm.
For a complete listing of Smithsonian events and exhibitions visit the goSmithsonian Online Visitors Guide. Additional reporting by Michelle Strange.