Wednesday Roundup: Deep Divers, Curious Cabinets and Clogged Arteries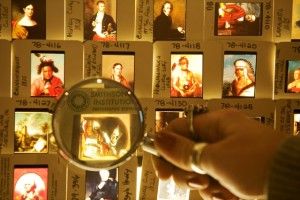 (Ed. Note -- This is our 1000th post. More to come later, but thanks to everyone for getting us this far!)
It's a Big Year for Natural History—We've mentioned that the Natural History Museum turns 100 this year before, but as part of the celebration, they've been giving us a peek into their diverse staff by posting video interviews of them on the museum's Web site. Some are already available to watch, including interviews with photographer Chip Clark and Carole Butler, Chief of Collections for NMNH. My personal favorite is a video of some NMNH staff members tasting a smorgasbord of crunchy crickets, cockroach cookies and other buggy delicacies.
Labor Day Has Come and Gone... To ring in the start of school, the Ocean Portal blog recommends getting passionate about exploration. They've compiled a list of the best known ocean explorers, from Robert Ballard, who explored the Titanic shipwreck, to John Walsh and Jacques Piccard, the only two humans ever to descend the depths of the Challenger Deep, part of the Mariana Trench.
What Would You Have Asked? A couple weeks ago, we announced that several Smithsonian museums would be taking part in the Twitter-hosted Ask a Curator Day. Whether or not you participated, Pushing the Envelope has posted the best questions and answers asked of their curator at the event. What's the rarest stamp at the Postal Museum? Do curators get scared being in museums at night? What letter from throughout American history do you wish the museum had?
First the Bureau of Bureaucracy, and Now... The cabinet of curiosities! Aside from alliteration, what curiosities are contained in this new furnishing acquired by the Smithsonian Institution Archives American Art Museum last fall? According to Bigger Picture, the cabinet's doors open to reveal rows of 35 millimeter slides of Smithsonian artifacts and buildings. The cabinet recalls the mass of images (likely over three million) in the Smithsonian Institution Archives from before the dawning of the digital age. Though it is not currently on view, Bigger Picture does have some photos to share.
Cholesterol Through the Ages—The second installment of a two-part post on Oh Say Can You See features everyone's (least?) favorite heart-stopper. An intern at the National Museum of American History describes the trials and tribulations of telling the story of cholesterol through documents and objects of the past.
This post has been updated. The "cabinet of curiosities" is not among the collections of the American Art Museum. It was acquired by the Smithsonian Institution Archives. ATM regrets the error.