Two Cheetah Cubs, Rescued from the Brink of Death, Arrive at the National Zoo
After a risky caesarean section and intensive care, two cheetah cubs have been nursed back to health and now come to live at the Zoo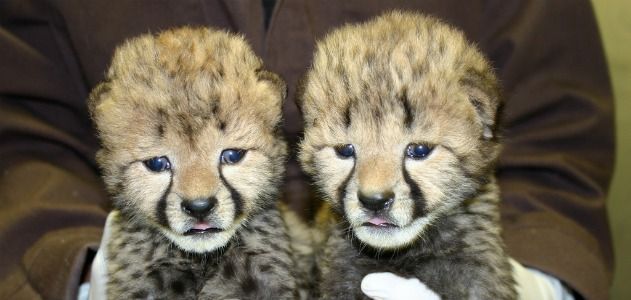 On April 23, veterinarian Copper Aitken-Palmer was examining Ally, a cheetah from the National Zoo who had just given birth to a male cub. As she leaned in closer, she was surprised to hear a faint beating, distinct from the animal's own heartbeat.
Listening carefully, she realized what it was: the heartbeat of several more cubs, who had remained inside Ally despite the fact that she had stopped having contractions several hours earlier. Quickly, a team of vets and scientists performed an emergency cesarean section to deliver the remaining offspring in the litter.
"Given how rare this procedure is, we thought it'd be unlikely for any of the cubs to survive," said Adrienne Crosier, a cheetah biologist at the Smithsonian Conservation Biology Institute (SCBI) in Front Royal, Virginia, according to a Zoo press release. "But that little female is a fighter. Once we got her breathing, she just kept going. It was a very intense, stressful experience, but among the most inspiring of my career."
Three weeks later, after intensive efforts to resuscitate the litter and provide round-the-clock care, the surviving cub (a female) and the first-born male took up residence at the National Zoo on May 18. The two cubs and the mother all appear to be in good health, a cause for celebration among Zoo staff and cheetah enthusiasts everywhere.
Because the mother had abandoned the male cub from the start—relatively common practice for first-time mothers in captivity—the pair are being hand-raised, and still require vigilant care. Late this summer, once they have developed further and keepers are confident they are ready, they will make their debut to the public. "The cubs will continue to need care and we're not out of the woods yet," said Tony Barthel, curator of the Zoo's Cheetah Conservation Station. "The goal is to ensure that the cheetahs thrive and become ambassadors for their species."
Part of the cause of celebration for these births is how vulnerable the species already is. There are only an estimated 7,500 to 10,000 cheetahs left in the wild after decades of hunting and habitat loss in Africa, the species' native range. Ally and the father, Caprivi, were specifically paired as part of the cheetah's Species Survival Plan, which is put in place by the Association of Zoos and Aquariums to maximize genetic diversity and stability in the threatened population.
"There are now two new genetically valuable cubs in a population that so desperately needs them," Aitken-Palmer said. "So this is really a success for this struggling species."
The other cause for celebration: the cheetah cubs are just so darn cute. Take a look at the Zoo's flickr page for more photos of the pair, and keep checking in throughout the summer to see when the cubs will make their public debut.