Tian Tian and Mei Xiang Get to Stay; Zoo Gets an Extended Lease on the Pandas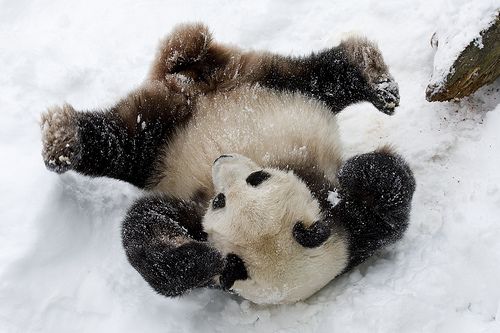 When it snows, we ooh and aah over a frolicking Tian Tian. When Mei Xiang is artificially inseminated, we wait with bated breath. When it is Tai Shan's birthday, we post pictures of him devouring his beet juice-stained birthday cake. (With Tai Shan, it was love at first sight.) And when we got word that the little guy was returning to China, we, rightfully, mourned. What can I say? When it comes to the National Zoo's pandas, it's endless love, for us here at the Around the Mall blog.
Today brings exciting news on the panda front! This morning, Dennis Kelly, director of the National Zoo, and Zang Chunlin, secretary general of the China Wildlife Conservation Association, signed an agreement for pandas Tian Tian and Mei Xiang to stay at the zoo through 2015.
"With only about 1,600 now found in the wild, giant pandas are among the most endangered animals on Earth," says Kelly, "so it is a great privilege and responsibility to have two animals in our care."
​
The agreement shows the commitment of the United States and China in working together to conserve and revive the wild giant panda population. Under the contract's guidelines, the zoo will continue to study panda breeding and cub behavior. In the next two years, the Smithsonian Conservation Biology Institute and the China Conservation and Research Center for the Giant Panda in Wolong, China, will partner to oversee the breeding of 12-year-old Mei Xiang and 13-year-old Tian Tian. (The pandas' last cub was Tai Shan, born in 2005.) If, after two years, it is determined that either panda is unsuitable for breeding, discussions about the pandas returning to China in exchange for others may be had.
So stay tuned for more panda updates!