These Designs Showcase the Provocative World of Native Fashion
These contemporary designs by prominent or up-and-coming Native American designers are edgy and pulsing with relevance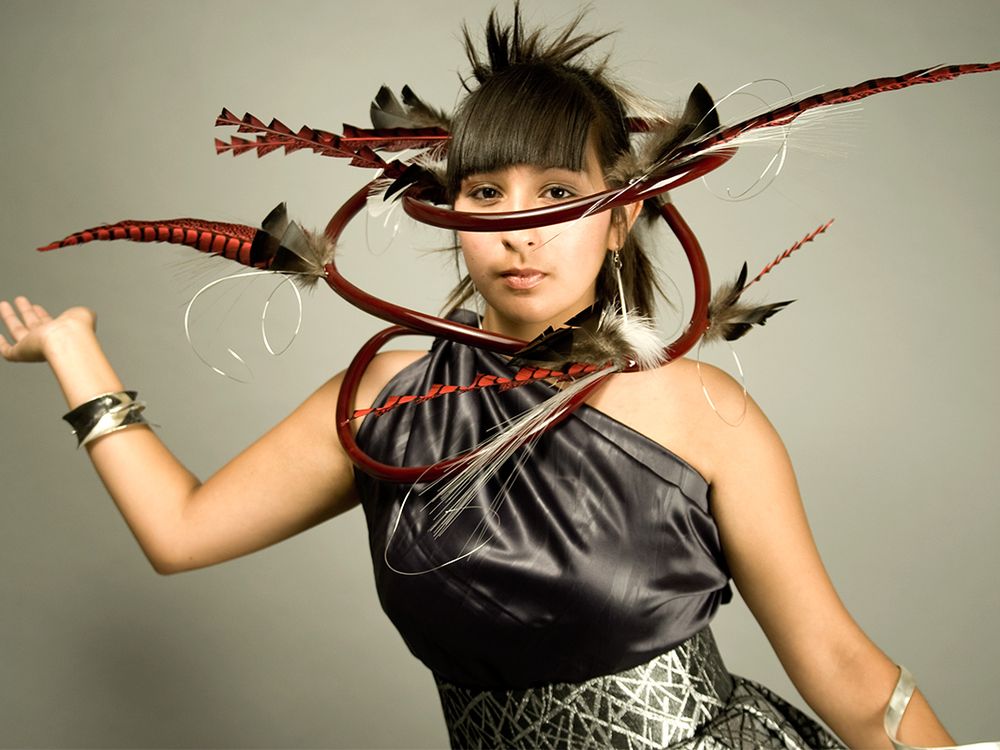 Metal boas that wrap like a sculpture around the wearer's neck; lace and elk-tooth dresses that would fit right in at a swanky nightclub; graffiti-inspired T-shirts that integrate Apache imagery are just the beginning. Whatever one presumes to know about the fashion and clothing styles created by Native American designers, expectations are likely to be upended at a new showcase exhibtion on view at the Smithsonian's National Museum of the American Indian, in New York City.
Titled "Native Fashion Now," the show spotlights 67 designers across the U.S. and Canada, and dating from the 1950s through today. These creators range from big names in the fashion world, designers to celebrities and film stars, to experimental artists using clothing as a medium to make a larger statement. The diversity of styles delivers a profound sense of the many cultural, artistic and political themes coming out of Native communities—and that's by design.
"We wanted to bring the audience to a deeper, a broader level of understanding and really celebrate this multiplicity of voices," says Karen Kramer, curator of Native American and Oceanic Art and Culture at the Peabody Essex Museum in Salem, Massachusetts, the organization that originally developed the show. The show has already visited three other museums before opening at the National Museum of the American Indian. "We wanted to move away from an anthropological lens and really underscore artistic—or the artists' agency in their creative voice."
To this end, Kramer consciously worked to bring in designers and works that conveyed a wide range of approaches to fashion, and balanced the geographic and gender representation of the show. Upon entry, visitors will view the works of designers who have broken into the mainstream, and readers of fashion blogs and magazines are likely already familiar with their offerings: a flower-like parasol made of hide, beads and metal, by Patricia Michaels, first runner up on season 11 of "Project Runway"; or screen-printed cotton dresses by Cherokee designer Lloyd "Kiva" New—the first Native designer to successfully launch an international high-end fashion brand (Kiva, a reference to a Native religious structure of the Southwest).
These works are gathered together under the "Pathbreakers" section of the show—designers who have found success on fashion show runways or dressing celebrities (including Betty Ford and Lucille Ball, whose dresses are displayed here). 
"This section is an entry point for most people, with artists who had attained some visibility in the mainstream," says Kathleen Ash-Milby, associate curator at the museum, who organized the New York presentation of the show. It's one of four categories, which Ash-Milby emphasizes "aren't rigid," but help to convey some of the major through-lines of Native fashion.
"Revisitors" emphasizes artists who incorporate Native traditions, materials and styles into their contemporary works, "drawing directly from Native culture and conventions," says Ash-Milby.
These include the lace and elk-tooth dress, designed by Crow and Northern Cheyenne designer Bethany Yellowtail. The designer drew on beaded garments and other family heirlooms for inspiration on the piece, which incorporates a line of elk teeth along the sleeves and chest as well as floral appliques made of leather. Also here is a deer-hide umbrella decorated with pictorial imagery of men on horses and other actions. It comes from Teri Greeves, a Kiowa designer based in Santa Fe, referencing the Plains tradition of pictorial histories.
"I'd been going out to Santa Fe's Indian market and just kept noticing this proliferation of contemporary native fashion, and the Indian market itself was shifting to a more expansive view on contemporary native fashion," says Kramer, describing how the show's focus broadened as she sought out artists to include.
In addition to her own hunting for designers, she drew on input from a group of advisors who helped shape the lineup and to make connections with designers with which she might not have as much experience. Among their selections were street wear, T-shirts, and even skateboards from a number of artists hailing from the Apache, Navajo, Tlingit and Athabascan communities.
These works are part of the "Activators" group, recognizing artists that express identity and political ideas through their designs. Tommy Joseph's three-piece suit featuring an eagle pattern references his Tlingit clan group and Winifred Nungak's parka and hat, lined with fox fur and dyed pink incorporates patterns specific to the artists' tribes, but with a street-style sensibility.
"The objects started talking to each other, and it became obvious kind of how the show could be arranged if not chronologically by idea theme," says Kramer. "They almost sorted themselves."
"Provocateurs," is the most explicitly political and experimental. "It's almost like this urgency to the works," says Kramer. "Like, wake up. This is happening. Really, there's a lot of energy in it and excitement around it."
A cotton shirt by Carla Hemlock features the 1794 Treaty of Canandaigua sewed into the back—a document that required the U.S. government to annually pay goods to the Iroquois Confederacy, and which is still in effect today. A black vinyl dress, from Crow artist Wendy Red Star, with long fringes trailing to the floor, evokes dripping oil or blood. More sculpture than practical garment, the work spotlights the exploitation of natural resources on Native lands.
"It's so striking, and it really does make you question the viability of wearing it and the kind of statement that you make," says Kramer. "This exhibition is a really important opportunity for Native designers and Native artists to define for themselves what Native fashion is and what Native art is, rather than having a mainstream market largely shaped by non-Native people who use Native-inspired design and style and motifs to sort of feed the general public ideas about what Native fashion is."
"Native Fashion Now" is on view through September 4, 2017 at the National Museum of the American Indian in New York City, located at in the Alexander Hamilton U.S. Custom House, One Bowling Green, New York, New York, 10004.