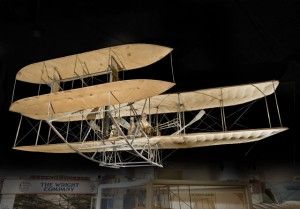 Take a step back in time and spend an evening on the wings of Orville and Wilbur Wright tomorrow night at the National Air and Space Museum. October 8, 1909 marked the moment when the Wright brothers began the first training of American military pilots in College Park, Maryland. In honor of this centennial, a panel of experts will discuss the history of the 1909 Wright Military Flyer and the beginnings of U.S. combat and reconnaissance aircraft operations.
Ken Hyde, president of the Wright Experience, a College Park-based historical organization, and a 2000 inductee into the Virginia Aviation Hall of Fame, has been involved in aviation all his life. But tomorrow night you can witness another of his greatest passions: education. "Our goal at the Wright Experience is to inform kids that math and science is interesting. And we do that through flight," declares Hyde, who takes his message to children at nearby schools. "It's exciting to follow the Wright's thinking process, how they discovered how to make their product."
The discussion opens at 7.30 tomorrow night with Hyde and his business partner, Paul Glenshaw, as well as other expert panelists, including National Air and Space Museum curators Peter Jakab and Tom Crouch; College Park Aviation Museum Director, Cathy Allen. The presentation also includes rarely seen early photographs and film footage of the flyer. "There's never a dull moment in this job… when we find a missing letter or a missing piece of the puzzle, it's amazing. You never know what's going to happen next," says Hyde.