Smithsonian Wants George Clinton's Funk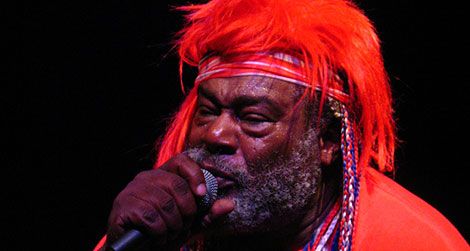 "Oh, pretty good. Went and did a little bit of fishing yesterday," said George Clinton, chuckling slyly in his oh-so-raspy voice on the other end of the telephone line, when I asked him how he was feeling.  And it was exactly how I expected the influential funkster to sound. Though the 69-year-old Clinton was recently hospitalized at the end of May, he's apparently ready to give up the funk again and resume touring.
The colorfully-coiffed George Clinton is best known as the ringleader, singer, songwriter and producer of the Parliament and Funkadelic bands during the 1970s and early 1980s. The two groups had an incestuous relationship, sharing and swapping players, and both were known for their influential groove-based funk, elaborate stage shows and costumed members. Clinton followed that up with a solo career, and still records and performs with various backing band incarnations. The influence of his music carries on, often serving as building blocks for different genres, as he is among the most sampled artists in hip-hop today.
Earlier this May, Clinton donated a replica of his stage prop extraordinaire, the Mothership, to the Smithsonian's National Museum of African American History and Culture (NMAAHC), which will open on the National Mall in 2015. The original Mothership was a life-sized, smoke-spewing spaceship-for-one with flashing lights that transported Clinton down to the stage during Parliament-Funkadelic shows during the late 1970s and very early 1980s. "It's a large iconic object resonates with so many people," said Dwandalyn R. Reece, the museum's curator of music history. "Not only the group itself and George Clinton, but also the message. . . .This whole concept of being in outer space, in terms of liberation and living in a different level of consciousness."
The initial idea for the prop came from Parliament's classic 1976 album Mothership Connection. Instead of an unrelated collection of singles, there was an underlying narrative theme to the record, incorporating characters such as "Starchild," an alien funk messiah who has come to spread the funk. "After West Side Story, Sgt. Pepper's, Hair, Tommy–after those—they made them like rock operas," said Clinton. "We wanted a funk opera. And so I figured that characters live longer than rock stars do."
The Mothership served as "Starchild's" mode of interstellar transport, and the original version made its first appearance at a 1976 Parliament gig at the Municipal Auditorium in New Orleans. On that tour and future tours the ship would light up and descend upon the stage from 40 feet in the air like a UFO, spewing smoke. Upon its landing, George Clinton would emerge in full regalia, strutting out as "Starchild," (or on later tours, sometimes as "Dr. Funkenstein") often dressed in furs, sunglasses and carrying a cane, like a space pimp ready to spread the funk to those who needed it.
Audiences ate it up. "A lot of cats just came to see the spaceship," said Parliament-Funkadelic guitarist Mike Hampton in a 1978 Rolling Stone interview. "It's hard to think you're doing something musically when you're competing with that.
And even the band was impressed with the prop. "It was phenomenal, man. You couldn't describe it," recalled keyboardist Bernie Worrell to The Washington Post. "I can play and not look at the keys. I watched it every time it would come down."
The elaborate stage show and costumes, however, came with a price, and by 1981, increasing debts and dissatisfaction among band members, among other things, led to a breakdown in the band and a period of inactivity. Some of the group's equipment was brought back to Washington, DC and placed in storage, but with no revenue coming in, it soon had to be sold.
One of the group's promoters, Brooks Kirkendall, was forced to store the Mothership in his mother's garage in Clinton, MD. After six months she demanded that it the Mothership be removed. Unable to make contact with any band members, including Clinton, Kirkendall loaded the Mothership into a U-Haul in 1982 with the help of a co-worker and left it at a junkyard in Seat Pleasant. The Mothership has been off the radar ever since.
The replica that Clinton donated this past May is a 1,200-pound aluminum hunk of funk that was constructed in the 1990s. It had been sitting in his recording studio back in Florida. But is it as hip on that ship as the original? "It's the exact same," says Clinton. "Same blueprint, same everything!" And he thinks it's quite appropriate to have the NMAAHC serve as his Mothership's final resting place. "Our music's the DNA for the hip-hop and dance music in general," says Clinton. "Smithsonian is a fitting place for the spaceship."