Public Punk'd by Panda: Mei Xiang is NOT Pregnant!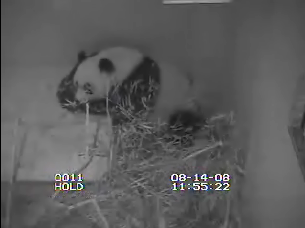 In spite of months of maternal showboating, Mei Xiang will not be bearing a panda cub this year. Experts at the National Zoo speculate that she either experienced another pseudopregnancy or lost an early-stage fetus that failed to develop. Having kept close tabs on Mei since her artificial insemination last March, this news is a major letdown—especially since resident panda cub Tai Shan is currently set to remain at the Zoo through 2009 before returning to China.
A few words to you, Mei Xiang and Tian Tian: your adoring American public demands an overload of baby panda cuteness and you haven't exactly been toeing the line. So for next year, if you need scented candles, slinky plus-sized lingerie, a well-stocked open seafood buffet—anything that might get y'all in the mood and facilitate a successful pregnancy, just say the word and we'll make it yours.
And for those of you who remember our panda poll a few blog entries ago: 118 votes were cast, and 20% of you were right. Pat yourselves on the back—your cynicism about successfully breeding pandas in captivity prevails!