Memorialize J.D. Salinger at the National Portrait Gallery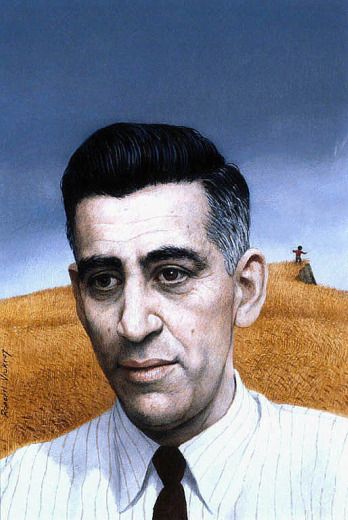 I hope to hell that when I do die somebody has the sense to just dump me in the river or something. Anything except sticking me in a goddam cemetery. People coming and putting a bunch of flowers on your stomach on Sunday, and all that crap. Who wants flowers when you're dead? Nobody.
—The Catcher in the Rye
​If there is an ounce of J.D. Salinger in the caustic voice of his character Holden Caulfield, which I imagine there is, then I'm not sure how the reclusive writer would take this news.
But, this morning, in a gesture of remembrance, the Smithsonian's National Portrait Gallery hung a portrait of J.D. Salinger, who died last Wednesday at 91, in a first-floor gallery designated to recently deceased individuals represented in the museum's collection.
The author is best known for his 1951 novel The Catcher in the Rye, which chronicles three days in the life of an angst-ridden 16 year old. Within two weeks of its publication, the book topped the New York Times bestseller list. It became a cult classic, a rite of passage read for high schoolers—but not without its share of controversy. For its vulgar language, racy scenes and violence, The Catcher in the Rye is one of the most frequently banned books. (Mark David Chapman used the book to explain why he killed John Lennon in 1980, and John Hinckley Jr. cryptically left behind a copy of the book in a hotel room where he stayed before his attack on President Ronald Reagan in 1981.)
The portrait by Robert Vickrey, now on display, depicts Salinger posed metaphorically against the "amber waves of grain." It appeared on the cover of Time magazine in 1961, the week his later book Franny and Zooey was released and seven years into what would become more than 50 years of living reclusively in a house in Cornish, New Hampshire. Reportedly, Time magazine donated the portrait to the Smithsonian in 1978; it hasn't been on display since 1979.