Let MC Yogi Free Your Mind on Saturday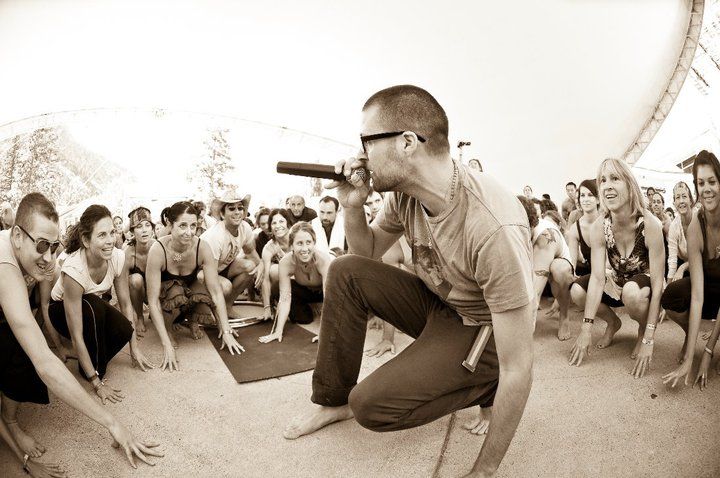 Did you ever go to a hip-hop concert only to have a yoga class break out? It's totally possible at an MC Yogi show, as the atypical rapper is a full-time yoga instructor and a student of meditation and devotional chanting.
A bit of a wild child growing up, MC Yogi (aka Nicholas Giacomini) grew up painting graffiti, listening to hip-hop, and freestyle rapping for friends at house parties, eventually ending up at a house for at-risk youth. Though his discovery of yoga and meditation at age eighteen may have calmed his inner soul, it didn't take the hip-hop out of the yogi.
There's nothing overly complicated with MC Yogi's rhyme schemes, and he wears his influences on his sleeve, with stylings reminiscent of old-school Run DMC/Beastie Boys.
Yet he's refreshing, with an irresistibly positive vibe to his rhymes and no sordid tales of violence or mentioning of how much bling and power he's got. Instead, his lyrics are often influenced by Eastern philosophy and religion (like in "Ganesh is Fresh"). Sure, in these jaded times it can sometimes come off as a little corny, but MC Yogi commits to it, delivering his verses with a mellow flow.
But what makes things even more intriguing are the beats and sounds over top of which he's delivering his rhymes. The traditional Indian instrumentation (sitar, tabla), including seamless kirtan (chanting) transitions, combined with hip-hop beats goes together like dal and rice (or peanut butter and jelly) on his debut album, Elephant Power, courtesy of Robin Livingston's fine production work.
And MC Yogi can be versatile, too. His reggae-tinged feel-good anthem, "Give Love," which was written and produced for the online yoga community YogaFriends.com, is every bit as catchy as Jason Mraz's Billboard top ten hit "I'm Yours." And on MC Yogi's "Vote For Hope" video made in support of Barack Obama's presidential candidacy, he showed he was cool like that, laying down some jazzy hip-hop, à la Digable Planets. It ended up receiving over one million views in three weeks prior to the 2008 Presidential election.
You can catch MC Yogi's free concert tomorrow, Saturday, September 25 at 7:00 in the Meyer Auditorium at the Freer Gallery. Bring your yoga mats!