Last Minute Halloween Costumes with a Smithsonian Twist
Let the Smithsonian collection be your muse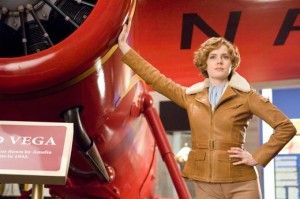 As the final days of the month draw near, that sugar-seeking holiday is upon us again; the holiday when we indulge our inner monster and make recreation of  horrifying our friends. Now is the season for zombie couture, anything goes so long as it's bloody, gross, funny or edgy. And if you've been invited to a Halloween party and are still searching for a costume with just the right flare, look no further than the Smithsonian. The collection is stocked with creative crunch-time costumes for your trick-or-treating convenience.
Amelia Earhart: In Night At the Museum – Battle of the Smithsonian, actress Amy Adams plays this powerful woman accessorized with inspirational tips from the museum's Air and Space collection. Don a (still stylish) brown leather jacket, coif your hair into a sexy early-20th century bob, carry a miniature plastic plane and you instantly become the iconic aviatrix.
The Artist Formerly Known As: If you're feeling a fit of 1980s electro-funk coming on (no, it's nothing like the symptoms of H1N1) on Halloween night, cue American History's  "Yellow Cloud," the guitar formerly owned by the Purple One himself. *Sequin jacket and high heels not provided by the Smithsonian.
Julia Child: It might be a tad difficult to tote around her kitchen, which is housed in its entirety at the National Museum of American History, however, in light of the recent film "Julia & Julia," grab a wooden spoon, an apron and mimic Meryl Streep's manicotti mannerisms.
Batman: Artist Mark Newport's work (knitted superhero costumes) is currently being featured at the Renwick Gallery. The loose and not-at-all-form-fitting costumes question the validity of superheros. Obviously knitting an entire Batman costume would be impossible on our hurried schedule before the party, so ATM blogger Abby Callard suggests a shortcut: buy a Batman costume that is a few sizes too big, throw in a knitted hat or gloves and call yourself "Sloppy Batman."
With Balloon Boy costumes bound to be this year's version of 2008's popular Sarah Palin costume, there's no place like the National Air and Space Museum for aspiring ballooonists. Get inspired by the curious "Balloon Farm" photo, circa 1892, in our photo gallery. Perhaps a few plastic bags could do the trick, but don't get offended if people think your costume is full of hot air.
Annie Oakley: If you dress up in a cowgirl outfit and tote around a rifle, you could be Annie Oakley. But you could also wear the same getup, and walk down the sidewalk belting out "You Can't Get a Man With a Gun," and your costume becomes Ethel Merman all the way. Take a few tips from Merman's visage from the collections of the National Postal Museum. Portrait Gallery.
If you and your date are feeling a bit pinched from the recession, and have resorted to scarfing up fountain change to pay for your Starbucks, you could both go as "Loose Change," picking up tips and ideas from the National Numismatic Collection at the American History Museum, home to 450,000 coins, medals and decorations and 1.1 million pieces of paper money (including the recently acquired "Confederate Treasury horde" of cancelled Confederate paper money).
View our photo gallery of last minute Halloween costume ideas.