Josef Albers: A Crash Course on How to See Squarely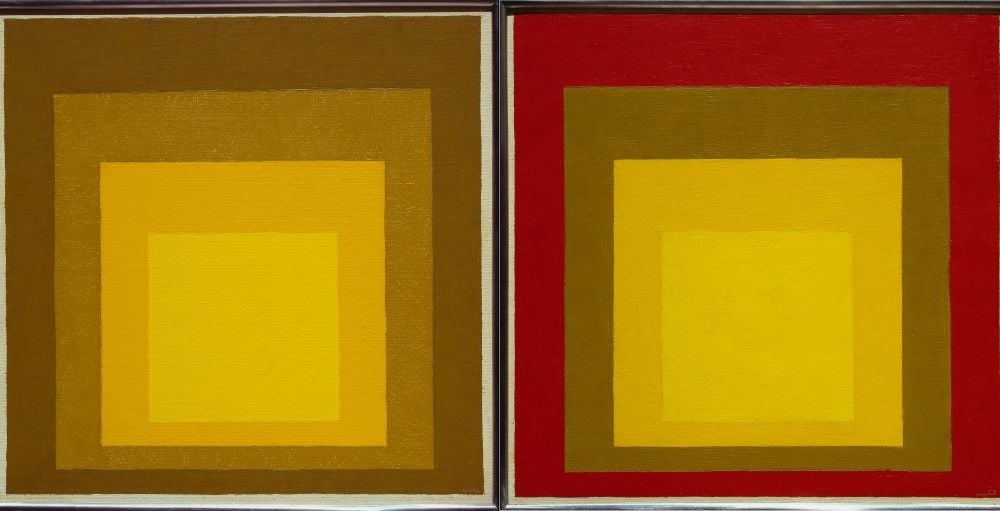 I was introduced to the teachings of Josef Albers in a color theory course my senior year of art school at Boston University.  My professor Richard Raiselis had studied under Albers during his time at Yale and I can almost hear his voice now telling of how the artist had forever changed the way the professor looked at painting and the world around him.
I can also vividly recall my first experience with Albers' works, seeing his Homage to the Square series on display at the Hirshhorn when I was about 10-years-old. Both my dad and I were not above that timeless cliché and head-scratching confusion that contemporary art often evokes in the uninitiated.  "Jamie," he said, "you could paint something like that!"
Josef Albers is historically a controversial art celebrity. Though the Bauhaus school is now worshiped as a place of artistic and architectural inventiveness, in 1933 the school's modernist aesthetic was considered laughable.  Likewise, Albers' most recognized works, Homage to the Square, were mocked when he first began producing them in 1950.  So, Dad and I were in good company then.
In my class, however, working through Albers' book, Interaction of Color, was transforming.  The artist illustrates how a skillful colorist can use the way we perceive tone and hues to transform a series of flat shapes into something more then the sum of their parts.  By exploiting the eye's shortcomings, any color can be seen as dark or light, warm or cool, saturated or dull, simply by surrounding it with the right environment.  A square of 50 percent gray, for example, will appear closer to white on a black surface while appearing closer to black on a white surface.  In a less academic context, most have had the experiencing of  focusing on any small section of the famous painting, A Sunday Afternoon on the Island of La Grande Jatte by George Seurat and have seen the collection of quite separate, bright dots that when viewed at a distance combine into one tone.  Likewise, the small section of blue surf in J.M.W Turner's Slave Ship can balance out the more saturated white of the sun because it is a section of cool color in a mostly warm painting.  It is the science of tricking the eye using a master knowledge of color theory, and Albers, experts now agree, captures it perfectly in his art.
"Josef Albers: Innovation and Inspiration" recently opened at the Hirshhorn Museum and Sculpture Garden.  The show  includes over 60 of Albers' works, including pieces on loan from the Josef and Anni Albers Foundation.