How One Impromptu Jam Session Spawned a Sweeping Irish-American Music Revival
For 40 years, Green Fields of America has told traditional Irish stories through song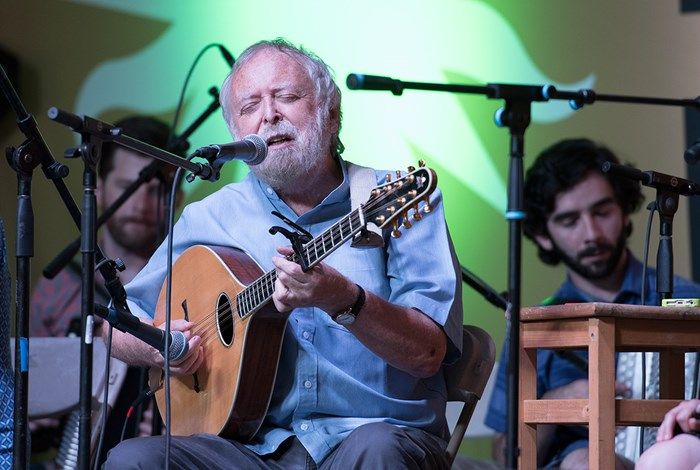 In 1973, I came to the United States to study folklore at the University of Pennsylvania, where Professor Kenneth Goldstein—my main inspiration and mentor—was head of the department. I took a trip to Nashville in 1974 to attend the American Folklore Society (AFS) annual meeting. There was not much time for music, but I did have some old-time sessions with fiddlers Alan Jabbour and Richard Blaustein.
The AFS had set aside a few rooms for young graduate students, who had no money for accommodations. So the first night, when there was a party going on in my room, I sat alone on the floor with my back against the wall, took out my tenor banjo, closed my eyes, as I often do when playing, and started to play some reels. To my astonishment, I heard the sounds of an accompanying guitar with tasteful and accurate chords. I opened my eyes and there was a middle-aged, bearded, dapper man playing along with me.
I said, "I'm Mick."
He said, "I'm Ralph."
He said, "Play 'The Sligo Maid,'" and I did. The minor-major shifts of his accompaniment were perfect. A crowd gathered.
"How about 'Joe Cooley's'?"
"Do you know 'The Pigeon on the Gate'?"
"Can you manage 'Colonel Fraser'?"
"How about some jigs. Do you know 'Doctor O'Neill's'?"
The musical exchange went on and on. More jigs, reels, hornpipes. Even a mazurka. Not one mistake in the chords. And the rhythm was perfect.
I was enjoying it immensely but eventually I tired, not surprisingly, because I had driven down from Philadelphia at the speed of light with fellow folklorists Jack Santino and Robert Baron earlier that day.
"Why don't we continue tomorrow?" I suggested.
"Ah, no, this is great. Play some more."
"I can't, I have to go to sleep; otherwise I won't be able to get up for the papers in the morning." Eventually the guitar went back into its case, and the dapper man left most reluctantly.
"Do you know who you have just thrown out of your room?" Jack exclaimed.
"No."
"That was Ralph Rinzler!"
"Who the hell is Ralph Rinzler?" I asked.
"The director of the Smithsonian's Festival of American Folklife, you idiot!"
Next day the tunes continued. Ralph asked me to come to the Festival—now called the Smithsonian Folklife Festival—in 1975, and I loved it. Then he asked me to do fieldwork for the 1976 Festival to mark the U.S. Bicentennial. I was to go around the country and identity Irish American musicians, singers, and dancers, make sound recordings, take pictures, and present him with a proposal about who should appear. Excellence and traditionality would be the criteria.
What an opportunity for a young folklorist!
When I presented Ralph with a list of 26 musicians, singers, and dancers in early 1976, he had only one objection—to a 17-year-old Chicago step dancer named Michael Flatley. He said that Irish step dance had become a high art form with formal dancing schools and that it hardly belonged in a festival designed to present and affirm traditional arts. I responded by citing the importance of its ethnic, communal social base, as well its historical marginality in a colonized culture.
We went back and forth until eventually Ralph said graciously, "Okay, have your step dancer. We'll do fine even if we disagree."
For one unforgettable week in July 1976, 26 of the finest Irish-American musicians, singers, and dancers in the United States appeared alongside an equal number of performers visiting from Ireland. Many were meeting for the first time.
The response was overwhelming. The artistic brilliance of the performances was an obvious attraction, but there was something else going on as well—the kind of excitement that comes from discovery. The audiences knew that what they were seeing and hearing was part of a hidden Irish America—the grassroots, community-based culture that had always been ignored, misunderstood, or misrepresented by the mass media.
In the wake of the national popularity of Alex Haley's groundbreaking book Roots and the television series of the same name, Irish-Americans in the late 1970s were developing a fascination with their own cultural roots. With that motivation, a lawyer in Washington, D.C., named Dick Shea and the National Center for Urban Ethnic Affairs applied successfully to the National Endowment for the Arts' Folk & Traditions Arts division to fund a national tour of Irish-American traditional musicians, singers, and dancers.
In January 1978, the group became the first ensemble of traditional ethnic performing artists to tour the United States under official U.S. government sponsorship. The original members—Liz Carroll, Jack Coen, Father Charlie Coen, Michael Flatley, Sean McGlynn, Bill Ochs, and myself—decided to take the name the Green Fields of America, the title of a well-known Irish jig and reel, and also one of the most famous songs about Irish emigration to America. It symbolized not only the literal reality of the rich pastures of North America, but also suggested symbolically the promise of a new life for the immigrants in their adopted country.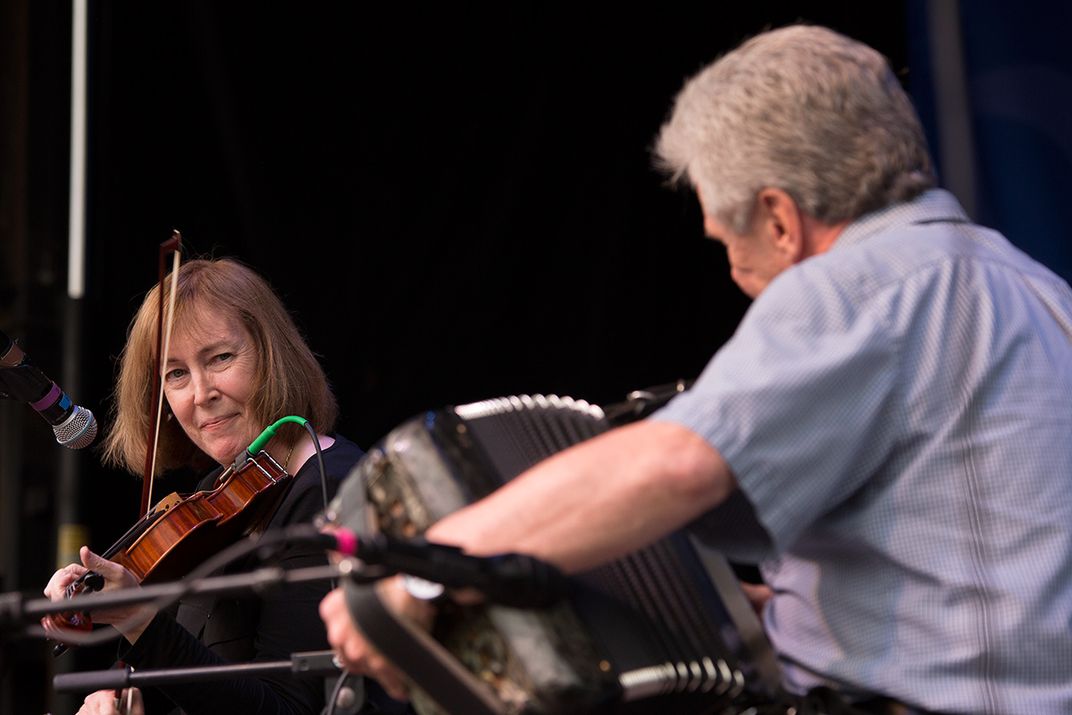 Supported by Joe Wilson and the National Council for the Traditional Arts, the Green Fields toured again in 1979, 1980, and 1982. We introduced many outstanding traditional musicians to the national concert stage and brought for the first time Irish step dancing at its finest to general American audiences. Fittingly, the group's members were always either Irish immigrants or American-born musicians. Since then, the group has continued to tour yearly all over the United States, doing concerts and making appearances at festivals such as Milwaukee's Irish Fest, the biggest of its kind in the world. Our most recent album, The Green Fields of America, was the product of a series of concerts at Irish Week in the Augusta Heritage Festival at Davis and Elkins College, West Virginia.
The Green Fields was never designed to have a permanent lineup that would perform and tour in a conventional way. Many members had regular jobs outside music and were unable to tour full-time; younger members of the group often went on to develop their own musical careers. However, scores of the finest Irish artists in America have performed with the group over the past four decades, and many—including Seamus Egan, Joanie Madden, Eileen Ivers, and John Doyle—have gone on to achieve international stardom. Seven Green Fields members—Liz Carroll, Jack Coen, Michael Flatley, Donny Golden, Billy McComiskey, Mike Rafferty, and myself—have been awarded the NEA National Heritage Fellowship, the nation's highest award for excellence in the folk and traditional arts.
It has been an extraordinary journey. In fact, the Green Fields is celebrating its 40 anniversary in 2018. I cannot imagine it ever happening without the initial endorsement and affirmation of the Smithsonian—thanks to that chance encounter with a dapper, bearded American on guitar who played Irish jigs and reels in perfect time.
Mick Moloney is the author of Far from the Shamrock Shore: The Story of Irish American History through Song (Crown Publications, 2002) with an accompanying CD (Shanachie Records). He holds a Ph.D. in folklore and folklife from the University of Pennsylvania. He has taught ethnomusicology, folklore, and Irish studies courses at the University of Pennsylvania, Georgetown, and Villanova Universities, and currently teaches at New York University in the Irish Studies program. Find other recordings of him on Smithsonian Folkways.
This article originally appeared in the online magazine of the Smithsonian Center for Folklife and Cultural Heritage.
Green Fields of America musicians include: Tim Britton (tin whistle, flute, uilleann pipes), Denis Cahill (guitar), Liz Carroll (fiddle), Karan Casey (vocals), Fr. Charlie Coen (tin whistle, flute, concertina, vocals), Jack Coen (tin whistle, flute, concertina), Brendan Dolan (piano), John Doyle (guitar), Jimmy Eagan (fiddle), Seamus Egan (tin whistle, flute, tenor banjo, mandolin, bodhran), Siobhan Egan (fiddle, tin whistle, flute), Frank Harte (singer), Ivan Goff (uilleann pipes, flute, whistle), Winifred Horan (fiddle, dancer), Eileen Ivers (fiddle), James Keane (button accordion), Jimmy Keane (piano accordion), Tina Lech (fiddle), Donna Long (piano, fiddle), Dana Lyn (fiddle), Joanie Madden (tin whistle, flute), Billy McComiskey (button accordion), Sean McGlynn (button accordion), Zan McLeod (guitar, bouzouki), Mick Moloney (guitar, tenor banjo, mandolin, vocals), Michelle Mulcahy (harp, concertina, fiddle, button accordion), Brendan Mulvihill (fiddle), Andy O'Brien (guitar, vocals), Robbie O'Connell (guitar, vocals, songwriter), Eugene O'Donnell (fiddle), Kieran O'Hare (tin whistle, flute, uilleann pipes), Eamon O'Leary (guitar, tenor banjo), Jerry O'Sullivan (tin whistle, flute, uilleann pipes), Bill Ochs (tin whistle, flute, uilleann pipes), Al Purcell (tin whistle, flute, uilleann pipes), Mike Rafferty (tin whistle, flute, uilleann pipes), Tommy Sands (guitar, vocals, songwriter), Liz Hanley (vocals and fiddle), and Athena Tergis (fiddle). The latest and youngest member of the Green Fields is fifteen-year-old fiddler Haley Richardson.
Dancers include: Kieran Barrett, Kevin Broesler, Jean Butler, Cara Butler, Melanie Deegan, Darrah Carr, Heather Donovan, Joe and Katherine Dwyer, Michael Flatley, Steve Gallagher, Donny Golden, Eileen Golden, Deirdre Goulding, Ciara Greene, Katie Grennan, Liam Harney, Deirdre Harten, John Jennings, Kieran Jordan, Sinead Lawler, Tara McHugh, Sheila McGrory, Chloe Mullarkey, Tim O'Hare, Niall O'Leary, ,Joe and Catherine Dwyer, Mairead Powell, Pat Roche, Sheila Ryan, Michael Smith, John Timm, Regan Wick, and Linnane Wick.