Hirshhorn Museum Open Today After Last Night's Truck Crash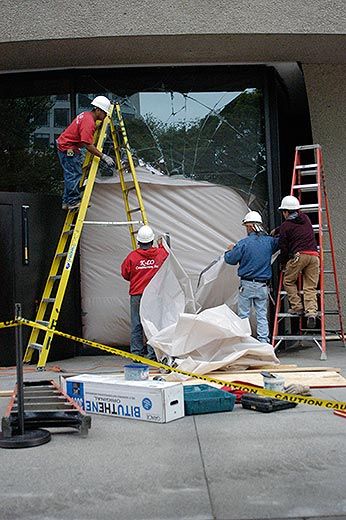 A UPS truck filled with packages crashed into part of the Hirshhorn Museum and Sculpture Garden last night, breaking through the concrete flower pots that act as a barrier between the museum and Independence Avenue and shattering a window in the building's first-floor lobby.
The truck hit the south side of the museum around 8:30 p.m., between 7th and 8th streets SW, and only went about a foot into the building, said Erin Baysden, a spokesperson for the museum.
No art was damaged in the crash, Baysden said—all of the art is housed in the two stories above the glass-enclosed lobby, where the crash occurred. All of the sculptures surrounding the building, including the large, geometrical Claes Oldenburg sculpture that sits nearby, were unharmed as well.
The museum, which shows contemporary and modern art, closes at 5:30 p.m. each day, so nobody was in the building (or in the surrounding sculpture garden, which closes at dusk) when the truck swerved off the road, Baysden said.
"Most important is that no were hurt; nobody was in or around the museum when this happened," she said. The driver sustained serious, but not life-threatening, injuries, according to WTOP.
The museum opened as scheduled at 10 a.m. this morning and will remain open throughout the day.
For photos from last night's accident, check out Kriston Capps' coverage at DCist.